Abiola Johnson talks to Asha Zulu Mandela — the woman with the longest locs in the world!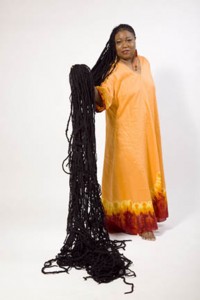 Asha Zulu Mandela is the proud wearer of the world's longest locs — so long, that they have earned her a place in the Guinness Book of World Records. It's all a far cry from 23 years ago when Asha first began locsing her hair.
It was a move that wasn't welcomed by her family and which caused her mother to stop talking to her for two years. 'She said, I can't believe after I groomed your hair so lovingly, and kept it nice and soft and you would disgrace me by turning it into a mop,' recalls Asha.
But despite her family's reservations, Asha followed what she calls her 'inner vibe' and embarked on her loc journey. It was miles away from the world of braids and weaves which Asha had inhabited for so many years. She didn't crave long hair — in fact hers was naturally thick anyway, so there wasn't an intention to grow her hair particularly long. She only became aware of how long her locs really were when she bumped into some friends who had loced before her, and hers had overtaken theirs in length by miles.
Handling with care
Many people are intrigued to know how Asha washes such long hair. 'Honestly, I don't consider my hair routine immense because my locs and I have grown together. I refer to them as my "baby" and I really do enjoy wash day.'
Asha used to wash her locs three times a week but in the last year she's cut down to once a week. 'I had a bit of trouble breaking the three times a week routine. There are no real challenges for me except that it's too much for a salon sink and did not work well in a tub, so actually the shower works brilliantly as I let it down and hand wash it like we do with clothes. The whole process takes 20-30 minutes.'
But does the process of washing something the equivalent weight of four newborn babies prove a challenge? 'I must admit that wash day can be very tiring.' Can drying be a bit of a procedure too? 'It can be difficult at times. Though I live in Florida and its hot and humid, it cools down between November and April and that's when it's frustrating to dry because the damp hair against my body makes me very cold.'
Asha explains that it's a process which involves wringing and several bath sheets which are used as towels. It's often still damp at bedtime taking 12- 24 hours to totally dry.
Asha's journey
Interestingly Asha didn't start her locs using a particular technique. 'You won't believe it but for 22 years of my journey I did no twisting or styling with my locs,' she admits. 'I just washed and massaged with olive oil and essential oils.'
But with her growing celebrity status and frequent calls to photo shoots, Asha relies on her stylist Maria Thompson at Twist and Curves. 'For show appearances, I choose the groomed look and just let my baby flow behind me like a trail as that gets the best reaction from people.'
Being in the spotlight it can only be expected that Asha would run into criticism. 'There are some people who think it must be fake or extensions, and then are those that believe it's mine but are instant haters,' she explains. 'But I can safely say most of the reaction is positive as people are usually amazed and in awe.'
The best accolade Asha has received for her locs is in the Guinness Book of World Records. She has set a new precedence as the category for the world's longest locs did not exist beforehand. She had to be measured and recorded twice because some of her locs had been knotted up while she was recuperating from an illness, thus shortening the length.
Today, both Asha's son and her brother wear locs and the family is very positive about it. And in a turn of events, Asha's mum is her most avid fan. 'My mum is the most smitten and proudest of the lot. She is always ready to show pictures of my locs and she doesn't like anyone touching them in case they want to cut a piece off.' And will she ever cut them? 'I have never thought of cutting my locs and never will.
For more information on Asha and her own line of natural hair care products, visit her website at www.zuluearthsolutions.com