Artist Amanda Graham give objects a new identity with her customised illustrations
Who is Amanda Graham?
London based self-taught artist, wife and a mother of two boys. The owner of a hand-painted footwear brand called Printed Soles, creating bespoke and unique footwear for special occasions. Lover of music, specialist tea and exploring different cultures.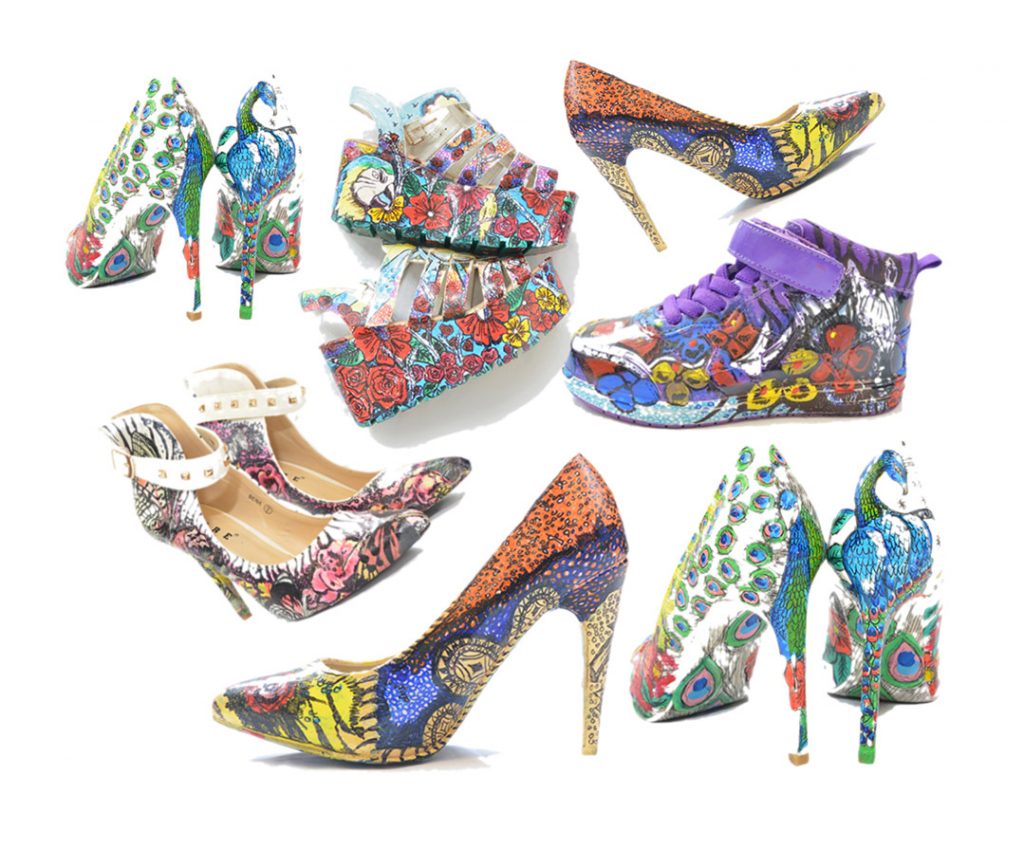 Have you always been creative?
I developed an interest in art since the age of six. As a child, I loved a lot of fantasy and would always imagine the impossible. Art and designing was a way to escape into my own world, creating what I wanted to see.
Did you go to art school?
I attended the University of Arts London – London College of Communication. Where I studied Marketing and Advertising as a undergraduate. Then I completed a Masters in Marketing and Communication. Although these course were not practical art based courses, they were very theory based and were designed to explore psychology behind what we see. I did study short Summer courses at CSM in Graphic Design and Art Direction , these courses were great. They kept my creative side alive.
I think art can be found in various practices, it's all through the execution or delivery of any work a person produces.
What do you call what you do, is it art, is it illustration, graffiti?
I am influenced by all three areas actually. As a child I loved graffiti and the hip hop culture, but was afraid to actually go out and spray paint myself. To compensate, my bedroom was covered in my art work (which my mother hated). At the same time, I loved illustration. I am most comfortable with portrait illustration. I do not like just drawing a person to look exactly like the person or photograph, I usually like to add different element to the piece like an animal or flowers. I do this to reflect the person's inner soul.
It's all about self-expression these days, bespoke trainers, skateboards, tattoos, do you paint anything else other than shoes?
It's all about capturing the zeitgeist of the particular time. At the moment the art scene is exploding all over London (which I love) It feels like my people are emerging out of the woodwork and we are finally getting a voice to speak.
I usually customise anything and everything. I do not like to just paint on paper or canvas so I will design on wall murals, jackets, bags, candle holders, guitars, doors and anything that can give the object a new identity.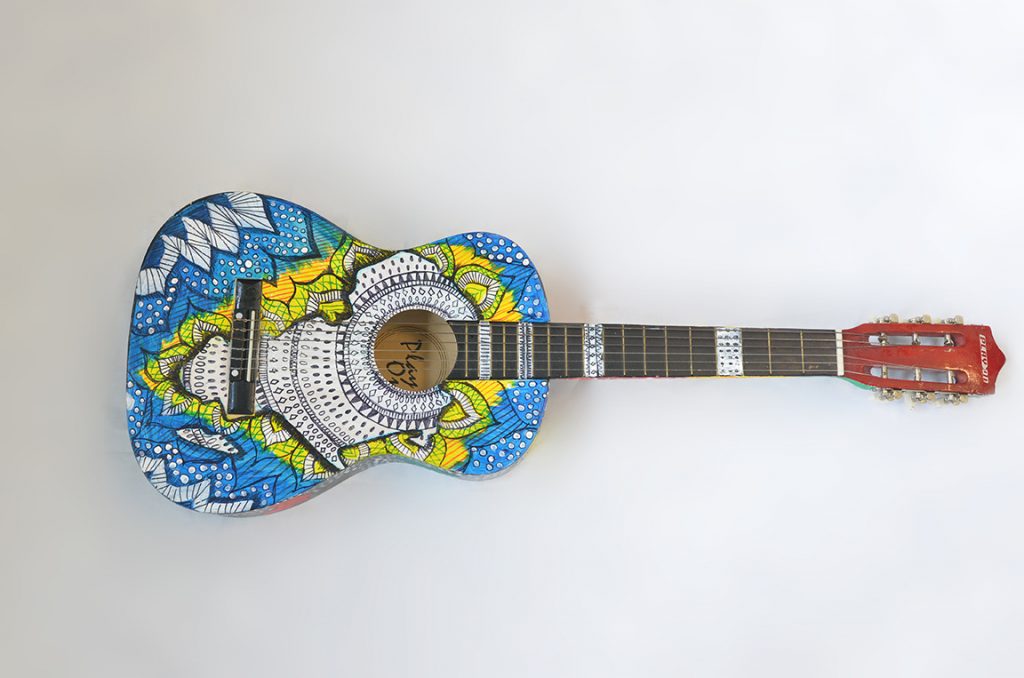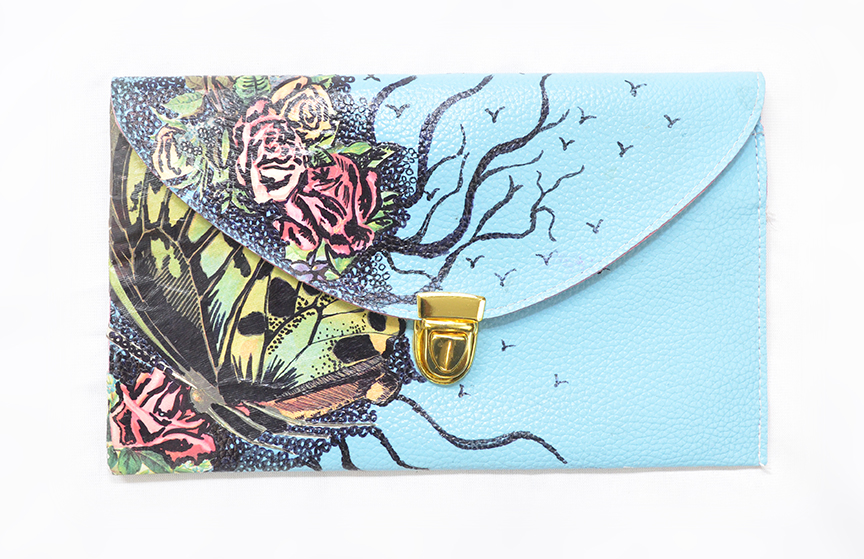 Is your personal shoe collection covered in art?
Yes,
My shoes are nearly always covered in art. The beauty of that, is when I am out and about most people are really interested in 'who' I am wearing (it's always nice when I can say 'me')
When I have painted on my kids' shoes and they go out, all the other children are excited by their shoes. This is because they are always covered by a superhero that they are loving at the moment.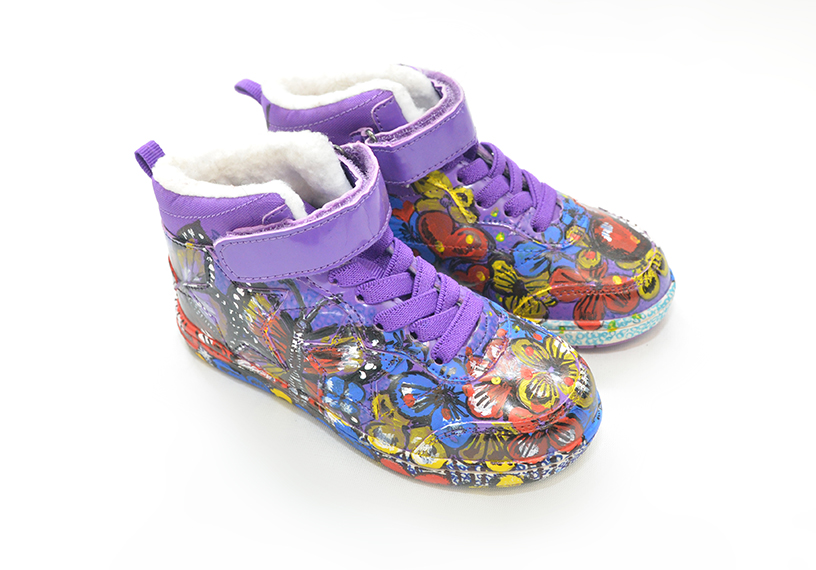 What inspires you?
I am always inspired by people who are successful, despite going through challenging and harsh adversity in their lifetime. I love seeing the underdog who wins, the person that against all odds stood up and fight to become the voice of a generation. It's inspiring to me because I have always been told no, or that's not for you, or you shouldn't aim so high, you should stay in your box.
When I see someone who has been successful, who has worked hard for their dream and haven't been handed a silver spoon in their mouth (from birth), it inspires me to go on.
My kids also copy me [us] and are very proud, I want to create an environment where they feel comfortable to explore their talents, instead of hiding from who they are.
What are your favourite shoes/surfaces to design on?
I love designing on stilettos. There are so may different ways you can paint on a stiletto instead of trainers or flat shoes as you can use the heel or the sole to generate many contrasting and different looks.
My shoes are usually telling a story – there is an interaction between the pair. Usually it's a story between the left and the right, one male the other female.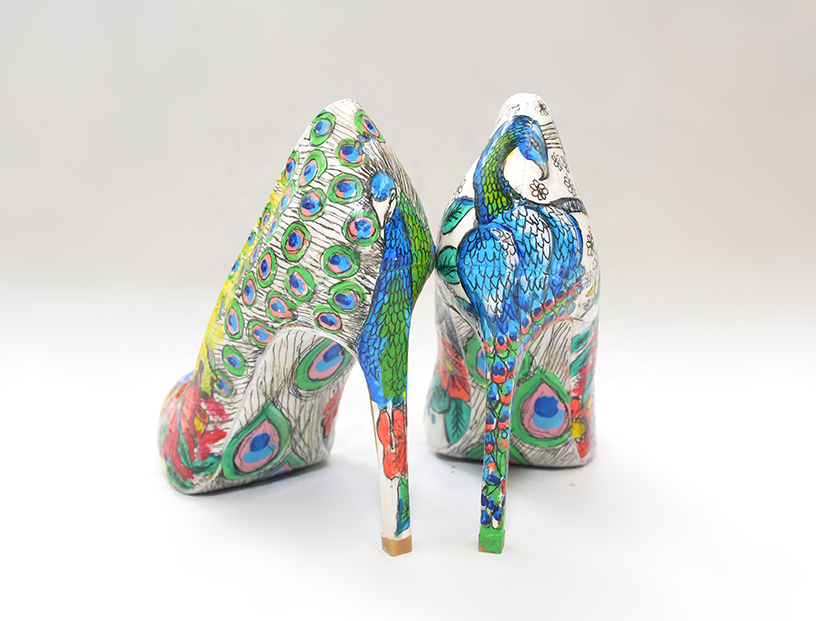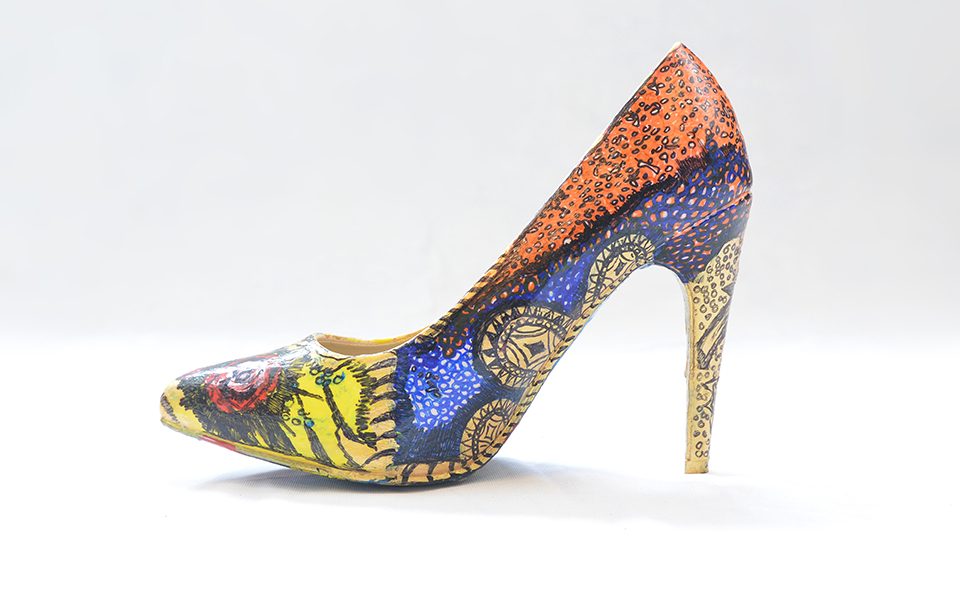 Your company is called Printed Soles and you like to paint on the soles of shoes, isn't this a waste of your art as the design gets rubbed away?
Printed Soles were really designed for special occasions and not everyday wear. If it's your birthday or you're getting married, you are most likely to wear these shoes once in your lifetime. For example, if you are getting married you can have your date on your shoes, your names or favourite quotes, which look great for your wedding photos.
The name Printed Soles is a play on the word soul and really it is about reflecting your inner personality.
Your shoes look like works of art – are they meant to worn?
That is such a compliment thank you. Art is probably at the heart of everything that I do, it is wearable art. I love the idea of being unique even though I am a bit of introvert (conflicting I know). But, I love creating things nobody has seen, so that the person who is wearing it is the only person who has this item.
How much do you charge to paint a pair of shoes and how long does it take?
It really depends on the design, whether the shoes are heavily detailed and also the make of the shoes. Prices start around the £70 mark for adults and £45 for kids. It usually takes about two weeks to complete because of the drying process. I usually cover the shoes with several layers of waterproof sealer, so that the design will last longer.
Who wears your shoes?
My customers are usually people who are looking for something, that they can't find on the high street. They want something, which reflects their personality so when they wear a pair of Printed Soles shoes they feel special (even if it is only for a brief moment).
Would you like to collaborate with fashion designers?
Laolu the Nigerian artist based in New York, he is amazing. He's work was featured in Beyonce's visual album on the song Sorry featuring Serena Williams. He specialises in body paint but he paints on everything. Before I saw him, I thought what I was doing was impossible but when I saw his growth and journey I was excited at the new possibilities he created for other artists/designers. Now I can draw reference to him when I explain what I do. He is someone who stuck to expressing himself originally and authentically and now can benefit from it.
Where can we find you?
Online at www.printedsoles.com
Facebook
Twitter
Instagram