The Coming 2 America sequel launches on Amazon Prime and has inspired cosmetic companies to recreate the fabulous looks from the new movie
Coming 2 America will be streaming exclusively on Amazon Prime from today 5th March 2021.
Much like the original film Coming To America which also starred Eddie Murphy, the sequel is filled with beautiful African influenced outfits, make-up and hairstyles. To celebrate the return of Prince Akeem of Zamunda and his court on our screens, UOMA Beauty and Sleek Makeup have drawn inspiration from some of the fabulous looks from the new movie.
UOMA Beauty launches exclusive Black Magic Coming 2 America Range
UOMA Beauty (UOMA – pronounced OMA which means beautiful) has released an exciting, new, limited-edition makeup collection in collaboration with Coming 2 America, premiering globally on Amazon Prime Video on March 5th. This exclusive edit, Black Magic Coming 2 America Collection, was inspired by the fictional lush and royal country of Zamunda, and showcases African beauty in its most authentic form.
The collection, which has a particular focus on the eyes, draws from African royalty from all over the continent. From the Fulani tribe in Nigeria, Niger and Chad to the Ndebele all the way to the ultra-modern and colourful Aso Ebi/Aso Oke culture.
'The Black Skinned Beauty' portraits campaign
But before we talk about the makeup, take a look at the collection's campaign, which was produced by world renowned creatives including Sir John, Zerina Akers and Trevor Stuurman, and features some of the costumes taken from the film. It takes the virtues of nine of the greatest queens of Africa – Amina, Yaa Asantewaa, Kandake Amanirenas, Nefertiti, Makeda, Nzinga Mbande, Nandi, Moremi, and Ranavalona – and distills them into five odes represented as 'The Black Skinned Beauty' portraits – – Courage, Pride, Heritage, Opulence, and Resilience.
UOMA Beauty Limited Edition Black Magic Coming 2 America Collection
Now for the makeup: In addition to the opulent and regal royal blues and golds seen in the cosmetics collection, the bold and vibrant range pays homage to the film with playful and cheerful neon colours, and uses joyful phrases and classic moments from the movie throughout the products and shade names, such as Peaches & Akeem, Queen to Be, and Zamundan Sun.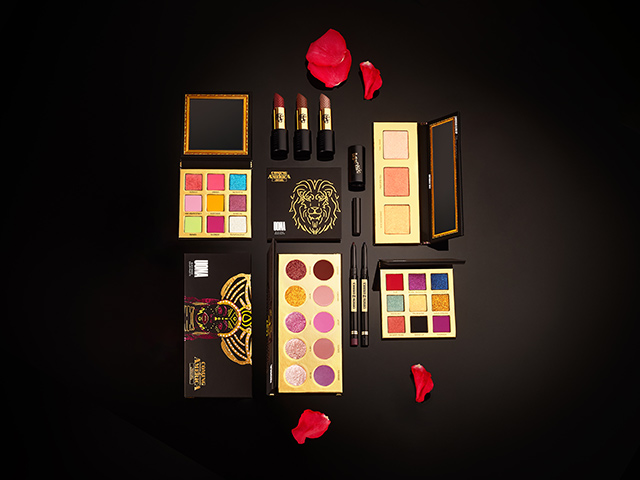 Black Magic Metallic Lipstick (£21): who can resist lipsticks with names like Not So Meeka, Peaches and Akeem and Sexual Chocolate
Royal Heir-Itage Color Palette (£44) inspired by 10 magnificent African queens with shade names like Ile Ife, Kush, Mali and Ashanti.
Coming 2 America Mini Color Palettes (£25). These 9-pan colour palettes include matte, sparkle and metallic finishes in two iterations: Good Morning Zamunda and Queen To Be
Kajal Liner (£14) are silky smooth kohl liners in Private Jet Black and Purple Reign.
Zamundan Glow Up Highlighter Palette (£28) is a limited edition trio of pearl-infused highlighters that deliver a 3D strobing and sculpting glow.
The UOMA Beauty Limited Edition Black Magic Coming 2 America Collection will be available on www.UOMABeauty.co.uk, ASOS, BeautyBay, Flannels, Look Fantastic, Harrods, Liberty and Feelunique.
---
Sleek Makeup
Sleek MakeUP, a brand founded in the 80's when the first Coming To America movie was launched, has rounded up the must-have products inspired by some of the fabulous looks from the new movie!
Get the look: Shari Headley as Lisa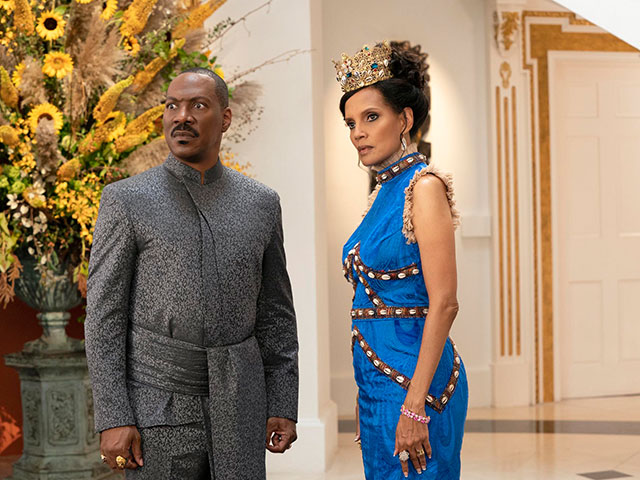 For the Sculpted Cheekbones – Sleek MakeUP Cream Contour Kit (£10.99)
This palette contains two highlighting and four contouring ultra-blendable shades that work together to help you achieve a perfectly contoured complexion.
Boots, Boots.com, ASOS
For the Pop Of Blue – Sleek MakeUP I-Divine Eyeshadow Palette in Trippin (£8.99)
i-Divine was first introduced 13 years ago and now it's relaunched bolder than ever in six distinctive, colour combinations to suit every skin tone and create every look.
Boots, Boots.com, Look Fantastic, ASOS and Pretty Little Thing
Get the look: Teyana Taylor as Bopoto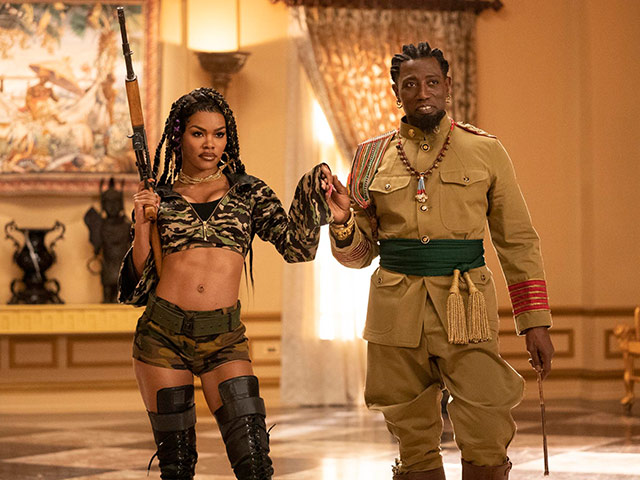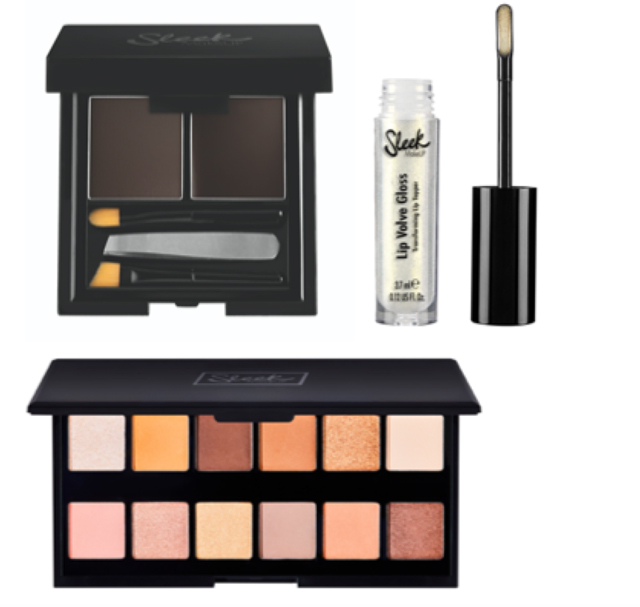 For The Statement Eyebrow – Sleek MakeUP Brow Kit (£8.49)
Create perfect brows with plenty of impact. Using the shaping wax and setting powder provided of the kit, makes defining your brows becomes a breeze and will help to frame your face, whilst opening up the eye area dramatically.
For The Gold Lip – Sleek MakeUP Lip Volve Gloss in 90's Baby (£5.99)
Transform your look with Lip Volve, a lightweight gloss top coat to take your lipstick finish to new heights. Pair with a nude lip for the true 90's look!
Get the look: Leslie Jones as Mary Junson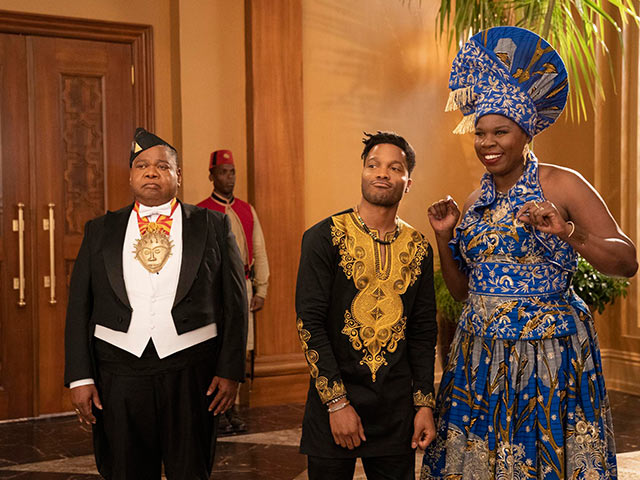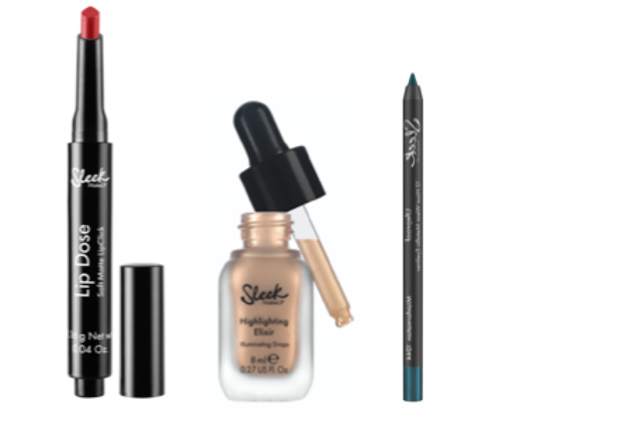 For The Bold Lip – Sleek MakeUP Lip Dose Soft Matte Lipstick in Disruptive (£5.99)
Create a lightweight matte lip with the Sleek MakeUP Lip Dose Soft Matte LipClick. The click-up pen applicator evenly distributes the lightweight mousse-like formula for even colour.
For The Pop Of Highlighter – Sleek MakeUP Highlighting Elixir Illuminating Drops in Poppin Bottles (£6.99)
These illuminating drops will help you achieve radiant skin in a flash. The formula includes nourishing jojoba seed oil, vitamin E and ultra-refined pearls for a customisable and buildable, dewy glow that befits a Queen.
Get the look: KiKi Layne as Meeka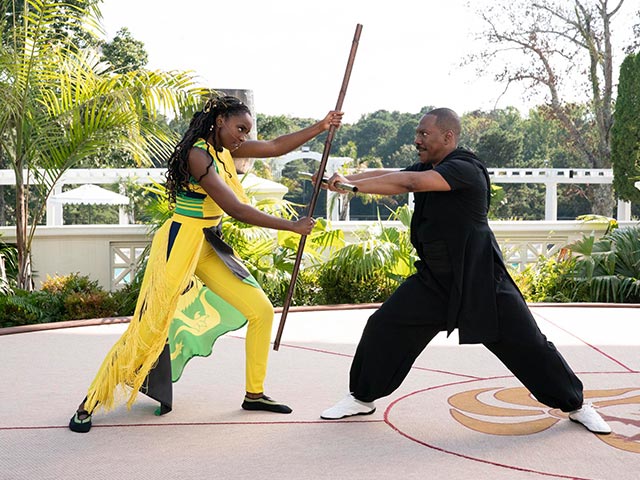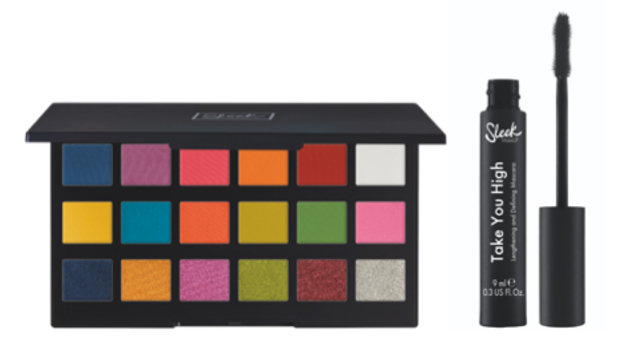 For Bold Eyeshadow – Sleek MakeUP Lucid Dreams Eyeshadow Palette (£13)
The Lucid Dreams Eyeshadow Palette will serve you serious shade in 18 acid-bright options! This collection of their biggest, boldest pigments is all you need for eye-popping colour.
For Bold Lashes – Sleek MakeUP Take You High Mascara (£8.99)
Warrior princesses need fierce lashes. Amplify yours with a formula that provides you with an easily buildable texture which glides on effortlessly for that intense false lash effect.
Sleek Makeup available from Boots.com, Look Fantastic, ASOS and Pretty Little Thing
---
Black-cosmetics…