We speak to Kereen Hurley, the founder of Choco Models, a dark skin empowerment and model management company for under-represented dark skinned models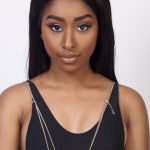 This Choco Models post gave us a large reaction on our web page and on social media, with people wanting to know more about the company and how they could join the agency. Choco Models is the brainchild of 22-year-old Kereen Hurley, a performing arts student, who explained why an agency like this is needed. 'There was an incident some time back about a woman being too dark to enter Dstrkt nightclub. Social media can be very cruel when it comes to dark skinned woman, criticising their skin tone and facial features. There are a lot of ignored comments about the lack of dark skin girls in the entertainment industry and this can ruin their self esteem. I started a new dark skin empowerment and model management company called Choco Media Models. It's a company that empowers dark skinned woman in the UK, to help re-balance self esteem issues.'
What university did you go to and what kind of performing arts did you study?
I studied at Bedford University I studied the theory, business and politics behind performing arts. I also studied practical subjects from dance, singing and acting.

Have you ever found that the colour of your skin has acted as a barrier to you achieving something?
Yes, the colour of my skin has acted as barrier for a quite long time especially when it came finding modelling agencies. However it hasn't stop me pursuing my dreams.
You've done a lot of work in the entertainment industry, what sort of jobs did you have?
I have done a lot beauty, hair and music video jobs.
Model agency promotes darker skinned girls
Why was Choco Media models born? What was the inspiration behind the agency?
There were a lot of dark skin freelance models with huge work ethic, however they weren't getting the recognition, weren't represented, weren't getting signed and were not being promoted. When I decided to start an agency, I put out an advert on casting websites and social media, I had non-stop applications from a lot of ladies. The agency was set up in February 2016 and ever since that time I've had a lot of inquiries and gained a lot of recognition.
Sum up Choco Media Models in three words?
Modelling empowerment platform.
It's very clear that you're passionate about empowerment, who and what drives and inspires you?
Lashawna Stanley and Tyra Banks, to name a few, are great role models. Both woman were passionate about unity, girl power and diversity. In general I love fashion, modelling, makeup and music videos I always did from a young age so that inspires me to do what I do.
If we are just focused on negativity all the time we won't feel good about ourselves.

Kereen Hurley
Why do you think there are a lot of misconceptions and prejudices when it comes to darker skin tones?
I think it's because of the one typical stereotype that the media has placed on us to represent us all and also because of black history.
There was a case with Teen Vogue where they featured African inspired hairstyles, yet the models used were all very fair-skinned. This caused an uproar on social-media, as people believed that dark-skinned women were not being represented. How do you feel about the controversy that surrounds models of colour?
There is a lot of colourism going on. I do believe magazines try to make 70% of their ethnic models look lighter skinned, so they can look as commercial and as light as possible. That then leaves darker skinned models to feel underrepresented, which is not fair.
Where do you think the responsibility lies about the lack of black models: society at large? The fashion industry? Magazines? Designers?
I do think everyone in the fashion industry has a responsibility from the model bookers, casting directors. However the designers have the power and have the final say, so I would suggest that designers request more diversity.
I also think black woman also need to react to positive movements, instead getting involved in trolling and cultural appropriation issues. Because I do believe some fashion companies and use "black twitter" for free promotion.
Can you elaborate?
Some fashion companies are not as 'careful' with our images, or how black women are represented. You see models with unstyled hair or sometimes they may even darken the images, they don't credit black models on purpose just to get a reaction, however I can't speak for each company as I don't know what goes on behind the scenes.
It's good to call out cultural appropriation and trolls – we can't turn a blind eye, but we as black woman need to be careful on what we put our energy into. If we are just focused on negativity all the time we won't feel good about ourselves. If we support positivity movements, become unified we will become unbreakable and peaceful within.
What campaigns have the models in your agency taken part in?
They have taken part in beauty and hair campaigns mostly.
What types of jobs do your models get?
Fashion shows, hair shoots for magazines and make-up for for cosmetic companies.
Where do you see Choco Media Models in five years?
Hopefully more support, word of mouth and more recognition and bookings for the models.
What are the requirements needed for someone to join your agency i.e. height, size?
I would say 5'2″ and upwards. Plus-size, curvy, petite, talent, fashion and commercial.
How many models are currently in your books?
There are 33 models on our books.
Who are your favourite models at the moment?
Jourdan Dunn and Mayowan Nicholas
The number of young black girls wanting to break into the modelling industry is endless, what advice would you give to them becoming a model?
I would tell them to be patient nothing comes overnight and don't make rejection stop you from pursuing your dreams. If there is no opportunity create one and find your niche. Keep knocking on doors and eventually one will open.
Invest in your career and believe in yourself even if no one else does. Be confident, be strong and love yourself to the point you don't need approval from anyone.
Are you taking on any new models? How can I apply?
We are taking new models and to apply you can send pics/stats /contacts/social media details to chocomedia@hotmail.com
Where can we find you?
Website: www.chocomediamodels.com
Instagram: www.instagram/chocomediamodels
---
Models…