Carol Lali – Fashion stylist, entrepreneur and model
[one_third padding="0 10px 0 0″]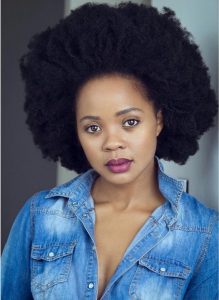 [/one_third]
[two_third_last padding="0 0px 0 0″]How long have you been natural for? If you did transition, what was the reason behind it?
I can't wait for us to call our hair, without using "natural" to define it! All other races don't have to validate their hair by saying "my hair is natural for instance "lol but to answer your question I did my big chop 2 years and 7 months ago, I was becoming more self-aware and loving my blackness. So, I redefined standards of beauty for myself and in that process, I helped other women embrace and honour their crowns

How would you describe your hair type?
My hair is really coarse and tightly coiled, it's also very porous and amazingly beautiful, but according to the hair type chart I'm a 4c

Growing up did you encounter any challenges with your hair in terms of a lack of [/two_third_last]
representation in the media, school etc?
Yes, a lot! just to recall a few incidents, I wished my hair was long and silky just like the white doll I grew up playing with, I thought my hair was ugly, I thought I was ugly! Other kids used to tease me a lot, and in high school I was suspended for wearing my hair in an afro, my class teacher told me it was filthy and unacceptable.This one time I decided to relax and dye my hair in one day my scalp was badly burned and my hair started falling out after two weeks. I know better now than I did back then and I'm sharing all the knowledge I have acquired with thousands of other women.

Why do you think natural hair has become so popular over the years? Do you think this is a trend?
Natural hair is not a trend! It's a part of who we are. Our hair defines us! And it's magnificent I'm happy that more and more people are embracing natural hair! I pray it stays that way.

Do you think the standard of beauty (hair) in the media has changed or do you think we still have a long way to go?
It has changed a lot, we are refusing to subscribe to Eurocentric standards of beauty and we also can't deny how beautiful natural hair is.

Are you perceived differently with natural hair in terms of work, the opposite sex?
Yes, as a model I got all my gigs because I have "natural hair" the industry is more open to ethnic beauty now and I'm surely rocking it and representing.
Most men give amazing compliments and love my hair! a few tell me to "fix my hair" my response is always "fix your mentality".
It is easier to manage natural hair now due to a plethora of natural hair products. Which three products can you not live without?
• Unrefined Shea butter
• Dark & Lovely 3-in-1 Cleansing Conditioner
• African Black Soap

What advice would you like to give to anyone who wants to be natural?
Get to know your hair! Find a simple routine that works for you and stick to it for at least a month before trying another. Most importantly love your hair.