Emeline Nsingi Nkosi – Presenter and producer
[one_third padding="0 10px 0 0″]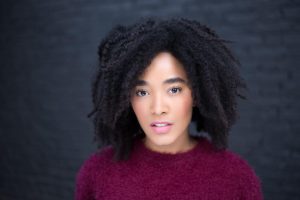 [/one_third]
[two_third_last padding="0 0px 0 0″]
How long have you been natural for? If you did transition, what was the reason behind it?
I did transition. But if I had known better then, I would have shaved it all off! I was having my hair relaxed when I decided it would be my last appointment and I would start growing it out. That was in April 2010. I spent the summer with my hair tied up as the roots became curlier. I used to dry my hair using rollers to get curls so I could try and hide the difference between the hair growth and the relaxed ends before finally cutting off the straightened ends and going short in January 2011.[/two_third_last]
At the time I was a student working part-time in a luxury high-end retail company, I didn't feel it was an option to shave it all off, at the time even just the idea of going natural was in its infancy. If I was going natural now, I would definitely shave it all off.
How would you describe your hair type?
Rebellious, stubborn and my cherished baby. Every day is a different hair day, I know what works now in regards to styles and products but I really don't force it if it's not co-operating. I must be a 4C but to be honest I don't really follow those codes.
Growing up did you encounter any challenges with your hair in terms of a lack of representation in the media, school etc?
For me it wasn't always based on outside representation but internally at home. Growing up, I would feel ashamed of my hair, my hair was shaved for the first two years of my life and then allowed to be braided but I don't think anybody understood the importance of a detangler or the difference only combing your hair when it had conditioner in does, so I would scream in pain which led to my first relaxer at the age of 8.
There wasn't any representation of my hair type in the media in any woman of colour and the times they would be represented it was either with relaxed hair, weaves or in the case of mixed-race girls, lose curly waves which wasn't the case for me.
There was definitely some sense of shame and confusion based on people's reactions to my hair and my perception at the time, why as a mixed-race girl, I didn't have lose curls but I'm glad I don't have those feelings anymore.
Why do you think natural hair has become so popular over the years? Do you think this is a trend?
I don't think it's a trend per se, I feel it's a movement. It's deeper than hair though, it's about self-acceptance, ultimately your hair grows naturally from your roots in that form. Why should anybody be ashamed of that?
Recently, I have noticed images of black women with natural hair on national billboards. Do you think the standard of beauty(hair) in the media has changed or do you think we still have a long way to go?
There is still a long way to go but there's definitely been a shift in the past couple of years, the beauty and hair industry are realizing that it's not a segment of the market that should be ignored. The success of Fenty Beauty really took the industry by surprise, brands cannot ignore WoC. The trend trickles down to hair, the dip in relaxer sales has got brands looking at building natural ranges within their existing offerings and this domino effect eventually ends up on billboards but it's not enough.
Someone who's really worked towards seeing more Afrovisibility on billboards is Lekia Lee with her Project Embrace Billboard campaign. I feel there is a change, people are starting to recognise that they can't ignore natural hair.
Are you perceived differently with natural hair in terms of work, the opposite sex?
For me, in terms of work, it works in my favour. It's what makes me who I am. When I worked in a more corporate environment, I would still wear my hair out unapologetically, even at the comments of old friends who told me that it's not very professional. When it comes to TV, I want to be portraying that there is nothing taboo about having your hair in its natural state.
It is easier to manage natural hair now due to a plethora of natural hair products. Which three products can you not live without?
I actually feel it's easier to cater to my hair now that I'm living in Ghana, I use local brands such as Eya Naturals and have now found WeNaturals. I can't live without:
• The Eya Deep Conditioner
• WeNaturals Leave In
• Whipped Shea Butter from The Tree of Life. It's amazing!
What advice would you like to give to anyone who wants to be natural?
• Explore what works for your hair, for example everyone raves about coconut oil but it doesn't work for me.
• Make a mood board of various styles that you can work with.
• Be patient with your hair, there are days where you will want to give up but remember why you started the process.
• Never let anybody tell you that your natural hair isn't cute!
• This is your journey, embrace it!