Janet Yeboah – Administrative assistant/ natural hair and lifestyle blogger and content creator
[one_third padding="0 10px 0 0″]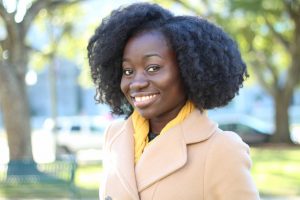 [/one_third][two_third_last padding="0 0px 0 0″]
How long have you been natural for? If you did transition, what was the reason behind it?
I am 3 years natural. I transitioned because I was struggling to keep my relaxed hair healthy and I also came to the realization that I had never seen my natural hair before. My hair was chemically relaxed since age 6 so I was curious to know what my real hair would look like if I let it grow.
How would you describe your hair type?
Thick, coarse and kinky[/two_third_last]Growing up did you encounter any challenges with your hair in terms of a lack of representation in the media, school etc?
Absolutely, everybody relaxed their hair to fit in because that was the look praised as the standard of beauty. I don't recall ever seeing a Black woman with natural hair in the media until recently.
Why do you think natural hair has become so popular over the years? Do you think this is a trend?
I don't think this is a trend. I think this is in part because of social media giving everyone equal exposure to the rest of the world, which traditional media failed to do. Social media platforms allow individuals to unapologetically share their culture and natural beauty which has contributed to growing levels of pride, self-love and acceptance of the difference qualities that makes us all unique and beautiful.
Recently, I have noticed images of Black women with natural hair on national billboards which is amazing. Do you think the standard of beauty(hair) in the media has changed or do you think we still have a long way to go?
I think there has definitely been major improvements in terms of diversity in the media but I believe we still have a long way to go. There are still issues of colourism/featurism/texturism amongst ourselves. As a people, we still struggle with self-love and accept and we need to find practical ways to rid ourselves of the years old mentality that black is not good enough.
Are you perceived differently with natural hair in terms of work, the opposite sex?
Yes, I am. I noticed that people's attitude towards me changed in the work place both in positive and negative ways. Also, I receive more compliments and get approached more by white guys and older black men than I do with young black men in my age group.
It is easier to manage natural hair now due to a plethora of natural hair products. Which three products can you not live without?
Yes absolutely. The idea that natural hair is harder to manage is false because it all depends on the individual and how they choose to care for their hair, just like with any other hair type. My top 3 products are:
• A good conditioner with slip.
• Moisturizing shampoo
• Shea butter
What advice would you like to give to anyone who wants to be natural?
Don't compare yourself with anyone. Do it because you want to, not because of what others are doing.
Lawrencia Amfo-Asiedu at: crownoflaurelsdot