Photos by Ron Hutchinson/@ronlhphotography
Hot summer tips to loc care by the seashore
Posting up pretty along shorelines this summer with wave-whippin' locs can become cumbersome, especially if you're taking an ocean water dip. As a bona fide beach babe during this time of year, I've learned the hard way to managing lengthy-loc hairstyles while swimming and soaking up rays along the United States' East Coast beaches. Therefore, one must take these cautionary measures into account to ensure locs leave the sands still fresh, fun and full of life until your next beach trip:
DO safeguard your tresses — like you would sunscreen your skin — with oils, creams or leave-in conditioners that include UV/heat protection ingredients before overexposing hair to beach bummin' with gal pals all day. My beach pick: Silk Elements' Strength 'n Silk Thermal Silk Styler, which is lightweight and adds shine.
DON'T clunk on so much heat-protective product that your locs are super saturated and can't breathe. It's so not cute on the beach when moisturizers and conditioners start to create a massive buildup and greasy aftermath. And definitely don't add products or style locs if you know for sure you're going to swim as well. You will only form a hot mess on top of your head.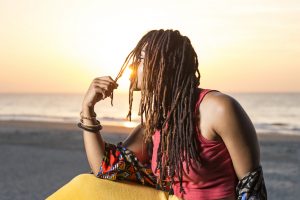 DO wet locs at home before swimming in saltwater (and even in chlorine for that matter). Tresses will absorb the tap water and not soak up as much of the ocean or chlorinated water if you do this step first.
DON'T think for one moment you get a free pass to not wash and condition your locs after swimming. A big no-no. Make sure you use a clarifying shampoo, which removes oils and dirt from tresses. My beach pick: Twisted Sista's Luxurious Clarifying Shampoo.
DO consider wearing breezy headwear like beach hats, headbands, scarves and turbans to provide extra protection against sunshine, debris and wind while helping to tame free-flowing locs. My beach pick: The Wrap Life's Demi Denim Floral, which is an airy, denim-like fabric.
DON'T suffocate strands with out-of-season headwear made of thick materials such as felt or wool. You want to prevent overheating as much as possible, so also stay away from dark-colored accessories.
Candace Morrow, a.k.a. Cowgirl Candace
SaveSave
---
✶ You may also like ✶