ghd hosted a 12-hour super shoot overnight in London, showcasing the limitless possibilities of their latest range; Nocturne.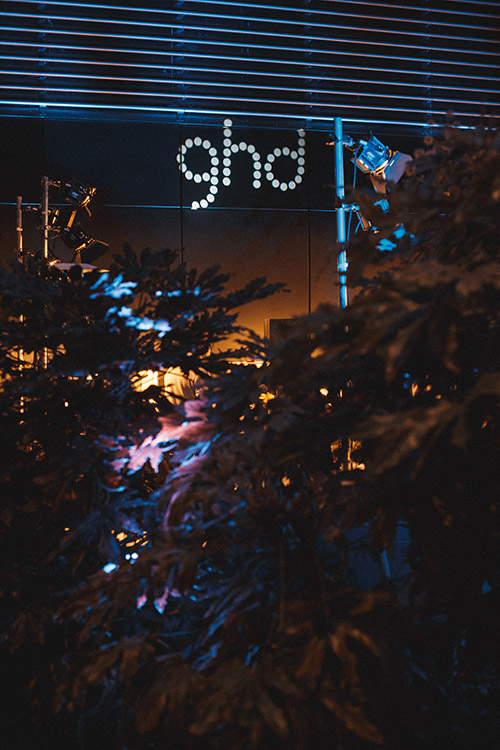 On Monday 2 October, ghd proved the infinite possibilities of their new Nocturne range by styling round the clock on a remarkable 12-hour shoot.
Ten cutting-edge stylists were invited to London's uber-cool Crossrail Place Roof Gardens in Canary Wharf to style under the stars as part of a live, collaborative photoshoot.
Shooting on the night were session stylist Leighanne Regan, salon owner Sophie Laidlaw, F.A.M.E. Team member Jordanna Cobella, IT Guy finalist Jamie Benny, Headmasters art team member Chris Southern and Newcomer of the Year finalist Frazer Wallace. They were joined by Australian Hairdresser of the Year finalist, Uros Mikic, ghd's Italian artistic director Igor Rago, German stylist Dashi Rasnici and Spanish stylist Jorge DeSancho.
Each stylist was assigned a model, then given 12 hours to create ten different looks each – resulting in an astounding 100 images produced overnight. With no basins and limited time, the stylists were able to maximise ghd's kind-to-hair technology and optimum temperature to style, style and style again, transforming their models throughout the night to create optimum results without compromising the health of the hair.
The new Nocturne range is all about producing beautiful hair that blurs the boundaries between night and day and the shoot showcased that limitless style perfectly, with looks ranging from punk ponies and knotted mohawks to textured waves and beautiful breezy curls – all produced against the clock as the inky night sky gave way to dazzling sunlight.
Photographer Jack Eames and his team worked alongside the stylists to create the series of stunning images, with makeup provided by Max Factor and nails by OPI – all part of ghd's new Coty family. The team started their shooting in the luscious, leafy open-air rooftop gardens, before adventuring into the otherworldly surroundings of Canary Wharf's skyscrapers and penthouses for a shoot that told the story of girls seamlessly blending their night-time looks from party to afterparty and beyond.
As the stylists worked, a Facebook livestream united the British contingent with a simultaneous event in Sydney, Australia and Instagram blew up with #ghdnocturne shots showcasing the action as it happened.
No all-nighter is complete without a midnight feast, and neighbouring restaurant, Big Easy was on hand to provide belly-busting burgers throughout the night to fuel the troops. Endless coffee was also on hand to keep the momentum up, while DJ Charlie Banks soundtracked the shoot.
As the sun rose, Jack and his team produced first looks from the night, which were sent over to the ghd studio in Soho for a grand reveal in front of the press – many of whom had paid a visit to the shoot the previous night.
ghd global head of education, Jo Robertson, said: "This is the first shoot of its kind and the perfect way to showcase the infinite styling abilities of our new Nocturne range. All ghd products are designed to allow you to style and style again with no compromise to hair health, but this range is also about celebrating the blurred lines between night and day. Today, women wear their hair how they want, when they want and with these tools and our inspiring trend looks created by Zoe Irwin, stylists and clients alike will be empowered to create hair without limits. We're so proud of the ten stylists that took part in tonight's shoot and the work they produced against the clock – it just goes to show that with the right tools and teamwork, anything is possible."