Imani Evans' Instagram page is larger than life, the signature afro, the curvaceous figure and her penchant for bright look-at-me clothes. It's hard to believe that this woman once had body issues. She's over it now and is preaching self-love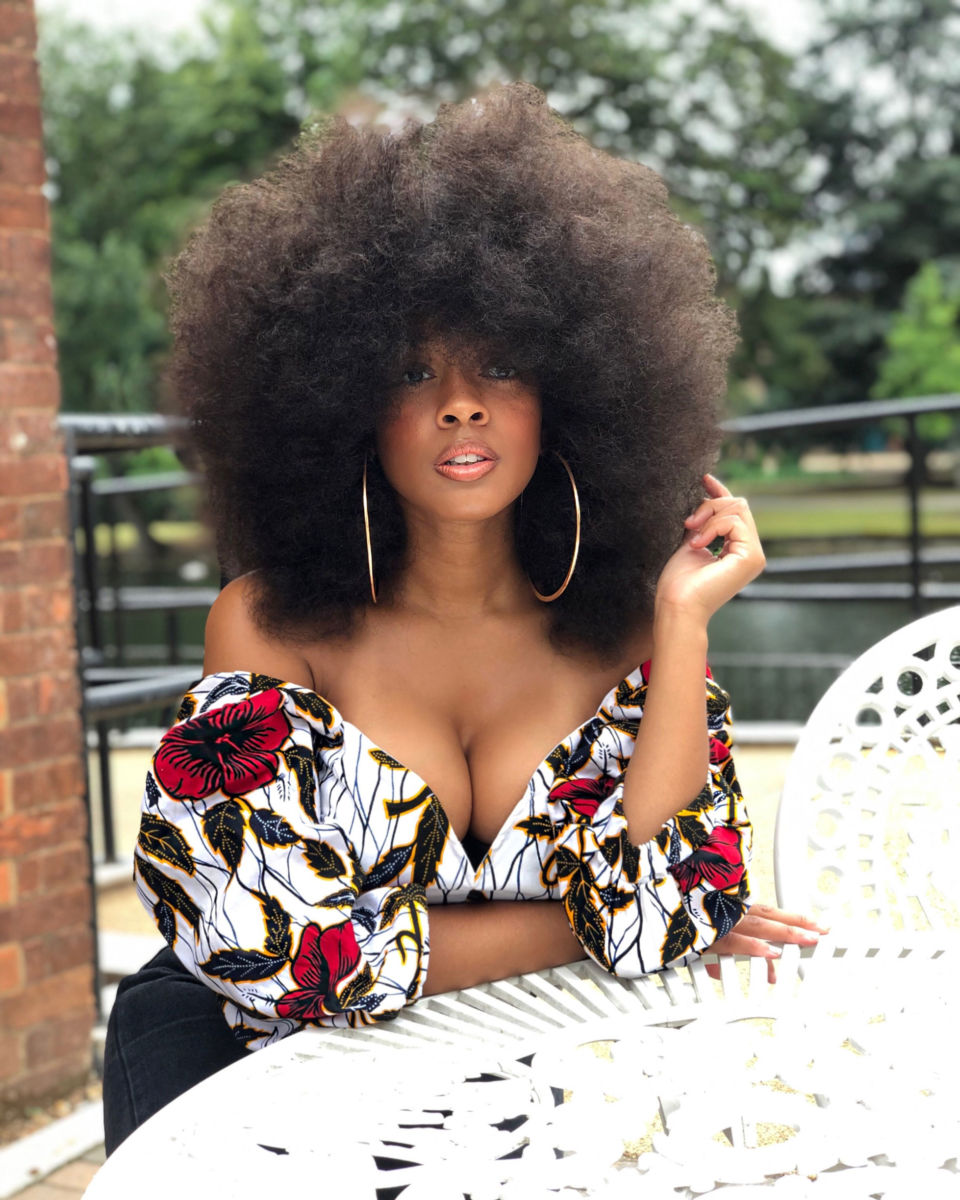 Instagram / imanievans_
Imani is a beautiful name. What does it mean?
Thank you! Imani is a Swahili name and it means Faith. My mum and dad were going back and forth for months trying to agree on a name but I'm glad they chose this one. I feel a powerful name gives you a great start in life!
What do you do for a living?
I'm a social media influencer and I still have to pinch myself every day! When I was younger I always knew I wanted to be involved in fashion because nothing in life gets me more excited. Food is a close second though! Initially I thought I would go down the route of styling celebrities as it seemed like the best way to live my dream at the time. Once social media arrived, I realised that other people were sharing their passions online so I decided to start a blog and do the same. I realised that Instagram was a great way to promote my blog posts, so I used both. Turns out I hated blogging but loved Instagramming and I've worked for years to turn this into a business. With the right commitment, consistency and focus… anybody can combine their passion with social media and turn it into a business.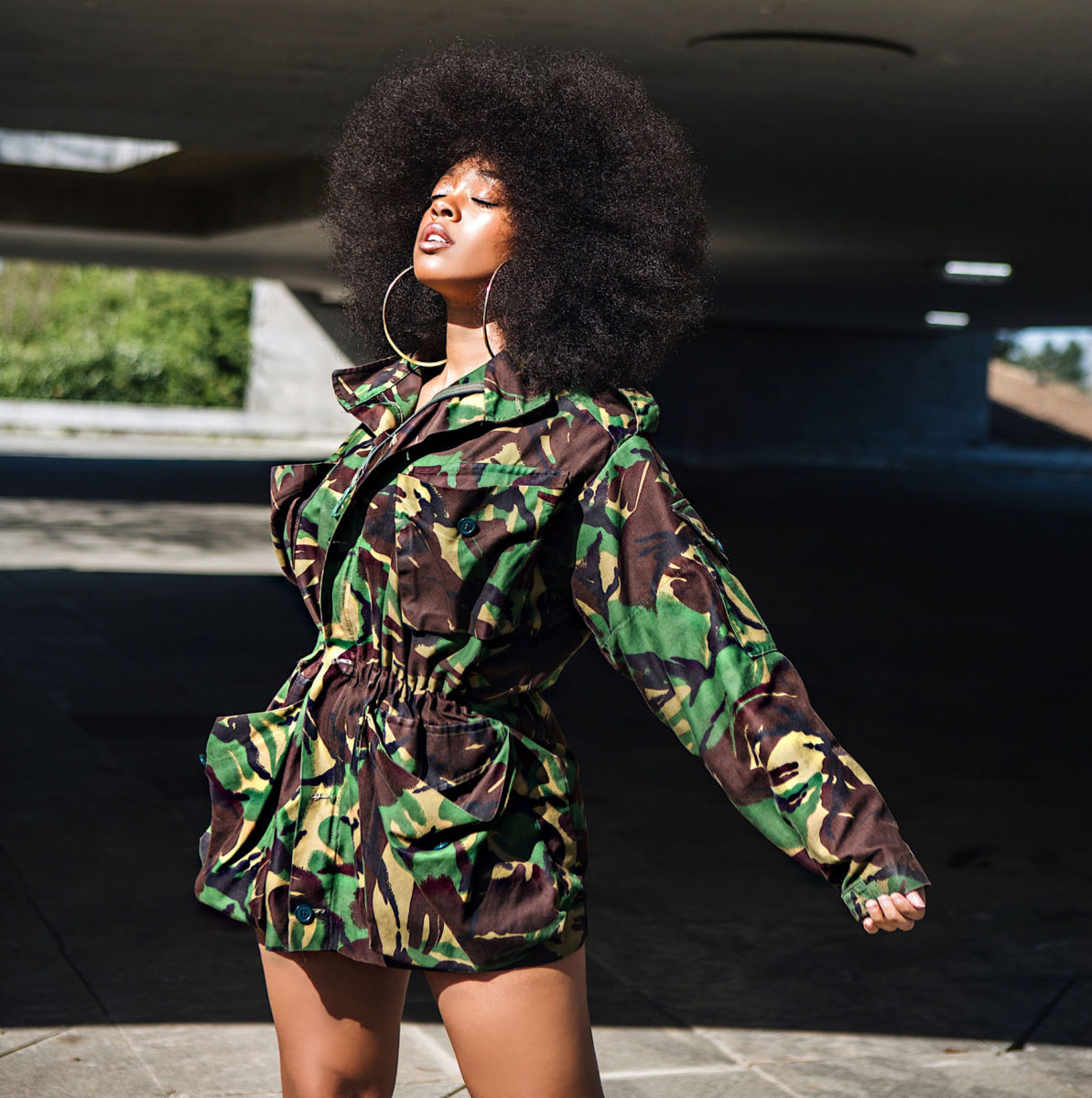 Mukesh Mistry @MuxPhotos
Your signature afro is amazing, who does your hair?
My hair routine is pretty simple and easy, so I do it myself. I'm not a woman that likes complicated routines so when it comes to my hair or make up, I keep everything pretty simple. I detangle every night, oil my scalp once a week, steam my hair every 4-5 weeks and my mum trims it for me since she's the only one I trust with scissors! Talking of trims… I think I'm due for one soon!
Have you always been in love with your natural hair texture?
Well I'd like to say yes, but there was nothing I loved about being a child and knowing it was time to get my hair done for school.
I started to like my hair more when I was old enough to do it myself. I thought I had it under control as a teenager, but the thickness wasn't something I managed well and sometimes I would go weeks without combing the middle. I would just put gel on the edges and scoop it into a ponytail! This caused extreme clumps of tangles, so when I eventually faced it every few weeks my hair would tear. Even after 12 years later the middle of my hair is shorter from the damage. I was about 17 when I finally learnt how to deal with my thickness and length… so that's when I really fell in love with my hair!
[two_third padding="0 0 0 0px"]What are your top three hair products?
I am currently in love with the Cantu Shea Butter Tea Tree & Jojoba Hair & Scalp Oil! I've always applied oil to my scalp to avoid dryness but I've found some oils just don't do the trick. The Cantu one has shea butter, tea tree and jojoba oil in it and it's literally become my number one product. So much so that I actually buy it in bulk when it's on offer. My second must-have product is the Cantu Leave in Conditioning Repair Cream. It's super thick and creamy but most importantly it doesn't leave any flakes in your hair when it dries. Last but never least… is the Gro Healthy Moisturizing Shea & Coconut Shampoo. It's super rich and gives your hair a thorough clean so you only need to do one wash, so for someone that likes a simple routine its perfect![/two_third][one_third_last padding="0 0 0 0px"]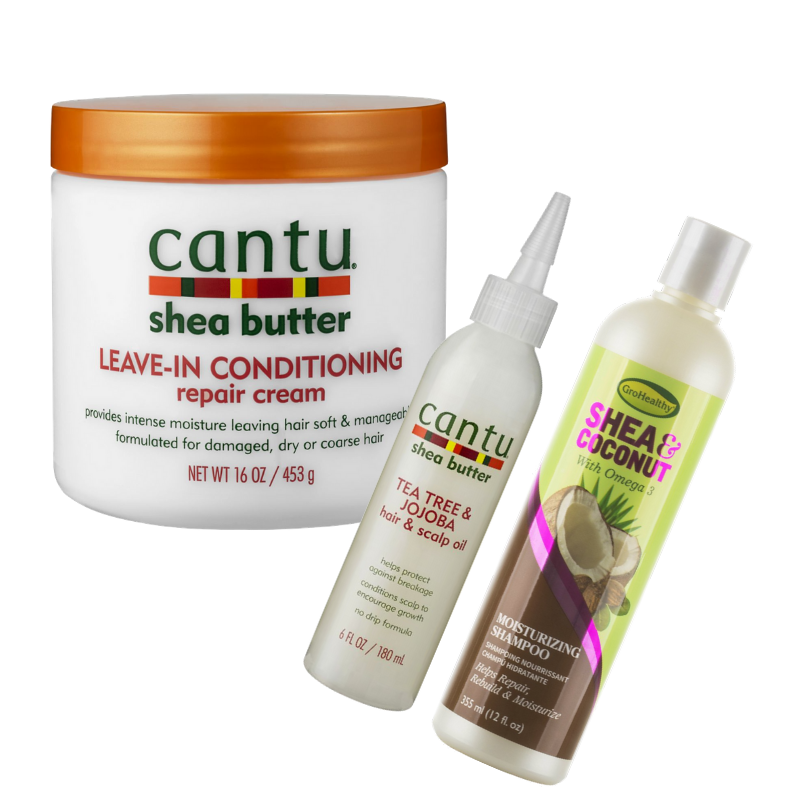 [/one_third_last]

What are your winter haircare tips?
Moisture is always key no matter what season. The best tip I can give is to use natural oils and to not irritate your hair by over-styling, this is why protective styles are perfect! Just because your hair is in a protective style it doesn't mean you can ignore it. Be sure to oil your scalp and apply a good natural product to the hair you're able to reach. As always, eat healthily and drink lots of water as our diet affects our hair too!

You recently revealed that you had some body issues growing up. Can you tell us a bit about that?
When I was around 12, I was extremely thin and then this suddenly changed. Once I hit my teens it felt like I had become voluptuous overnight. It was a major shock and I was really shy about my new body and the stretch marks that came with such a sudden change. I struggled with this for years and eventually became obsessed with trying to get rid of the stretch marks. I remember feeling completely disgusted and I told my mum that I would never wear a bikini or show my legs.
For years I looked into laser to get rid of them but no company could guarantee that the laser would work 100%. Instead they used words like 'reduce' and 'minimise' when describing the results. That wasn't good enough, I wanted them gone. In the end I decided that Bio Oil would be the answer and I soaked myself in the stuff multiple times a day until one day I felt sick that I was allowing this to take over my life. I looked into myself and realised I was the one allowing this to happen. So, I made a conscious decision to change my negative attitude towards my body and I did exactly that. Releasing myself from the mental torture was the best thing I could have done, the most beautiful gift you can give yourself is self-love.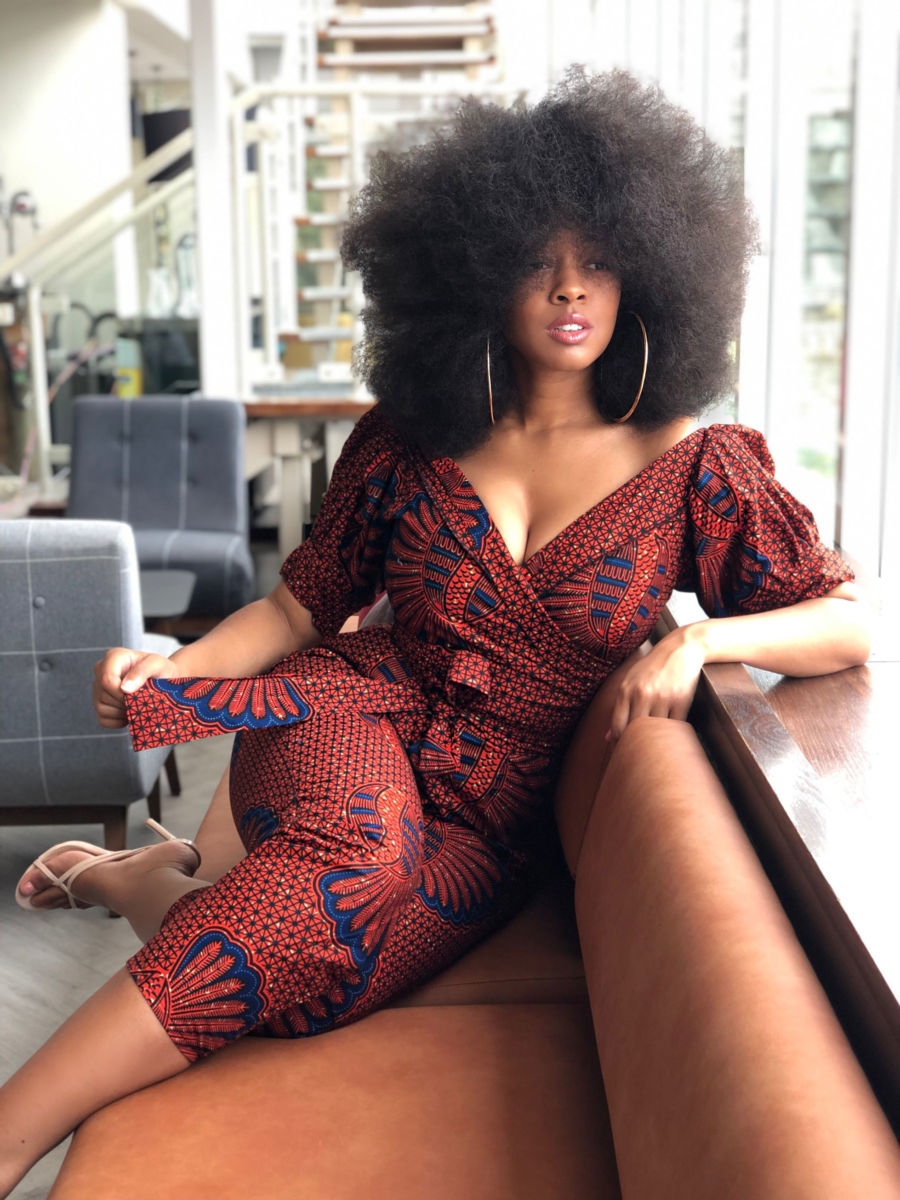 Instagram / imanievans_
You're not shy to display your curvaceous figure (yes folks, she's all natural). What, finally gave you the body confidence that you lacked as a youngster?
Maturity definitely helps. When you're young it's harder to realise what's actually important in life because you lack life experience. Now, I feel grateful to have a healthy working body when so many others don't. Yes, my boobs might be huge and my bras are disgracefully expensive but how blessed am I to be able to afford them? And yeah, I might have stretch marks on my thighs, but my legs work perfectly and I like them now! Sure, there's some dimples on my booty but my gym is only 10 minutes away and that's how I can reduce them! I'm more of a problem solver these days rather than a complainer. If you can change something and you want to, go ahead. If not, move on and focus on something you can.
What message do you have for young girls who feel under pressure from the perfect images that they see on social media?
Be good to yourself and take notice of when you are beating yourself up, comparing yourself and thinking negatively. Once you've acknowledged what you are doing, change your thoughts into something positive. Follow pages that will make you feel good about yourself, there's lots of positivity online! Finally, log off when social media gets too much. Spend time with the people you love in real life, social media should be fun but if it's effecting you negatively you need to make changes to your habits because nothing is more of a priority than your wellbeing and overall happiness.
You're best friends with your mum, reality star Sue Evans, (Sue appeared in Big Brother, the mother and daughter team have also appeared in The Kitchen & ITV's Meet The Parents). What makes the pair of you so close?
Our bond really is beautiful and I feel very blessed. My mum actually gave birth to me at home by herself because nobody made it in time! I can't imagine how terrifying it was knowing she was going to deliver me alone but there was no time to panic & in between contractions she crawled to the front door & left it open for the paramedics, she was up and down the stairs preparing the area with towels, cushions & heating up the fireplace to make sure we had everything we needed before I had even arrived. That is just one example of how phenomenal she is. She always says that when she was holding me for the first few minutes she knew that something very special had happened and that we were going to have a indescribable bond. One of the many reasons we are so close is because she never fails to amaze me with her strength, power and pure heart. I believe her example saved my life, there's no way I could ever fail at life with her next to me.
Do you get questions from your followers about relationship advice, for instance how to be closer to their mothers?
I get all kinds of amazing questions from my awesome followers and I adore the fact that they trust me with advice. I would say I'm pretty good at giving advice so I love to respond and help when I can. Sometimes when someone is in a difficult situation in their lives there's not much you can do to help but even listening to them can make a difference. It takes a lot of courage to talk about personal issues, so if someone reaches out to you the least you can do is offer them encouraging words. I would love everyone to experience the type of relationship my Mum and I have, but I understand that isn't a reality for everyone but that doesn't mean you can't experience it with someone else. A best friend, sister, brother, partner etc. I wish for everyone to have someone.
Would you do more reality TV, if so, which show would you like to be on?
I'm extremely picky with what I would take part in and because of this I've turned down quite a few TV opportunities. I don't feel like I need to say yes to everything and anything. If the right opportunity came up I would definitely take it, but as of now there's no TV show I know of that I would be excited to be on. A lot of reality shows these days are filled with drama and have a negative spin. That doesn't sit well with me! I'd love to be contacted for a show that isn't even on TV yet. Something new, fresh and hasn't been done before. I'm speaking it into existence and will be something related around fashion! I'm excited already…
Talking of fashion, it's obvious from your Instagram feed that you love colourful, sexy clothes, who are your favourite designers?
The feeling I get for clothes is completely out of this world. I bought a pair of boots last week and I loved them so much that I actually felt lightheaded in the shop and I had to sit down! I love clothes that are bold. Whether it be the material, print or style, it needs to say something and something loud at that! I don't like clothes that whisper. I want my looks to shout and I make sure they do, every time! I recently found a designer called TLZ L'FEMME and I have been feeling emotional at every item she's been posting. I think it's time to treat myself to one of her pieces but I'm extremely indecisive so it's taking me a while to decide which one… or two!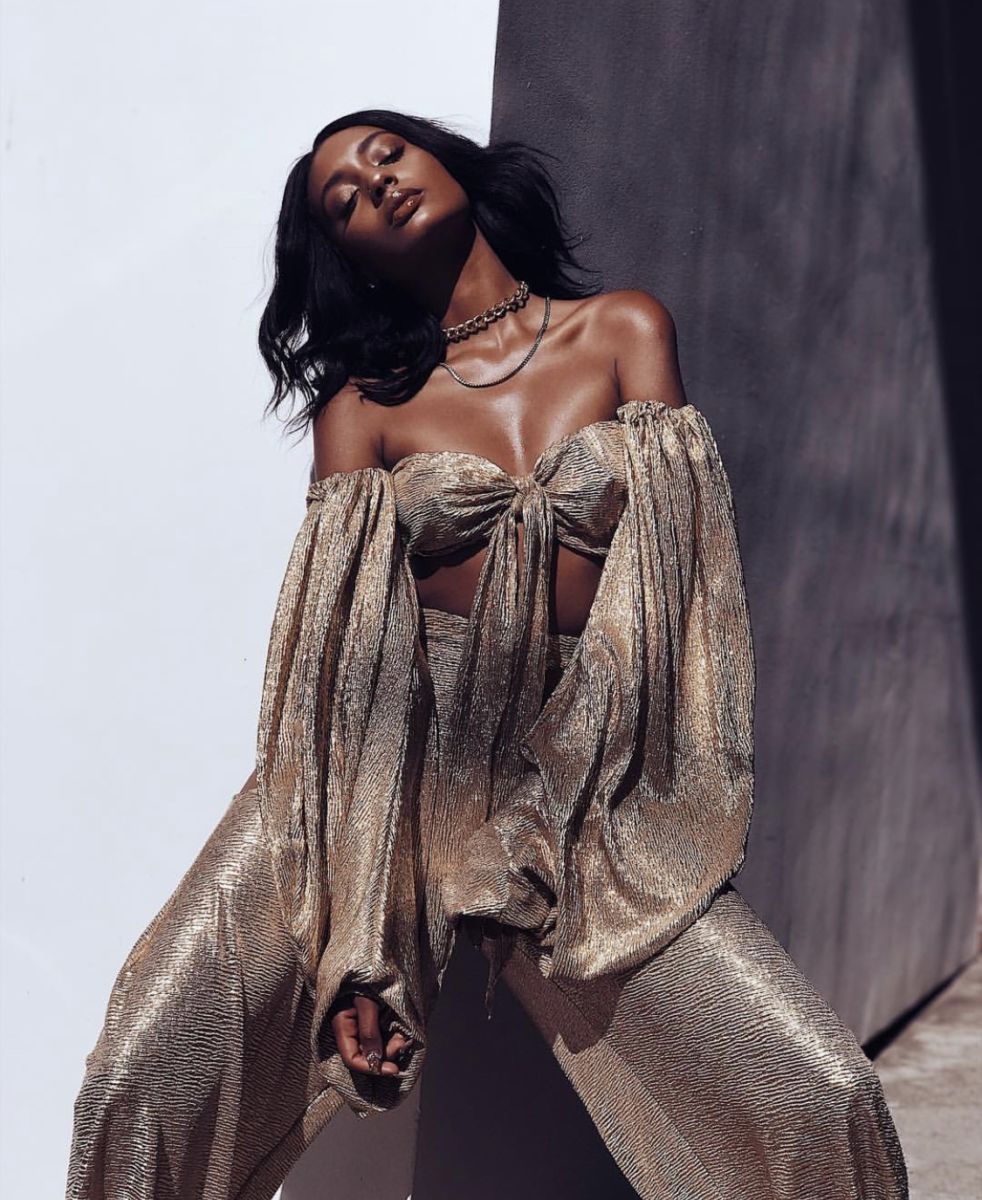 Imani is a fan of TLZ L'FEMME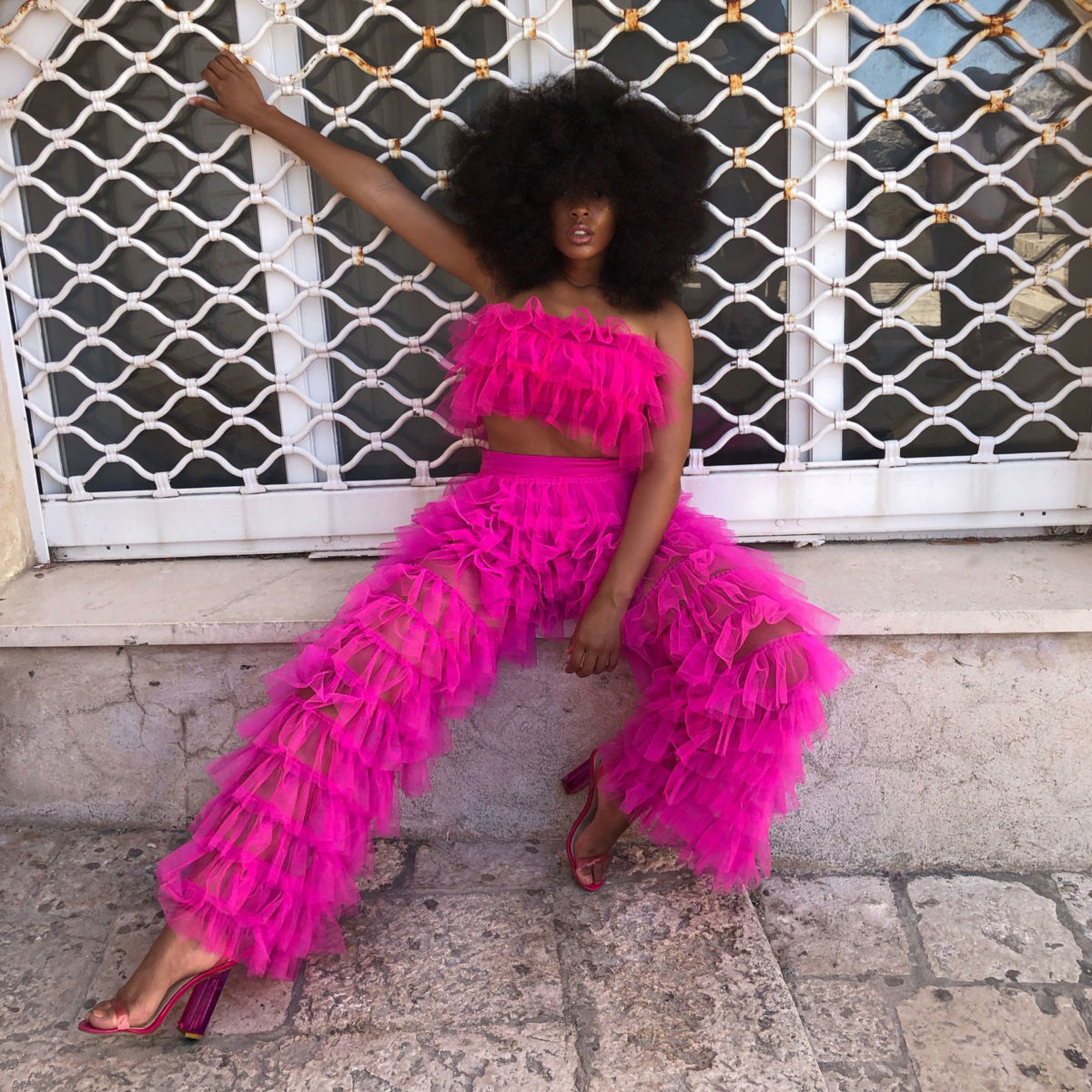 Instagram / imanievans_
What are your plans for 2020?
I'm going to start my year off with a solo trip to St Lucia, this will be my first holiday alone and at first I was nervous but now I'm ready to pack! Once I'm home and rejuvenated I plan to produce even better quality content, I'm taking a presenting course, I'll be working with more brands, photographers and other creators, modelling, learning more skills and travelling.
Where can we find you?
Instagram is the best place to find me so come and feast your eyes on some fashion and say hey while you're here!
@imanievans_