Lizzo wears colours from Ciate London's I Am Woman palette for this International Women's Day beauty look. Makeup artist Alexx Mayo breaks down the look
Make-up company Ciaté London are celebrating International Women's Day with the launch of their new eye shadow palette I Am Woman. The cult brand, founded and owned by makeup boss Charlotte Knight, is passionate about empowering and inspiring their customers. The I Am Woman Palette (£39) is a 24-pan eyeshadow palette, inspired by the forward-thinking, powerful and inspiring women across history, who have fearlessly shaped the world as we know it. Each shade in the palette has been named after a personal inspiration of Charlotte's and her 84% female workforce.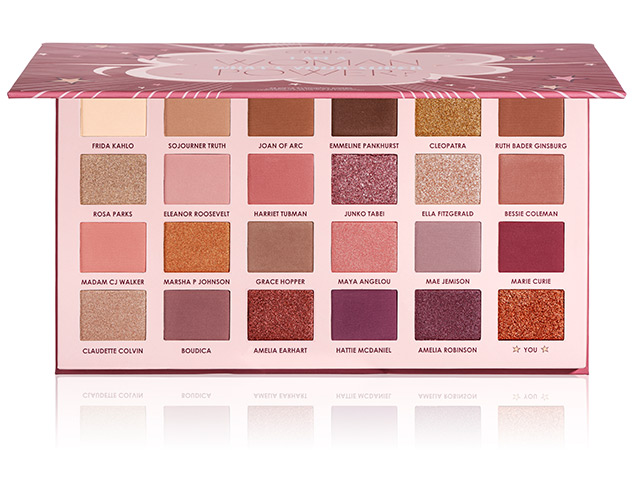 How to get Lizzo's look
The powerful message of female celebration has inspired Grammy-award winning singer, female powerhouse and self-proclaimed bop-star, Lizzo's latest bronze-toned, smoked out beauty look. Here her makeup artist, Alexx Mayo exclusively breaks down exactly how he used the Ciaté range, featuring the I Am Woman Palette to create the look:
I used the Extraordinary Foundation (£28) to create a flawless finish to the skin, then set the base using the Everyday Vacay Coconut Setting Powder (£18) using a medium sized powder brush to lightly dust the fine powder across the complexion. To lock that in for ultra-long wear, I spritzed the Everyday Vacay Coconut Setting Spray (£18) across in a 'x' and 't' formation. Next, I sculpted and shaped the brows using the Microblade Brow Pen (£14) as this allows for the creation of ultra-lifelike, fine hair strokes.
Then, taking the I Am Woman Palette I mapped out the crease and contour the bridge of the nose with the soft-matte, mid-brown shade 'Joan of Arc' then took the rich metallic cranberry shade 'Marie Curie' into the crease to add depth and definition. Using the warm, deep aubergine shade 'Hattie McDaniel' I darkened the outer corner of the eyes, then adding some major dazzle and shine across the lid using the intense gold-glitter shade 'Marsha P Johnson'. Lastly, I used the shade matte pale cream shade 'Frida Kahlo' across the brow bone to highlight and lift the overall look.
I defined Lizzo's lashes using two coats of the best-selling volumising and lengthening Wonderwand Mascara (£19.50) to add further definition to the look with big, lush lashes and then finished the look using the lightweight Dewy Blush (£19) in Papaya to add warmth to her complexion with an extra, healthy-looking, natural glow.
---
More red carpet looks…