Her recent Twitter rant about the under-representation of 4C hair was articulate, inspirational and just brings a smile to the face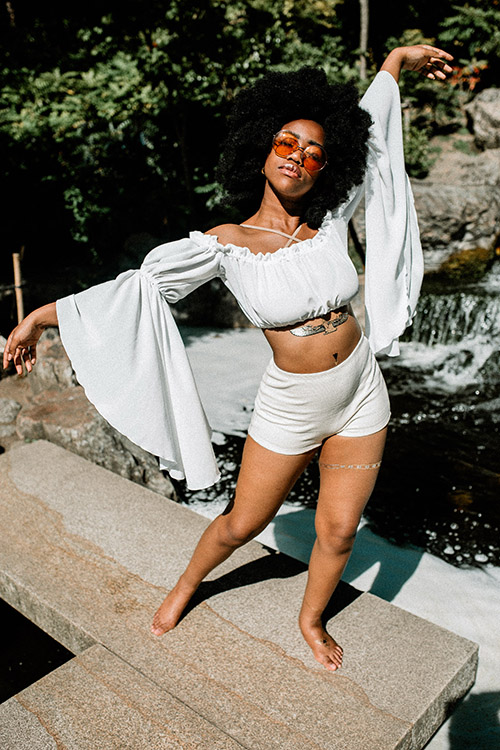 The Slumflower has a beef and it's something that she's noticed for a while, namely the under-representation of 4C hair in social media. Her recent Twitter rant went viral, with many 4C women, agreeing with her. We caught up with her to find out what made her speak out.
Hi Chidera, thanks for taking the time out to speak to us. For those who don't know you, in three words how would you sum up Slumflower?
She's bright, she's bold and she's bossy!
How did it feel when your 3 minute video on 4c hair and colourism went viral?
I wasn't expecting the video to go viral when I uploaded it. It was initially a video I uploaded on my Instagram story just to vent but something told me to continue the narrative on Twitter and I did just that. Within minutes, the views multiplied and at that point, I knew I was onto something. It felt affirming to hear from other 4C hair-textured women who understand my perspective and feel my frustrations too!
my issue with the natural hair community pic.twitter.com/7DExy4dRFU

— THE SLUMFLOWER (@theslumflower) July 9, 2017

Has the response been positive?
The response has been very positive. I've been able to engage with so many women and have had so many people reach out to me! I've even had people stop me in the street and thank me for speaking up about such a difficult topic. It's also re-opened the conversation; I'm not the first person to have spoken out about this.
So if you were given carte blanche of the natural hair industry, what would you change and why?
I would go directly to the PR companies in charge of hair care brands and literally creative direct their campaigns. PR companies need to spend less time chucking buckets of money to popular lighter-skinned hair bloggers who are already heavily represented; whose curls are deemed as 'sexy'. Instead, PR companies need to spend more time focusing on representation of much darker-skinned women whose tight, coarse, 4c curls are seen as 'nappy' and 'dirty'.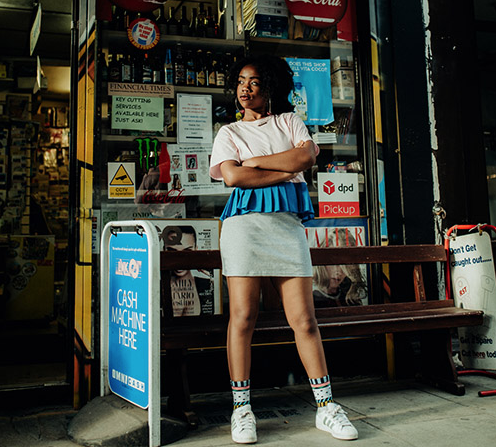 Tell us about your hair journey…
When I first came across the natural hair movement, 4c-haired women were the original voice of the natural hair community because years back when the natural hair community began, it was led mainly by women with coarse hair who had been damaging their hair with relaxers for years, cutting their hair and reclaiming their identities. I discovered these black women on YouTube and decided to cut my hair about 3 years ago and really make the effort to nurture it.
Fast forward to 2017, the natural hair community is literally dominated by bouncy curls and light skin. If you haven't had to spend your whole life hiding your hair and being called 'pepper grains', I don't know why you are leading the parade for the women who have ACTUALLY had to GO THROUGH IT.
It's problematic territory to explore but the essence of what I'm saying is this: the women with bouncy curls are not the problem; they did not create themselves and they need not defend themselves. The problem lies with the companies making the decisions to book certain models for the face of haircare packaging. It may sound like it's 'not that deep' but it's deep for the 7-year-old girl who will grow up hating her hair because she doesn't see anybody who looks like her on the hair care products her mum uses to treat her beautiful hair. THAT is the issue.
I used to be that 7-year-old girl who hated her hair but thanks to the black 4C-haired women of YouTube, I was able to find the representation of myself I was in search of which gave me the courage to look after my hair properly. I now use protective styling (wigs) and my hair is prospering underneath! Sadly, the darker a woman is, the more she will be erased. Dark-skinned black women deserve HEAPS more representation. Dark-skinned black women deserve HEAPS more celebration.

For those looking style inspiration and even a positive word about 4c hair, who or where do you recommend?
I would definitely recommend Freddie Harrel! She's just opened up an ethical hair extensions store in Brixton called 'Big Hair No Care' where she sells 4C hair-textured synthetic extensions, hair products, as well as books for little black girls in the store! She's such an incredible woman. I would also strongly recommend Uzy Nwachukwu (@uzypaws on Instagram) – she has 4C hair and totally owns her coarse afro! Lastly, @curltureuk are incredibly important to check out. They published a book called 'Kink' which celebrates thicker 4C hair which is extremely under-represented. They also do so much for black women with this hair texture through hairstyling videos on BET!
Name your top three hair products…
Aloe vera gel, almond oil and shea butter!
---
Bloggers & influencers