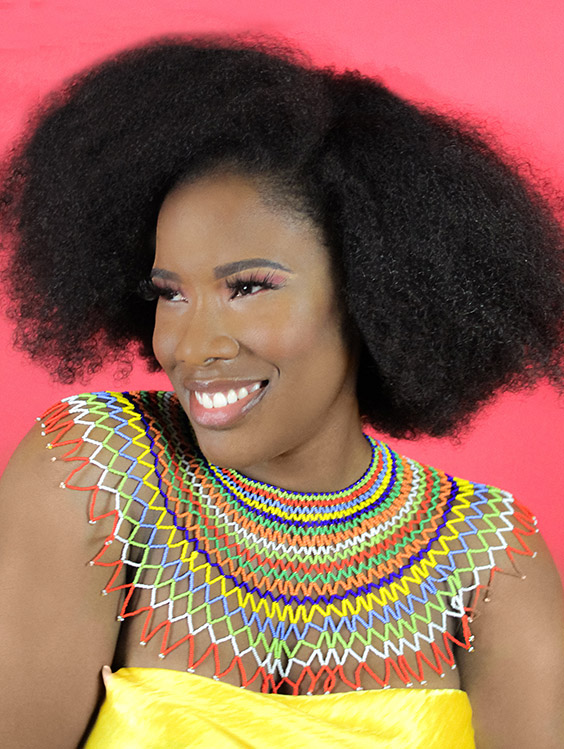 Jamilayh Spence talks to Miss Barbados UK 2019, Michelle-May Grazette, who won the beauty pageant wearing her natural hair
Natural hair has been taking the world by storm as some of our beloved celebrities such as Alicia Keys, Lupita Nyong'o and Yara Shahidi are wearing their beautiful natural locks on our big screens. And as no surprise, this has also filtered into the pageant industry. I got the chance to catch up with the lovely Michelle-May, who won Miss Barbados UK 2019 and wore her natural hair throughout the competition this summer. We gossiped and giggled over green teas and delved in-deep, peeling back a few layers of Miss Michelle-May
What does winning Miss Barbados UK mean to you?
It means that my hard work paid off, it had been such a journey for a year; it was so good to come out of the end having done it all. Whether I had won or not, the girls that I met and journeyed with, we had all learnt so much. But yes, it's definitely an amazing feeling winning. We all know and love Rihanna and she has been a great ambassador for the country but growing up, there weren't many people from Barbados or even the Caribbean on our big screens. So, it's nice to have won this now, so I can have my own a platform where I can make noise about my country; well now I am Miss Barbados UK I have the right to make noise.
Tell me why it was important for you to wear your natural hair within the competition?
I think it was important for me because as it is genuinely a true reflection of who I am. If I started wearing wigs and felt the pressure to start wearing frontals and putting on closures, I would have felt like I wasn't being myself. As my natural hair is a part of my identity, I would have felt like I wasn't being myself throughout the whole journey; so, it was very important to me.
Did you take part in the natural hair journey movement that stormed social media?
I would say I did but not in a conscience way to be honest. When I was 13/14 years old, I permed my hair; I was extremely excited! Then I became more adventurous and did the Rhianna and shaved the side of my head. So, when I began the process of growing the side of my hair back healthily, I did that for the rest of my hair as well. Growing up I was quite fortunate in the sense that my mum was open to us experimenting with our hair; which is very rare for Caribbean mothers. We would take numerous journeys to the hair salon to get our hair dyed crazy colours and fun styles. We were encouraged to be free with our hair and to put no boundary on it.
How did the natural hair movement make you feel?
The natural hair movement was very inspiring, it felt like black women were finally able to see their hair as beautiful. The narrative it pushed was truly something special to witness.
Was there ever a point you felt uncomfortable wearing your natural hair within the competition?
Natural is my go-to way of wearing my hair and wigs are something I put on when I want to be a different person for the night. So, no I was never uncomfortable. A lot of the girls were rocking various hairstyles throughout the pageant such as braids, wigs and weaves which was amazing to see. It definitely helped me feel comfortable wearing my natural hair.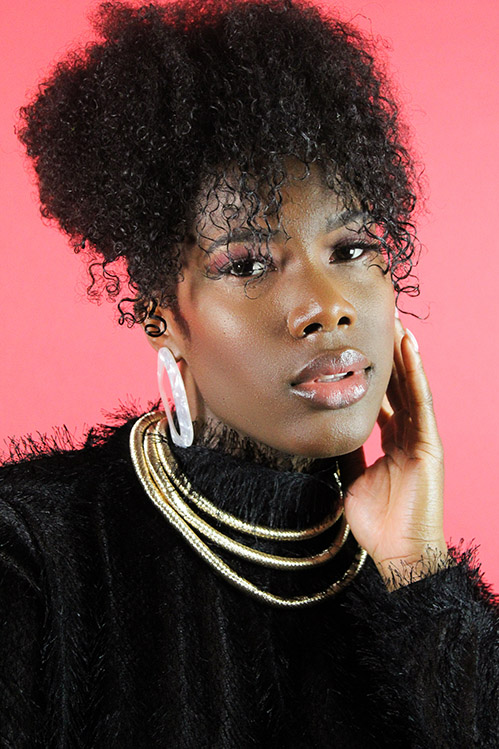 What are your go-to holy grail hair products?
This honestly might sound funny to a lot of people but my favourite hair product is water. Water makes a huge difference to help laying my hair and edges. Water and conditioner together are literally a little piece of magic! It helps to get my curls popping!! Also, I am obsessed with the Denman brushes, they bring your curls to life in ways you never thought possible! Every girl needs that as a staple in their hair kits.
What are the items in your hair kit?
Now this is a secret, but I trust you guys. My hair kit essentials consist of a water spray, Denman brush/slick brush, Mielle Honey & Ginger Styling Gel, Black Castor Oil, Sunny Isle Knot Free Forever Leave in Conditioner and Sunny Isle Edge Hair Gel. All these items have saved me from serious hair dramas so many times and they haven't let me down yet!
It's important [for young girls] to have role models who look like us.
Talk me through your wash and go hair routine
It really depends on my mood and what my hair is screaming for. Living in London the pollution can be so harsh on our hair when we are wearing it natural. Sometimes I wash it with the Mielle Organics Detangling Co-wash with my favourite conditioner at the moment, which is the Camille Rose Conditioner! Smells amazing. Likewise; if it's a Sunday evening and I really want to indulge my hair then I do a pre-concoction of conditioner mixed with olive oil, deep condition and sit there with a carrier bag on my head. It works wonders and I do this maybe once or twice in the week if I can.
How did you feel when you heard the news that Miss USA, Miss Teen USA and Miss America all won this year rocking their natural hair?
I found it very inspiring that these young black women go on to these platforms and be their true selves showcasing their natural hair. When you think of pageants you think of glamour and things being more 'refined'; you wouldn't put these two together. It is truly inspiring, how they stood up and broke those barriers and showed the world that yes, I can do all these things and rock my afro/natural hair and still win a pageant. Representation is extremely important for the younger girls who look like me, as we are consuming a lot more than before through the internet and social media; so, it's important to have role models who look like us.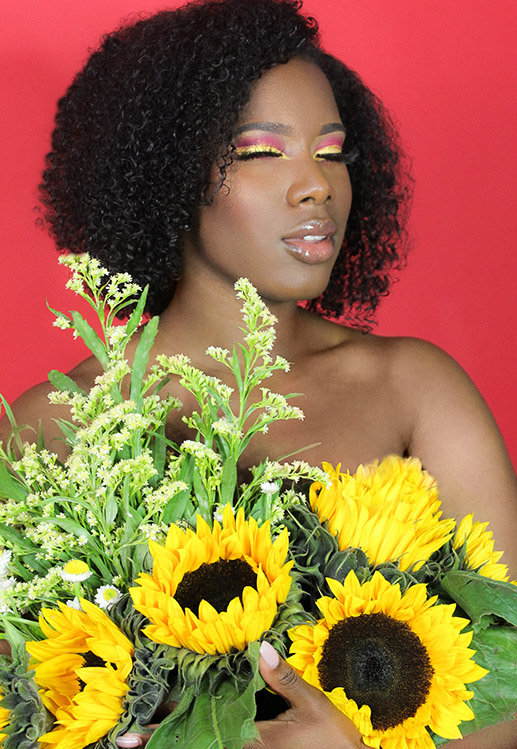 Was pageantry always the dream?
Not really! Miss Barbados UK was the first pageant I have ever done. It wasn't something that was on my radar for me growing up. A lot of my friends and family saw this opportunity and said I had to do it. So, I did! It was for me a really great opportunity for me to represent my island.
What was it about Miss Barbados UK that inspired you to enter?
What inspired me the most was having the opportunity to shout about where I'm from. I saw it as an opportunity to give back to the place that gave me so much.
What advice would you give to any young woman of colour that is thinking about rocking their natural hair in pageantry?
I would tell them to go for it. It's who you are, embrace it. When you do pageants it's all about being yourself and you won't believe the amount of confidence rocking your natural hair on stage gives you. It also gives you the opportunity to stand out amongst the rest- the versatility of our hair is second to none.
Lastly, what are your plans now that you've won and what will you do once your reign is finished?
I'm working closely with the Miss Barbados UK team to represent my island in every way possible. I'm really looking forward to mentoring the next group of young women taking part on the same journey. Once my reign is over, I really want to start travelling more. My dream is to start my own travel collective – I'm really passionate about travelling and want to use it as a means to build our communities back at home.
Photography by Shakira Hamblin. Hairstyling by Michelle-May Grazette. Make-up by Amélé-Hélène Sossavi. Styling by Florence MühlemannFlower Crown: Daisy Lewis McBurney