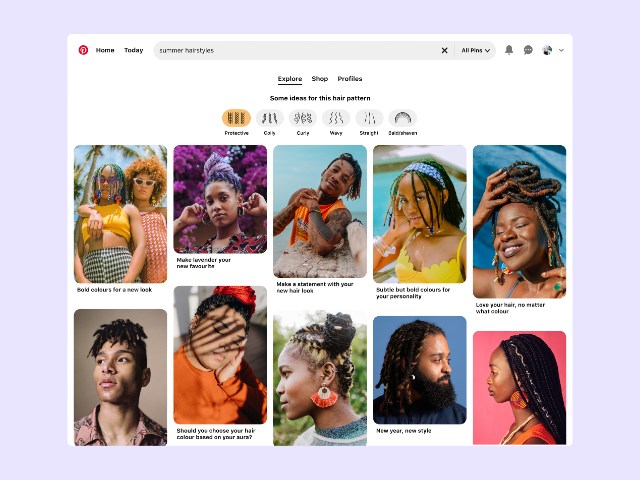 Pinterest continues the mission to make it's visual platform a positive space by rolling out the hair pattern search, its latest advancement in inclusive beauty
Pinterest is launching a first-of-its kind hair inspiration tool – hair pattern search which has been created with Black, Brown and Latinx Pinners in mind, that empowers users to search for hair inspiration across hair types.
The hair pattern search tool is the latest inclusive beauty feature from Pinterest, following AR Try On and Skin Tone Ranges launched earlier this year. The platform is working on building inclusive products by banning weight loss ads and including a pronoun tool. The aim is to make Pinterest a positive place and to redefine what inclusivity means to standards of beauty.
The new search technology meets the needs of millions of Pinners already looking for an easier way to find hair inspiration. In this past month alone, over 120 million searches for hair and over 5 billion Pins were created that related to hair. Among these top 500 trends, 17% of hairstyle trends contain hair pattern keywords, including "coi leray braids" (214X), "summer box braids" (75X) and "afro kinky hairstyles braids" (3X).
The Pinterest Hair Pattern Video
Using vision-powered detection, the hair pattern search enables pinners to refine hair searches by six different hair pattern types: Protective, Coily, Curly, Wavy, Straight and Shaved/bald.
In the past pinners weren't getting good representative results without adding qualifiers, like 'dark skin', or 'black'. Pinners will now be able to search for a broad hair term like "summer hairstyles", "glam hair", or "short hair" and narrow their results by selecting one of the six hair patterns to find hair inspiration that is most relevant to them. Say goodbye to Google image searching for "beautiful hair" and not seeing yourself. Ultimately, you can't be inspired if you don't feel represented.
Pinterest worked with creators like hairdresser Naemah La Fond to understand hair patterns. Naemah commented, 'The concept of a hair pattern search was needed. We've gone without for so long. When Pinterest reached out, it was something I was thinking about and hoping someone would talk about. This creates an aesthetic for all kinds of textures.
'The impact of the hair pattern search is ground-breaking and is a huge step forward in helping people to be seen. It's an equaliser too, so a person doesn't feel that they have to go outside of the existing beauty standard.'
As Pinterest reveals curly hair with fringe bangs (27X) and purple hair color ideas (20X) are amongst the next big hair trends. With this new tool, people can find the inspiration to try these styles, whatever their hair type.
Pinterest's top hair trends
● modern shag haircuts thin hair (87X)
● skunk stripe hair (82X)
● short pixie bob hairstyles (61X)
● long bob hair cuts (38X)
● curly hair with fringe bangs (27X)
● korean tomboy haircut (25X)
● mullet haircut (21X)
● purple hair color ideas (20X)
---
Inclusivity & Diversity…