Photos courtesy of Image is Everything
Candace Dantes chats with Hollywood's loc doc to the stars
Her celebrity clients in Tinseltown include:
For more than a decade, Dr. Kari Williams has creatively carved her own in-demand, natural hair styling niche in Los Angeles, and A-listers can't get enough of her crowning options. She has set social media-buzzing trends in braids and originated a leading-edge loc style known as "Goddess Locs," which are commonly seen on celebs from red carpet events to casting calls.
Dr. Kari also is founder and executive stylist of the No. 1 natural hair salon in Southern California: Mahogany Hair Revolution. I linked up with the seasoned trichologist, educator and speaker for the inside scoop to what's now voguing in Hollywood hair for Black Beauty & Hair's traveling London readers and beauty enthusiasts:
Thanks so much for dedicating time to telling us the hots and nots of accomplishing Hollywood natural-moving hair. That said, what are the most common natural hair/loc problems you're educating and helping clients combat right now in the hair and beauty industry?
Clients are still combating the issue of dry hair whether they're wearing their hair natural or locs. So I am constantly consulting with clients on how to retain moisture in their hair to prevent the damage and breakage that is a direct result of dry hair. I'm also educating clients on the beauty of wearing their hair in locs and the proper way to start and maintain their locs. There have been so many negative perceptions and misinformation about locs. Now that it is becoming a more popular option, it's important that we shift how we view locs by educating clients with accurate information.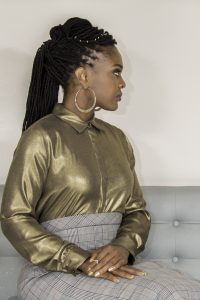 So what are a few at-home tips you recommend our natural hair readers start incorporating into their styling routine to achieve healthier hair?
I recommend regular deep conditioning for people who are wearing their hair in loose natural styles. This is an important and necessary hair care practice, especially if your strands are curly and tightly coiled. Regular use of leave-in conditioners will dry out the hair because they are full of proteins that sit on the hair and cause it to become dry and brittle over time. It's also important to apply essential oils to the hair after rinsing the deep conditioner. Applying oils to the hair while it is still damp supports the hydration of the hair. For loc wearers, I don't recommend using conditioner until the locs are mature. To maintain moisture in locs on a regular basis, apply light essential oils or a daily moisturizing spray that offers a blend of oils and water to maintain hydration in the locs.
Your expert advice is noted for sure. Now what type of styling services are your celebrity clients currently requesting to accommodate their lifestyles and projects this year?
Brandy loves to style her hair in chunky twist extensions. She is the braid and twist queen, so this style compliments every aspect of her lifestyle. Meagan Good loves her Goddess Locs. She wears them as often as she can and has even booked jobs with the look. She loves the beauty and versatility. It compliments her active lifestyle. Willow Smith has also been wearing the Goddess Locs as a way to grow out her natural locs.
Yes, they have been giving us so much Instagram life with your sleek styles. Any popular 2018 hairdos taking over award/TV shows, photo shoots and movies we should know about and can try?
The artistry of natural hair and locs are being celebrated on the big screen and in other forms of media in Hollywood: designer cornrow styles; locs adorned with jewels; and beads, yarn and big beautiful afros shaped into anything you can imagine. Black hair was put in a box for so many years. Then more women started wearing their hair natural, but the styles were still very conservative. Now that a large part of the culture is moving into an acceptance that our hairstyle choices are not a "trend" but who we are, the styles are becoming more bold, expressive and creative. The style choices are a reflection of the feelings the artist wants to convey. If we want to express beauty, power or even sadness, we can create that through a hairstyle. This is a cultural practice that was stripped away from us. We are finally reconnecting to the importance of our hair and how it is an expressive form of communication and identity.
For hair and beauty students interested in a career working with the stars, what are a few tips to breaking into this industry and sustaining? Misconceptions?
Be authentic. Know who you are and stand confident in your gift. The misconception is that there is a particular formula or roadmap to working in Hollywood. The truth is: Hollywood is full of people just like you and me — except they have a larger platform. At the end of the day, they are people who want to work with other confident, talented people. The best way to work with A-listers is to establish a level of professionalism where you treat everyone who receives service from you like a celebrity. If you operate authentically, always do your best and give your best to everyone around you, then you will attract people with the same values and principles of professionalism. It's important to remember we are in the relationship business. To truly become successful, you have to know how to build and sustain solid relationships. Don't focus on getting celebrity clients. Focus on delivering exceptional art anytime you are given a chance.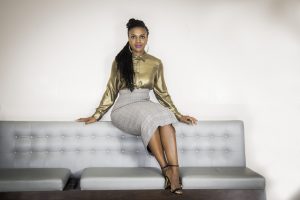 Love it! I couldn't agree with you more. Out of curiosity, who are your natural hair/loc inspirations currently on social media?
I follow a lot of hair artists who are also doing beautiful work on large platforms. For instance, Felicia Leatherwood, Stasha Harris, Sherelle Holder and Summer Nelson.
All talented stylists, indeed. So outside of staying in front of innovative styling options for naturals, what other projects are you working on throughout 2018?
I am officially launching my DK Goddess Loc Certification Program, so I can train and teach artists around the world how to recreate my patented look properly. I am also launching my Mahogany Hair Academy, which is a training center for hair artists who want to learn, perfect or specialize in my natural hair styling techniques. I'm also developing the program to help elevate stylists into a different level in their career, offering them the opportunity to join my celebrity styling team.
Nice. Now in between these launches, do you have plans to visit London anytime soon for upcoming events our readers should become aware of?
I definitely want to bring the DK Goddess Loc Certification training to London, so please email me at info@mahoganyrevolution.com if there is any interest in Goddess Locs.
Lastly, how do you continue to remain on the cutting-edge of hair and beauty as the industry continues to evolve?
Honestly, I tap into the creative gift I've been blessed with and study the trends of the past. The beautiful thing about life is that everything happens in cycles. Through this process, I am given clues to what is coming next in the present. Therefore, I make confident predictions about what to expect in the future of hair and beauty.
CLICK HERE for more hair and lifestyle coverage from Candace Dantes, a.k.a. Cowgirl Candace.
---
✶ You may also like ✶