Alesha Dixon reveals the TRESemmé Colour Enhancing Mask, that she's been using to keep her colour looking fresh during lockdown
TRESemmé's newest innovation in hair colour is here and has already received of the #hairgoals queen, Alesha Dixon. Taking to her Instagram, Alesha shared a snippet of the product that she's been using to keep her hair colour looking vibrant and fresh in lockdown.
The newly launched TRESemmé Colour Enhancing Masks (£5.99), contain semi-permanent colour pigment lasting you up to 10 applications.
Suitable for all hair types, this nourishing hair mask comes in four shades Warm Red, Dark Brunette, Light Blonde and Ash Blonde and works in just three – five minutes. The high-quality formulation features high UV filter to protect against the summer rays as well as argan oil to boost shine and promote good hair health.
While salons remained firmly shut during lockdown, many women across the UK took matters into their own hands and hacked their way to healthier hair by adopting new routines. With the help of this mask that features professional quality ingredients, women across the country can achieve an injection of colour vibrancy and glossy shine in their salon at home, just in time for summer.
Aaron Carlo, Lead Stylist for TRESemmé, says these new Colour Enhancing Masks are set to be the product we've all needed: "Over the past year we've seen a lot of women getting back to basics and using this time to give their hair the love and nourishment it needs. I'm so impressed that these new Colour Enhancing Masks which not only give your hair a gorgeous boost of colour and shine but are also paraben-free and formulated with high quality ingredients."
Introducing new colour enhancing masks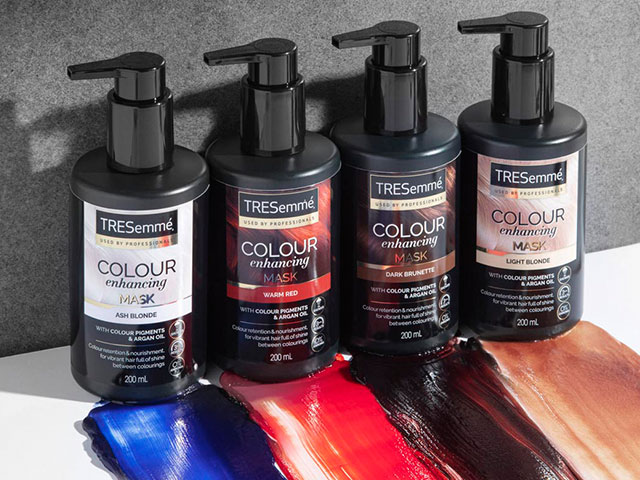 TRESemmé's Colour Enhancing Masks contain a high-quality formulation that's both effective and long-lasting, as well as nourishing and gentle on the hair. The four-shade colour mask range is paraben and ammonia –free, acting as a semi-permanent colour product thanks to the inclusion of colour pigments that work to revive and enhance your colour. Packed with deep conditioning ingredients, including jojoba and argan oil, your hair will benefit from the added shine and smoothness while also helping to minimise tangles.
Professional results fit for a star
Singer and performer, Alesha Dixon, has been loving her time in lockdown, and has a new-found confidence when it comes to caring for her textured hair at home: "This past year has really challenged me to find new ways to care for my hair and colour while at home, and also equipped me with the confidence to try new things,"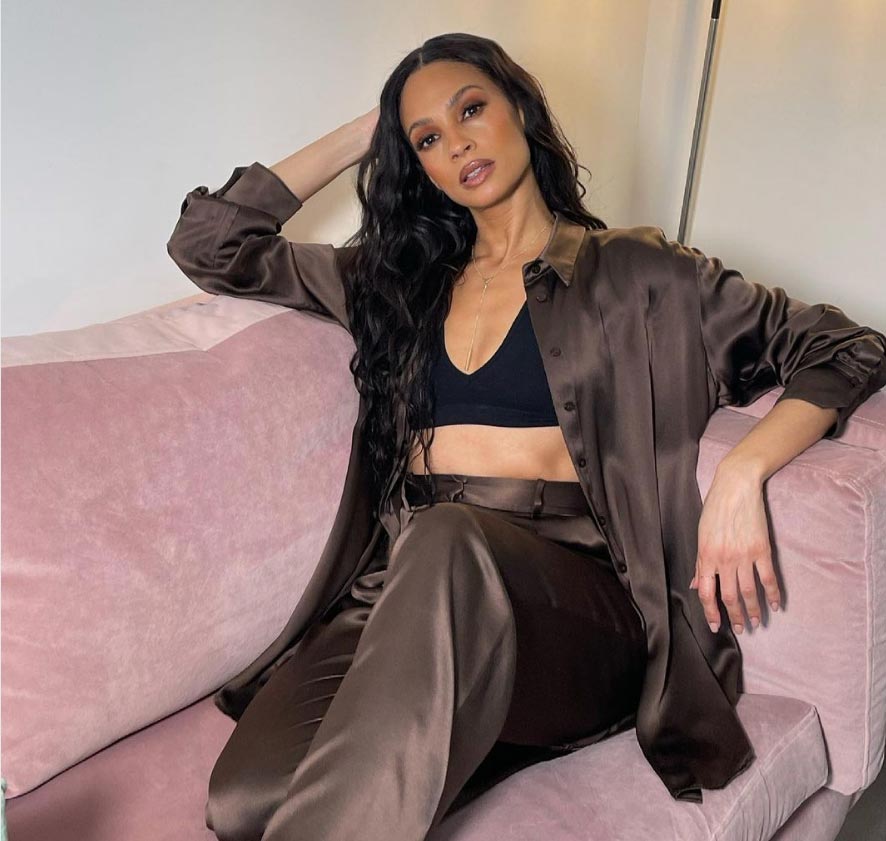 "I've loved experimenting with the new Colour Enhancing Masks from my TRES family, and I'm loving the boost of shine and colour vibrancy it gives me. I recently changed up my look by going back to basics (black), so the timing of these masks couldn't be more perfect to keep my hair looking fresh and feeling great!" said Alesha.
Aaron's top tips on how to get salon results at home:
Best results always come from using quality products on clean and nourished hair, so it's best to always shampoo your hair before using these masks.
Pro Tip: Shampoo with TRESemmé Colour Revitalise Shampoo, expertly formulated for colour treated hair to help colour last for longer
Roughly dry hair and pump product into hand before evenly distributing through hair, starting at the roots and working down. Apply as much as you feel your hair needs, it's all about what works for you!
Pro Tip: Work product through using a wide toothed comb to not only detangle hair but ensure even distribution of the mask throughout your hair.
Wash hands with soap immediately after application, the masks contain colour pigment, so this is a vital step in ensuring you don't end up with stained palms! You can also choose to use gloves with the application.
Leave mask in for 3-5 minutes.
Pro Tip: If you're looking for a more intense conditioning colour, leave in for up to 15 minutes.
Wash out your mask, ensuring product is thoroughly washed out and towel dry.
Always, always protect your hair against the heat by using a heat protect. My go-to is the TRESemmé Heat Defence Spray which protects hair up to 230 degrees.
Style your hair and show off your gorgeous colour! My favourite look for glossy locks is an at-home bouncy blow dry. A quick and easy way to hack this look is to curl your hair using a straightener, roll the curl up and away from your face before pinning at the root. Let cool (leave for 10-15mins) take the pin out and brush out. Voila!
But what if I've got black hair?
Tresemme advise using the mask closest to your hair colour.
---
More hair colour…