Crochet braids are low stress and low maintenance. Becrochetcreation shares tips and tricks on why this protective styling method was the go-to during lockdown
One thing we all missed during lockdown were our hairdressers. Suddenly we had to get to know our own hair and try and get it looking presentable for those Zoom meetings or Instagram posts. One style that ticked all those lockdown requirements – easy on the hairline, stress-free and low maintenance – was crochet braids. Here crochet braid expert Rebecca Emmanuel of @becrochetcreation tells us why crochet braids are still cool for 2021.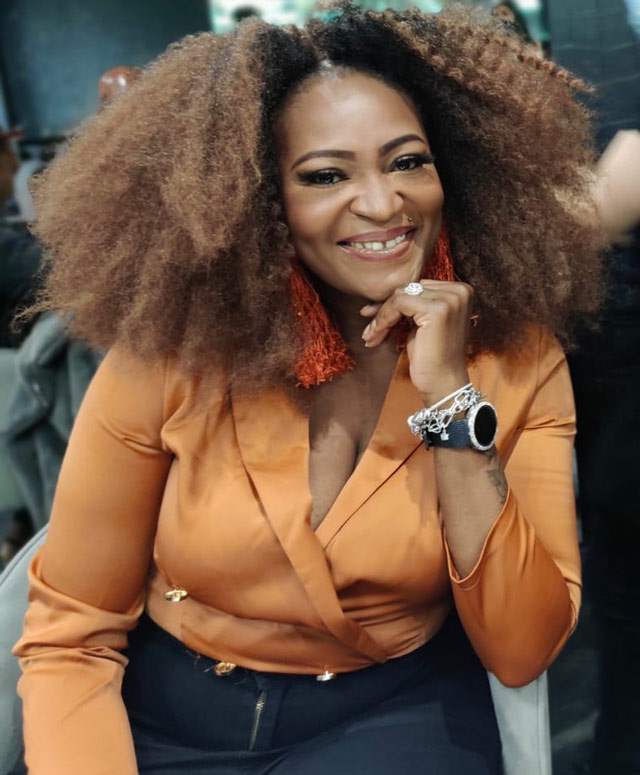 Crochet braids, a method used since the early 1990's, has made a recent comeback as many people have seen the negative effects of other weaving methods wreaking havoc on their roots while irritating their scalp. It's also been a great lockdown style as it's low maintenance and relatively easy to install.
Whatever your kink, whatever your coil, if there's anything we have in common, it's wanting hair that looks great and healthy. 2020/21 has proven to be a difficult year for keeping our hair healthy which has not been easy, especially for those who style a lot.
There is much less hair thinning than other weaving and boxing methods, so it's a look that suits celebrities like Cynthia Bailey and Monique Samuels from Housewives of Atlanta and Potomac, who are no strangers to the crochet braid method and use this popular protective styling method to vary their looks, whether on set or at home relaxing.
There are so many different types of styles that can be achieved with crochet braids from Locs, Straight install, Passion Twists, Senegalese Twist, Pixie Cuts, Curly Extensions, Crochet Box Braids and Crochet Wigs.
What are crochet braids?
It's a method of adding extensions to your natural hair but instead of sewing it in, the hair is looped under cornrows with a latch hook and secured with or without knots, allowing more room for your scalp to breathe, making it a better approach with greater benefits. You don't have to be an expert in doing cornrows to achieve a great install.
How long can you keep them in?
Most installs like curly and straight can be kept in from six – eight weeks. Extensions like Faux Locs, Passion Twists, Senegalese Twists and Box Braids can be left longer – for up to 12 weeks because of the low manipulation required. These types of install give you the up-and-go vibe, there's not much needed to make them look great, unlike the straight install that would require daily brushing and optional blow-drying or straightening. While the curly variant also requires maintenance like trimming, moussing and detangling every other day.
Best way to wash them?
All hair extensions are not created equal. Where one type can be washed and turns out okay, others might not be lucky, so I always advice caution in this area. To wash, section the hair in four by twisting, get your shampoo, don't roughen the extension, just wash your scalp and run water and shampoo through the extension to remove excess dirt, sweat and any smell, then towel dry. Unravel extensions one at a time, apply hair serum to each section and finger-detangle if curly or brush if its straight hair (straighten or blow dry after). Trim with scissors any web knots or matting in the hair. Don't forget to oil your scalp to keep it nourished and fresh.
Can you use oils on your hair?
Crochet braids are synthetic hair, therefore they cannot absorb product, so, I wouldn't use expensive oils on them, but I do recommend oil for your scalp. Oil sprays or oil serums are best for making your braids look and smell fresh.
What are other alternatives if you cannot crochet?
If you can't do crochet braids yourself during lockdown, I would advise you to keep your hair well moisturised using the LOC/LCO method and put in into twists to secure the ends, if you can braid then do twin braids adding extensions to the ends or putting in a simple ponytail using any extension to create length. Natural hair does better when moisturised and the ends are tucked away.
Best hair to use?
There are so many types of hair out there. The end result you require will determine what hair you need. Use caution when choosing your hair and stay away from extensions that are too silky because they can unravel easily. Brand favourites, among naturals and stylists, include Urban, Janet Noir Marley Collection, X-pression Spring Twist, Cherish Spanish Curl/Waterwave, Cuban Twist, Freetress Water Wave and Freetress Deep Twist to name a few. Marley textured or kinky textured extensions blend seamlessly, bearing a striking resemblance to kinky/curly hair textures.
Are they heavy?
Crochet braids always look heavy at first sight, but that's not the case. Methods like Straight install, Afro Kinky install and Curly are very lightweight allowing you to run, skip, swim without feeling weighed down. The only ones that can be heavy are the crochet box braids, Senegalese Twists and Passion Twists, depending on how many bundles of hair are used and what you want to achieve at the end of your install.
How to make your crochet braids look natural?
To make your install look more natural you need extensions that are similar to your hair colour. To ensure your install is believable is to use the "knotless method" or "invisible part" method, which is much preferred by most women. When the knots are visible around your hairline it gives the impression of a tree braid or Ghana Weave.
The benefits of crochet braids?
Crochet braids are great options because they allow access to your scalp and allows it to breathe. As the hair grows older, it looks more natural but that's not an excuse to leave the in hair longer thinking you're avoiding hair breakage. With the scalp able to breathe, it can be washed, moisturised and conditioned regularly without the frightening build-up that sometimes occurs with wigs and weaves. Crochet braids can be a low-priced way to add extra length, volume and style to your hair, which also looks very natural.
For appointments contact: www.becrochet.co.uk
Becrochetcreation's crochet braid gallery
---
More protective styling…