The former model, entrepreneur and philanthropist talks to Lawrencia Amfo-Asiedu about her luxury beauty brand SHE-Y Natural Skin Care

[one_third padding="0 20px 0 0″]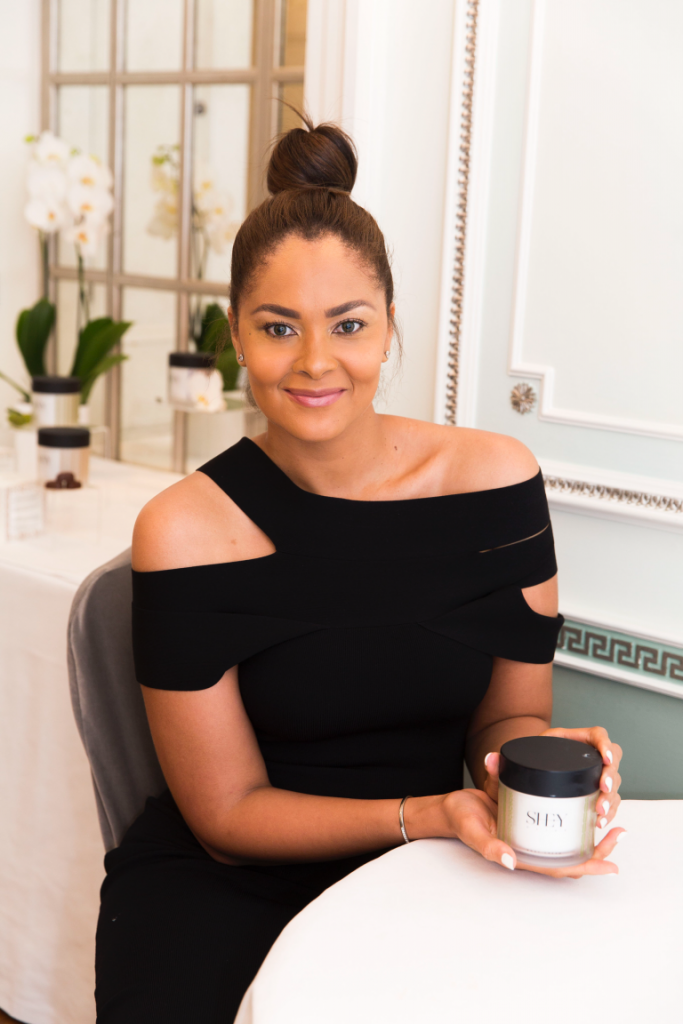 [/one_third][two_third_last padding="0 0px 0 0″]
Meet the striking Canadian Ghanaian entrepreneur and philanthropist who runs her own charity in Ghana. The former model has graced many well-known publications around the world from New York to Milan. She's also a past beauty pageant queen who won Miss Universe Ghana in 2004 and a now mother to her a young son. Menaye is the epitome of superwoman and Jill of all trades. What I find inspirational about the beautiful entrepreneur is the fact she is a go-getter and a woman that takes chances. Not only is she married to the talented footballer Sulley Muntari, a mother and a girlboss today we discuss Menaye's luxury beauty brand SHEY- natural skin care 'that uses the highest grade of Shea butter and other rare ingredients to create unique all-natural skincare products, whilst preserving old shea butter making traditions'. Let's take a look at how she balances this with motherhood…
What is your career background?
As a former beauty queen, I worked in New York and Milan as a model. Besides owning a luxury brand SHE-Y, I recently acquired the franchise as the director of Miss Universe Ghana. I also own a real estate company in Ghana and a charity that has been running for 12 years, which helps provides free quality education to less privileged children in the central region of Ghana.[/two_third_last]
Could you tell me a bit about your brand and where did the name of your brand come from?
My brand SHE-Y, was born from my desire to combine the richness of highest grade of Shea Butter from my home country Ghana, with other unique ingredients to create a one of a kind product in the best Italian laboratories. The SHE-Y brand focuses on creating luxury products but still preserves the importance of old traditions. Creating this brand has given me the opportunity to provide job opportunities to the local Ghanaian women in the Shea butter production. It's a brand that represents me for example my character, story, aspirations etc. SHE-Y is the everyday female who can do it all and not second guess herself. A woman who is strong, independent yet empathetic. SHE-Y is your grandmother, mother, sister, friend.
How did the idea for SHE-Y come about?
As a proud Ghanaian woman, I wanted to share beauty secrets I grew up knowing with the rest of the world. I wanted to tell the story of my culture and that of all the other places I lived and travelled to. I wanted to create a brand that represented me. I have always grown up knowing the importance of shea butter which was used for almost anything you can think of in my home. My mother always kept a tub of it in our home and it was an answer to every problem.
Have you always wanted to be an entrepreneur?
Definitely! I have always wanted to be my own boss.
What other ventures do you work on?
I have a few interesting projects lined up for this year. It's an exciting year for me and I am extremely grateful for all the blessings.
As you are a mother, how do you balance motherhood and career?
Being a mum has been the greatest accomplishment in my life. My son's needs surpass anything I do. Everything is secondary when it comes to him. I have learned to manage my time extremely well as a working mother, so every minute in the day is very important. It's all about balance.
Menaye, you are a beautiful and fearless woman, are there other women that have inspired you during the journey?
Thank you! I'm surrounded by amazing and positive women and they each inspire me in many ways.
Where do you see your brand in the next five-10 years?
I see SHE-Y as a global brand that many love and respect. My dream is to continuously build a brand that is synonymous with changing lives and empowering women. It's a brand made by women for women.
How would you define success?
I don't necessarily measure success with wealth. Being successful is being able to do what you love and through that help inspire others and make a difference in your community. I have always felt the need to support the less privileged through my projects. It's my obligation in life to do this in my position!
What advice would you give to other women who strive to be entrepreneurs?
It might sound like a cliché but the best advice to other women striving to be entrepreneurs is to never give up. Never stop believing in yourself. It's easier said than done but always remember that to be successful is to be dedicated. Great things do not come easy.
You can find SHE-Y products on: https://shop.she-y.com/