Valerie Obaze is a Mumpreneur and owner of the R&R Luxury, a skincare brand. Lawrencia Amfo-Asiedu finds out how it all started
[one_fourth padding="0 10px 0 0″]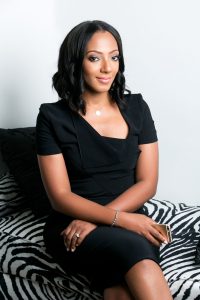 [/one_fourth][three_fourth_last padding="0 0px 0 0″]Valerie Obaze is an award-winning beauty entrepreneur . She has been hailed as an 'African skincare trailblazer' by Forbes magazine, her beauty brand has been featured in a plethora of publications such as Elle magazine and not only is she a savvy businesswoman, Valerie is also the founder of the Mumpreneurs network, founded in 2015. Her company, R&R Luxury, is the perfect combination of authentic products and the answer to many skincare issues. Her passion for natural skincare products and PR, Valerie has created a significant brand that has been recognized all over the world. Expanding her brand from Africa, US to now the UK this is an exciting time for the brand.
Could you tell me a bit about your brand and where did the name come from?
I started R&R Luxury in 2010, just after the birth of my first daughter Rebecca Rose, from whom the brand takes its name. R&R is a luxury beauty brand founded on the philosophy of transforming one of nature's purest and richest gifts – shea – into the most enriching beauty products.[/three_fourth_last]Everything we do is guided by the core values of ethical sourcing and nature preservation, we use 100% natural shea butter and other unrefined natural ingredients in all our formulations, sourced directly from the shea countryside of Ghana, West Africa. As a brand, we are committed to using the purest natural ingredients and through our devotion to excellence in quality, we produce a range of luscious beauty formulations including oils for face, body and hair; liquid and bar soaps; scented candles and home fragrance products. Our award-winning range of beauty products are as good for women as for men, children and babies.

What is your career background?
My background is in Public Relations, which has been such a great help in building my brand. After graduating in Communications, Culture and Media, I first built my experience in PR working and interning with various music agencies including Bliss PR, Relentless Records and Warner Music before moving into the consumer PR at Brandnation and Boudoir. In 2008, I set up my own PR agency with my friend and fellow PR expert, Rima Arnaout called RVPR. After marrying my husband in 2009, we moved to Lagos, Nigeria where I lead the PR and brand management for various Nigerian brands such as Tiffany Amber, Chris Aire, Tebazile, Grey Velvet, HSE Gourmet and Chrome Nightclub, among others, as a freelance PR consultant.
How did the idea for R&R Luxury come about?
As I was becoming a mother for the first time, I wanted the best for my newborn baby and was determined to find a natural product gentle enough to use on her skin. After a chance encounter with a massage therapist, who only used natural oils for treatments, I started to look into natural ingredients that were grown locally to me in West Africa. It was then that I was introduced to the amazing healing properties and various uses of shea butter, which is grown in Northern Ghana and is available in abundance. I continued my research and noticed a gap in the market for luxury natural products that use Africa's purest and most effective ingredients – which are kind enough for newborns, young children, adults and above. From there, the idea for R&R Luxury was born with our first product, Shea Oil, and the rest as they say, is history!
Have you always wanted to be an entrepreneur?
I like to think that I've always had an entrepreneurial mindset, I started working when I was in high school and continued throughout college. Then, during university, I balanced my studies whilst serving as the President of the Coventry University African/Caribbean Society. After working in PR for many years I was finally ready to take that step and go at it on my own with my friend, setting up our own PR agency. And during my first pregnancy, I became even more motivated to do more. I wanted to create something that wasn't just for me, but also for my children. I have been working on R&R Luxury for eight years now and I put my all into the brand from the very beginning from investing my own money into it, hand producing and bottling the products and working on every aspect of the business from a sales assistant to heading up all marketing and PR. Being a self-employed entrepreneur gave me the freedom to run my business how I wanted to work from home and raise my children.
Can you tell me a bit about the products and what distinguishes you from other skincare products at the moment?
All of the ingredients we use in R&R product formulations are made from 100% natural ingredients, most of which are sourced from within West Africa. From raw shea butter to pure coconut oil and baobab oil, every ingredient has its own immense benefit for the skin, body and hair too. Each R&R product formulation is heavily researched, tried, tested and hand produced, from our Liquid Black Soap (which has shea butter for extra moisture) to our unique blend of essential oils, which provide our customers with the perfect scent to unwind for some aromatherapy and relaxation.
Valerie you are a beautiful and fearless woman, are there other women that have inspired you during your journey?
I'm surrounded by strong women in my family, growing up my mum always encouraged me to work hard and believe in myself and my ideas.
Everyday I'm inspired by the amazing, strong rural women in Northern Ghana who process all of the shea butter R&R uses in our product formulations. These beautiful women work from sunrise to sunset processing the raw ingredients by hand and stop at nothing to ensure that they can provide their children with an education and a good start in life.
Where do you see your brand in the next five-10 years?
We are currently working on launching in new territories this year including the UK, which is very exciting for the brand. We are also working on expanding the business by building a new large factory in Ghana, which will allow us to increase production, increase employment, expand operations and have a high volume of products readily available to ship all over the world. In 10 years' time, I would love to see R&R products being sold on all continents of the globe.
How would you define success?
My ultimate dream is for R&R to become one of the leading, luxury, natural beauty brands in the world. We want to show the rest of the world the amazing natural ingredients that are indigenous to Western Africa, which can be used by anyone and everyone no matter their age, race, gender, skin type or tone. I hope R&R turns into a completely global business sharing nature's gift to Africa with the rest of the world and opens doors for other small beauty brands out of Africa, because a wise client of mine once told me "There is no success without successors".
What advice would you give to other women who strive to be entrepreneurs?
Believe in yourself and take the step you want to and know you can. We all have ideas in our heads about businesses we could start and being an entrepreneur is all about taking that step to turn your idea into a reality. Start by writing it down, make sure you have a plan and slowly start to implement it – you may have to balance a full-time job along with your new business and start by self-financing at the beginning but always have the end goal in sight and work towards it step by step. Being an entrepreneur forces you outside of your comfort zone and you will make mistakes and fail from time to time but be confident in your idea, in your plan and in yourself! And most importantly, start where you are with what you have, insert passion, dedication, research and prayers and watch it grow!
Read more of Lawrencia Amfo-Asiedu's articles in her blog crownoflaurelsdot.com