Meet the 10 fashion brands offering nudes
The celebration of nude in fashion today is more than just a hot topic, it's an evolution. This popular colour trend has been slayed by a handful of brands in light of the demand for equality and recognition, not only in fashion circles but in the wider world.
The nude shade has diversified from the once white blush skin tone, to a vast spectrum of complexion driven colours from light to dark, ivory to ebony, highlighting a new beginning for women of colour.
1. Nudz

Miami based lingerie label Nudz name their convertible strapless bras after different celebrities,
Lupita (Nyong'o), Alek (Wek) and Gabrielle (Union)
2. Christian Louboutin

Amazing to think that Christian Louboutin launched his range of nude flats and heels in 2013
and since then other brands have followed suit.
3. Naja

Ethical lingerie label Naja added its Nude for All collection to its overall range.
The forward thinking company uses real models in their ad campaigns.
4. Kahmune

Unable to find products for women with darker skin tones, the founder of Kahmune
decided it was was time to readdress the balance. The company offers sandals and court shoes in 10 shades.
5. Mahogany Blues Dance Apparel

Texas-based swimwear-maker Whitney Bracey was aware that black dancers couldn't find flesh coloured dance apparel, so she moved into creating dancewear for all women (including children) through her company Mahogany Blues Dance Apparel. Now dancers of all hues can find flesh coloured leotards or ballet shoes
6. Nubian Skin

Nubian Skin was one of the first UK companies to makes hosiery and lingerie to suit darker skin tones. Now founder Ade Hassan has introduced a range of shoes in 10 shades.
7. Bianca Miller London
Entrepreneur Bianca Miller initially went on the Apprentice with her business plan to redefine nude hosiery by offering a variety of colours to suit all skin tones. Her company Bianca Miller London, now offers eight shades of nude to compliments all skin tones from English rose to darker African skin tones.
8. BeingU

BeingU offers bras and briefs in six different skin tones. The company celebrates women of every shape, shade and size. Especially good are their strapless and backless Stick On Solutions bras.
9. Third Love

Online US company Third Love believe in the perfectly fitting bra, so much so that they offer half sizes and also the option to try one of their bras free — before buying. Their two darker shades are not technically 'skin coloured', instead, they coordinate nicely with your skin.
10. Nünude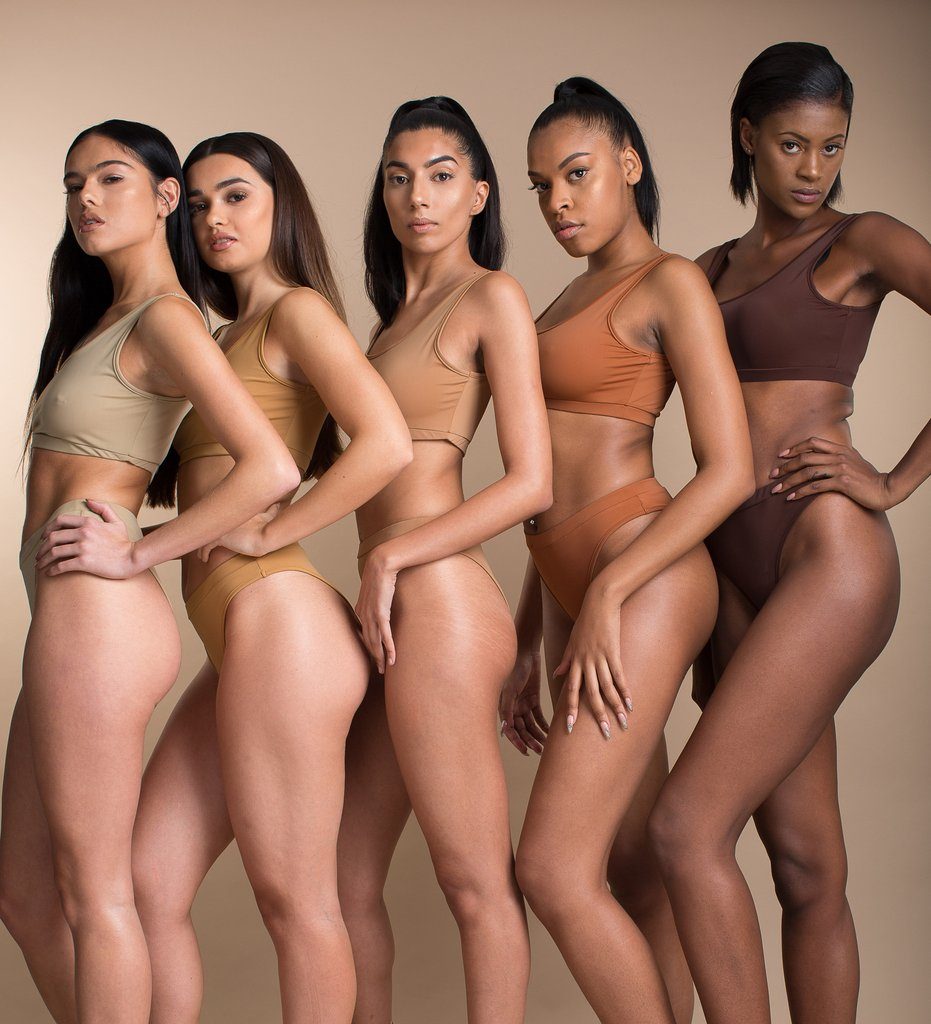 Nünude is not only all about empowering women, it also provides great plus-size ranges, but the cool basics the brand offers up—from trackies and socks in your skin tone to seriously comfy-looking undie sets.