1Xtra DJ, Sarah-Jane Crawford, has a knack for looking her best and telling it straight. By Abiola Johnson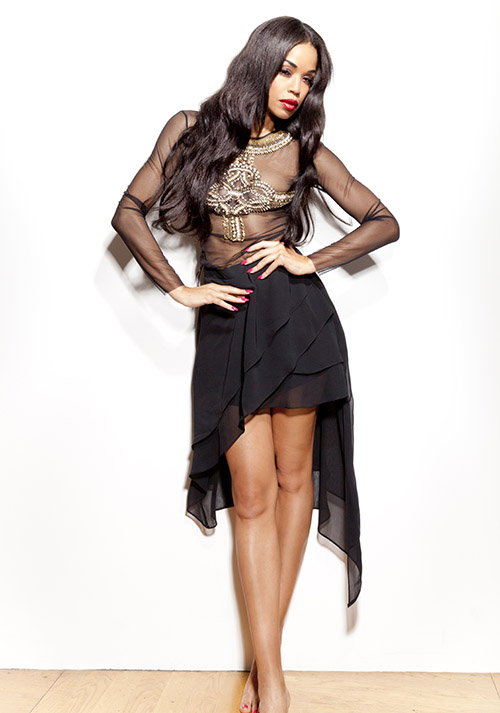 Whether it's helping provide a lively background in the doctor's waiting room, helping office workers beat that post-lunch fatigue, or gearing up students to finally get out of bed and finish their college assignments, Sarah-Jane Crawford's bubbly style and captivating delivery have earned her, and with it 1Xtra, an army of listeners. 'I'm a friend in the afternoon on the radio…the friend with the red lippy.'
We'll come to her signature red lips later, but first, what does she put her success down to? 'My mum once said if you can make money from talking you can do really well and she was right. I have fallen in love with radio. It is because it is about my personality, not scripted, commenting on stuff. The live broadcast is what I love, it's me, it's a natural and I revel in the live aspect. Yes, I have to fill air sometimes, but I manage the pressure of that quite well.'
And being in a pressurised job doesn't come without its perks. Sarah-Jane has interviewed a bevvy of celebs from Eva Mendes, Renee Zellweger, Scarlett Johansson and numerous more. But she does have one favourite interview. 'I'll never forget when I did Robert De Niro because he's such a legend and doesn't o en want to do interviews so that was great.'
Chatting with the celebs is a world away from when she first graduated with a 2:1 in marketing and later got her foot in the door of the media industry. One of her first television jobs was presenting on the Shopping Channel. This is where she learnt to ad lib and talk comfortably live on air and it's certainly done her no harm. She then moved on E4 and MTV before 'falling in love with radio.'
'Though I started in TV, because I am talkative, radio is brilliant for me. I started o on the 1Xtra talent scheme, an initiative to test out new talent. I was on radio at 4am – a time when only your mum would be listening! Then, a few years in I did the 7am show before my boss moved me,' giving Sarah-Jane the lie in she so desperately missed. 'Yes, it's perfect to not have to get in too early. I'm very lucky.'
So far her career CV is looking pretty impressive. As well as presenting the 1Xtra show weekdays 1-4pm, she is also the current voice of the MTV Chart Show. She has a range of presenting and DJ roles and now acting gigs under her belt.
Playing the role of single mum 'Lorna' in the film It's a Lot (directed by Adam Deakin and Femi Oyeniran of Adulthood and Kidulthood), she had to strip right back to be able to portray the role convincingly. And for someone who says her style inspiration is old Hollywood glamour, it meant no red lippy! It's an urban comedy with a serious edge.
I play single mum Lorna with five kids and no hair extensions, so it's far cry from glam DJ Sarah-Jane. In a parallel universe she could have been me but without the privileges. It was a beautiful thing to do.'
STATEMENT STYLE
Sarah-Jane is no stranger to red carpet style, but she admits it can be hard to look good as a woman of colour in the business — 'it's not all sweetness
and light.'
'One of things that is hard for black women when it comes to hair and beauty is that the people whose job it is to doll you up can't handle our hair and there is no black Toni&Guy. And if there is, it is super expensive and you have to rely on a friend of a friend,' she muses. 'I advise any up and coming make-up and hair artist to get some experience with black models. You are really needed. I'm lucky to work with MAC artists because I won't go to an event if I can't put in the whole effort. Black women aren't divas just because we want our hair done by someone who knows our hair.'
Speaking of hair, Sarah-Jane seems to have rocked every style under the proverbial British sun, but she admits, 'Blonde was a mistake. A big mistake! Dark hair suits me. If I did do blonde again I'd keep dark roots. I do like length though. I have clips in and my own hair out with it.'
When it comes to fashion she loves Australian designer Shakuhachi. Other style inspiration comes from Joan Collins who once told her, 'If you have a strong red lip then you can change everything else'. Then there's Kim Catrall who said: 'Wear heels because they are good for the legs.' From meeting Sarah-Jane she has taken both women's tips to heart
combining them from lip to toe.
And back to her signature red lips, Sarah-Jane makes no bones of being a huge MAC fan. In fact, she regularly participates in their programme where if you return empty MAC packaging, you can pick up a free lipstick. 'I love MAC because they cater for everyone equally. I wear their Ruby Woo lipstick. I probably get through about eighty of their lipsticks a year,' so taking part in the programme makes perfect sense.
THe day BBH talk to Sarah-Jane it's her birthday and she's off for a photo shoot with Models One who recently signed her up. Then it's for a birthday meal with her boyfriend. So, I leave her refreshing that red lippy as we part, because after all a girl has always got to look her best!
GET IN THE RED