The launch of the first kids' game that empowers young black girls to embrace their afro hair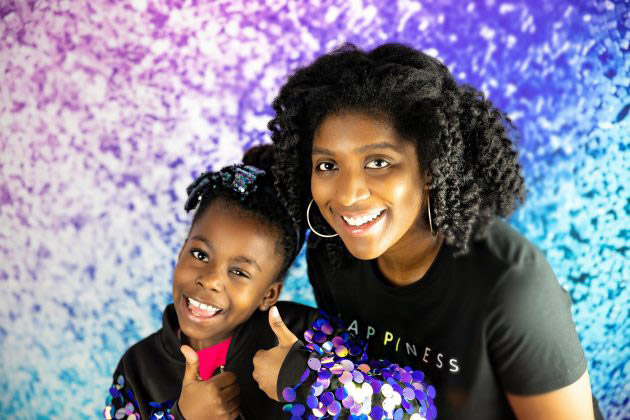 Frobelles announces the launch of their new indie dress up game which will be launched on the App Store and Play Store. It is the first game of its kind to positively represent black girl's features and hair.
The concept for Frobelles was created in 2018 by Yvonne Ottley. Her daughter, who was 6-years-old at the time, loved using the tablet to play dress-up games. During screen time, she turned to her one day and said "Why can't I play with the black girls and how come they don't have hair like mine?" Yvonne found out that the games her daughter had been playing did not include black characters, if they did she would have to pay a premium to access them and even then, the characters did not truly represent a black girl's features or hair.
Over the last two years Yvonne has been working alongside her daughter, Alyssa, to design the looks and hairstyles for the characters of the game; sisters Coco, Kelli and Krista. And at last they have a dress up game featuring characters that young black girls can relate to and aspire to be.
The game is simple, colourful and fun. Players get to choose from an array of afro hairstyles, select stylish clothing and accessories to complete the look, with the voice of Alyssa guiding the players through each stage. Each Frobelle has their own unique fashion sense and hairstyle choices, from locs, to puffs to statement t-shirts such as "Girls Can" and "Girl Power".
Once players have completed the game, they will also be able to share their looks on the Frobelles Instagram whilst browsing styles created by other users for inspiration. Prior to the game launch, Frobelles has been working on building a community of 10,000 Instagram followers through interactive content and in collaboration with girls who embody the Frobelles spirit through their brand ambassador programme.
According to a recent study by Currys PC World: "On average, across 10 genres, you're likely to get a white-only protagonist in a game (67%) compared to POC (3%)."
It is no surprise that this is the case since only 2% of game designers are African-American / African / Afro-Caribbean. Black characters are therefore severely underrepresented and misrepresented in games. With children spending up to two hours a day playing games, it is worth recognising the importance of black children seeing inspiring characters that look like them on a daily basis.
We deserve to be well represented in all areas of media and creative content. The gaming industry is no exception. I truly believe we are making the difference and the game is a fun and engaging way for girls to learn through play. The key message here is black is beautiful, we are challenging the European standards of beauty and championing our own beauty as we know it to be.

Yvonne Ottley
The brand also also provides empowering children's clothing and accessories including t-shirts, bags, phone cases and mugs with their favourite Frobelle character and can be found on their website.
---
More community & culture…