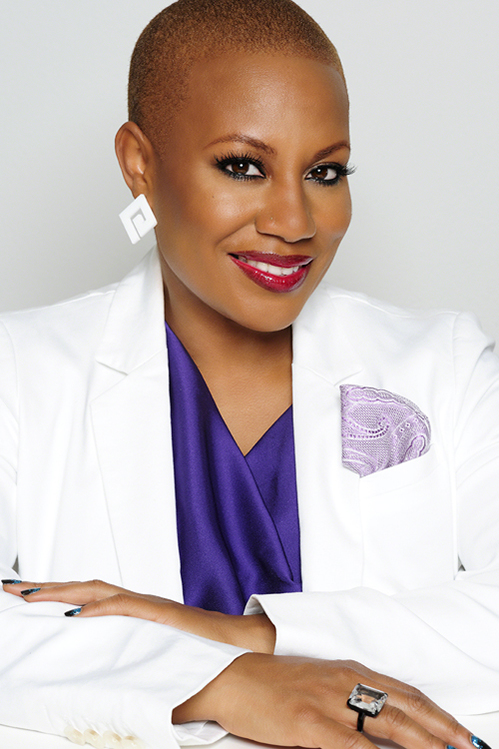 The celebrity and inspirational natural hairstylist shares some words of wisdom
Some people know you as Felicia others as the 'Hair Whisperer'. Why is that?
The actress Kim Coles was the first to describe me as the Hair Whisperer, because when people come to get their hair done I can tell how they've been living, what their diet is, how much sleep they're getting, how well they've been taking care of themselves…
How is it possible to read someone's hair?
Our skin and our hair is our alarm system for what is happening inside the body and I've made it my business to understand natural hair. When you have a passion for something that means you are focused on it, you read about it, you make it to be something that you truly know without fail. If you blindfolded me and I felt someone's hair, I could tell you things about the hair. For instance when I look at the scalp and it has a thick layer of dandruff, I can tell it's something to do with the diet, its either too much sugar or cholesterol. For somebody who has a dry scalp, I know that they love very hot water on their body, that's always going to dry you out. With men, their pores are big, so you can always tell when they've been drinking beer or eating a lot of greasy takeaway food.
You've always been a natural hairstylist, so what are your thoughts on the latest 'natural hair' movement?
Personally I have always been natural and it's interesting to see a natural movement taking place. Although I am excited that women are going back to being natural, what is happening more now compared to the past, is that people are having a discussion; they are talking about their hair and their look and what they love about themselves. Self-love is important because we have so many misconceptions about who we are and how to love ourselves. Everybody is individually beautiful and everybody will love themselves on a different level. But at the end of the day, what you have is unity in the natural hair community; support. And that is the most important thing in all of this.
'What is happening more now is that people are having a discussion about their hair and what they love about themselves'
Some women in the natural hair community are very 'anti salon' because they're unable to find a stylist who understands their hair and have had bad experiences. So as a salon owner, how do you get women coming through your doors?
You have to develop trust. A stylist's main aim is to service the client and give them the best possible outcome every time so they return. Salons shouldn't discriminate. If their clients are going natural and they don't know what to do, they need to educate themselves and the client otherwise they lose the trust. Also some salons raise the price because they're working with natural hair. This is unfair because after all hair is hair. Everyone is a celebrity to me, and I will give each person that steps into my salon 100 per cent of my time.
What are your tips for someone thinking of going natural?
Find hairstyles that you like on people who have your hair texture. If you're following natural hair bloggers, in particularly on YouTube, make sure they have your texture because you don't want to disappoint yourself. I have to do so much damage control with women who have experienced this. I love hair bloggers and learn so much from them, but I think some women get too caught up with watching too many videos, and make this vision that is not their hair texture. Really pay attention to YOUR hair. Keep a log of products that do and don't work. It is easy to become a product junkie and get bogged down thinking of all the negatives that didn't work for your hair. A journal will help you develop a regime and stay focused. Finally, you don't want to become obsessed with length. Love your hair wherever it is at. Most importantly, whenever you stand in front of a mirror, never think or speak anything negative, your hair is not separate from the rest of the body. Treat your hair as though it were a baby; love yourself.
4c women, in particular, get disheartened because their curl pattern isn't represented or desired as much as others. What is your advice to them?
These women have to become their own role model, and that is where the confidence comes in. It is about venturing out and experimenting with styles that suit your own hair, and what will happen, is that they will inspire other 4c women who will reach out to them and say, 'I want to look like her.'
Felicia's tips on head-hunting the best natural stylist
Ask questions
Before a new stylist gets their hands on your head always ask for a consultation first. Take as much time as you need to ask all your questions and if you're not satisfied, move on
Word of mouth
Talk to people who love their hair or have a style you like. Ask them about their hairstylist and the methods they use. If you like what you hear don't be shy to ask for their stylist's details
Direct
Let the salon know if your scalp or hair is sensitive to certain products to avoid damage or any nasty surprises. And with any new stylist, do direct them on what side you like your parting etc.