Image | Shutterstock
As we move into the New Year, we asked expert MUA Naomi Maximen, founder of Naomi Sadé London, to give us some makeup tips for mature skin!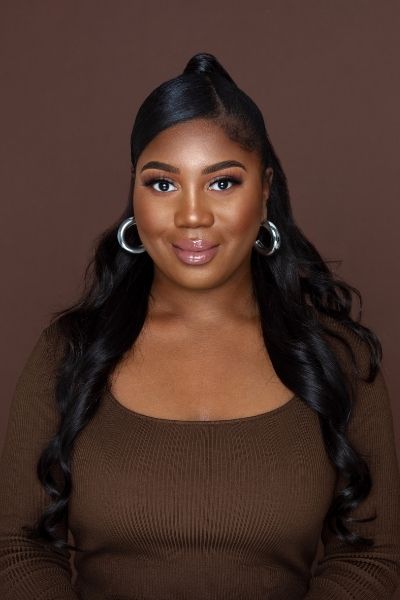 Nine years of experience working on the beauty counters of top beauty brands like Tom Ford, Estée Lauder L'Oreal and Urban Decay has taught make-up artist Naomi Maximen what clients really want from their makeup. It was after being made redundant during the pandemic that Naomi decided to launch a Naomi Sade London, a beauty brand that would focus on vegan, cruelty-free makeup but offer shades and tones for consumers from many different skin tones. Her first product is the Bronze Lookbook Eyeshadow Palette (£29.99).
Skin prep
"For great-looking makeup I'd strongly recommend prepping your skin before applying any makeup. Mature skin is usually drier, so, start with a primer that's rich in hyaluronic acid, this will keep the skin hydrated and plump throughout the day. 
"Use a colour corrector for great coverage. Pigmentation, rosacea and sallowness are common in mature skin. Use a purple/lavender colour corrector to minimise yellowness and dullness. An orange or red colour corrector (red for darker skin tones) will help mute the appearance of darker pigments in the skin. A green colour corrector will help neutralise redness."   
It's all about the eyes
"They say the eyes are the window to the soul, so try to not make them appear closed! Try to avoid overloading with dark colours as this will make your eyes look small. Larger eyes appear more youthful. I'd recommend avoiding black liner on both the top and bottom waterline, instead opt for browns. If you have hooded lids, I'd advise not to apply too many shades at once, especially darker eyeshadows as it can create the illusion of smaller eyes. I'd experiment with brighter shades like Oat Milk and especially shimmer shades Frosting and Glow Up as they will reflect the light giving the appearance of bigger eyes."  
Application is key!
"Highlighting your eye area can make you look more awake and youthful. When applying under eye concealer I'd recommend using your ring finger as it uses the least amount of pressure.  Be sure to apply your concealer in a light patting motion, avoid sweeping the product under and around your eye as this will drag the product into lines making them appear more prominent.
"When applying foundation starts at the centre of your face and blend outward, doing so will give you the coverage you need without looking cakey and more natural. I'd recommend cream and liquid foundations for more mature skin as these formulas will glide across the skin rather than settle in any lines.
Liquid and cream foundations can be applied with your fingers or a brush. A stippling brush will give you a more natural look, whereas a flat foundation brush or a dense flat top brush will give you fuller coverage. Which is great for covering pigmentation."
Avoid matte formulas
"Now that it's winter, we still want to achieve that sun-kissed glow. The Bronze Lookbook Eyeshadow Palette (£29.99) is filled with 12 shades that are multipurpose and can be used in other areas of the face apart from the eyes if need be! I'd recommend using shades Frosting or Glow Up depending on your skin tone and infuse with your daily moisturiser or serum for a youthful glow.
"For extra warmth and definition use matte shades Sips Tea or Terracotta as bronzers depending on your skin tone. I'd highly recommend pairing with shades Penny or Flare as a blusher these are gorgeous shimmers and will catch the light beautifully, giving the appearance of lifted cheekbones." 
---
Black founder beauty brands…