BBH intern, Lesley Buckle, experiences the L'Oréal Steampod on her texturised hair in our tried & tested feature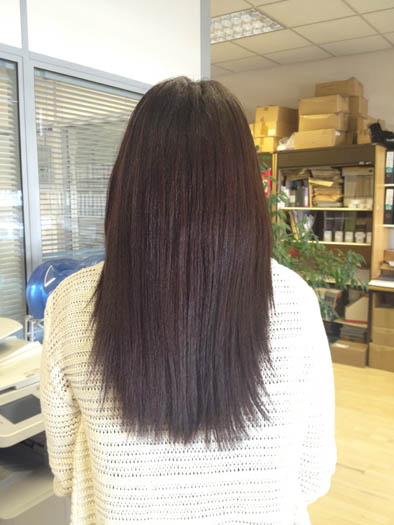 L'Oréal Professionnel and Rowenta Salon Electricals have joined forces to create a smoothing and straightening iron that uses high-pressure steam for long-lasting, silky straightness. I was lucky enough to receive the treatment at Headmasters salon in Mayfair.
Turning up at the salon, I have to admit I looked like the definition of a hot mess. A short (but sticky!) tube journey and surprisingly sunny English weather had caused my hair to frizz up just before meeting Jonathan Soons, art director at Mayfair Headmasters. I explained to him that my hair was relaxed with 2 inches of natural new growth, as I was worried that the service might not work on my hair. I was quickly reassured that the Steampod treatment works on all hair types, including Afro-Caribbean hair.
How does it work?
The Steampod iron resembles a straightener. The difference is it features high-pressure steam nozzles that infuse moisture into the strands making it far less damaging. The temperature can be adjusted from 170 to 210°C too to suit the client's individual needs. There's also a removable comb attachment so the hair can be styled whilst it's smoothed. The Steampod iron is for salon use only and is expected to be available in more salons nationwide over the next few months.
The service consisted of 3 steps; shampoo, blow-dry and the Steampod service. The purpose of the Steampod is to enhance the blow-dry for a sleeker, smoother result, which lasts until the next time you wash your hair.
It's worth pointing out that I'm very fussy when it comes to my hair, particularly when using heat. At all costs I try to avoid it! So I was quite anxious when Jonathan began blasting my hair with a blow-dryer set on a scorching temperature. There seems to be a common misconception that afro hair needs maximum heat to get straight — it doesn't, you just have to work in smaller sections. Plus the fact that my hair is relaxed, chemically processed locks have a lower heat tolerance, so to keep it healthy thermal styling should be done on a lower heat setting.
The bonus with having the Steampod is that you can have it without the blow-dry because it can be used by itself. Seeing as its purpose is to enhance the salon blow-dry, on this rare occasion (and in dedication to all Black Beauty & Hair readers), I went ahead and had the treatment as it would be offered.
Jonathan spent 15 minutes using the Steampod iron on my hair and the comb attachment allowed him to give a subtle bend to my ends to frame my face. There was a noticeable difference between the smoothness of the blow-dry and how my hair looked after using the Steampod iron. I left the salon with light, sleek and bouncy hair, a stark contrast to how I walked in — and my hair had so much body!
Jonathan only used a few drops of the Kérastase Nutritive Sérum Oléo-Relax before blow-drying and the L'Oréal Mythic Oil when using the Steampod iron. I was surprised to find that both of these products kept my hair shiny and frizz-free, despite being applied sparingly. There are specialised products for the Steampod service, which include 2 smoothing leave-in creams enriched with pro-Keratin technology and a finishing serum to tame dry ends (all retail from £15.40). I'm not sure why these were not used on my hair but L'Oréal were kind enough to send me the products after the treatment. I love the serum, it smells gorgeous! I used it daily to maintain the sleekness and shine. I couldn't use the smoothing cream as it's supposed to be used prior to the Steampod service.
Overall I was happy with the results, though I'd personally prefer to have the treatment minus the blow-dry. I loved how my hair bounced as I walked. I've never attained the same amount of movement from using a regular straightener. After leaving the salon I found myself skipping around Oxford Street, staring into the shop windows, not to admire the gorgeous clothes, but to gawp at how my hair floated in the wind.
The treatment costs £25 at Headmasters salons. You can contact them on 020 8296 6454 for your nearest salon or visit their website www.headmasters.com