Thinning, breaking and balding locs? Loc star Candace Dantes looks at the bad hair practices that pull out edges, roots and strands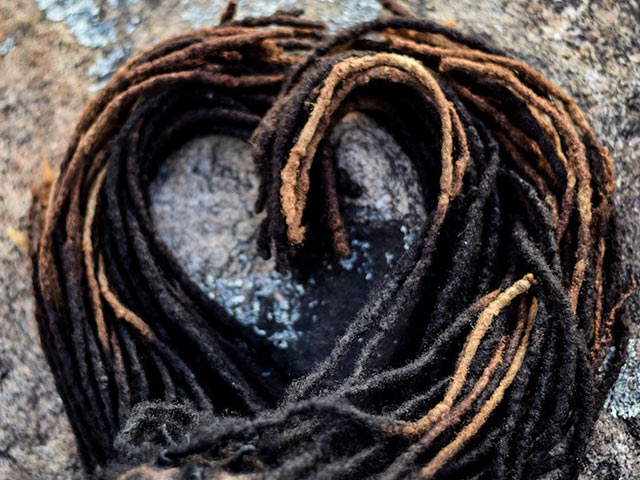 Bad hair practices that pull out edges, roots and strands
Wait! Before you slay that sculpted loc hairstyle snatching those edges back too far, consider the excruciating headache about to ensue. Then think about the long-term repercussions. What loc backlash, you ask? Thinning, breaking and balding. Yeah. That bad. The average loc wearer is guilty of the following crown charges, and, boy, do they cost locs in the long run:
Yanking locs into tension-intensifying updos
Sporting super-tight braided 'dos, pigtails and ponytails stresses tresses until they eventually give out. That's right. They break off. The overworked low-to-high updos you attempt can lead to what's known as traction alopecia, hair loss from pulling. Over time, the hair follicles weaken from excessive tension, and as a result, hair growth halts.
THE SIMPLE SOLUTION: Let your locs go with gravity. Wear them down as much as possible, and slack up updos by trying more loosey-goosey buns and curly hairstyles.
Clogging pores with product, chemicals
A good way to weaken loc edges and strands is overdoing it in the product department. "Clogging your pores with everything out there right now in loc and natural hair products only seals in dirt," said professional U.S.-based loc stylist Selena Miller, who is owner of Loc Art Studio in Atlanta and also known as "The Loc Whisperer." "The more build up, the unhealthier both the scalp and hair get." Another way to create brittle, vulnerable locs: Exposing them to chlorinated water often and without treating locs immediately before or afterward.
THE SIMPLE SOLUTON: Cut down on applying greases and moisturizers frequently (like every day), and prep locs with the appropriate chlorine-fighting conditioners and shampoos prior and post entering the water.
Breaking the hairline with accessories
Hats, wraps and headbands may temporarily protect and/or embellish loc styles but they're not worth the wear if the hairline becomes irritated and breakable. "You want to eliminate friction and movement to the hairline," Miller said. "If you don't, expect thinning and balding in the areas along the hairline where these accessories are placed the most."
THE SIMPLE SOLUTION: Stop putting headpieces in the same spot routinely. Move them around. To preserve loc hairstyles at night, Miller recommends a thick pair of pantyhose to cover tresses and smoothly tie down edges without creating unnecessary friction or tension.
Relocking roots every chance you get
Feel the need to keep your locs on camera-ready point 24/7? Well, regularly relocking them only makes them thinner. Root fuzz is a good thing, so allowing new growth to take over your crown for a few weeks means a stronger base to hold loc strands.
THE SIMPLE SOLUTION: Instead of relocking hair every two weeks or sooner, Miller advises leaving locs alone up to four to six weeks. "Hair growth is a natural process," she said. "So, let your new growth do its thing so your roots and foundation has enough time to repair and rebuild to support each loc."
If you liked these loc tips and tricks, check out more Black Beauty & Hair creative content from Cowgirl Candace by clicking here.
---
✶ You may also like ✶