She's the new voice of radio and TV – meet Vick Hope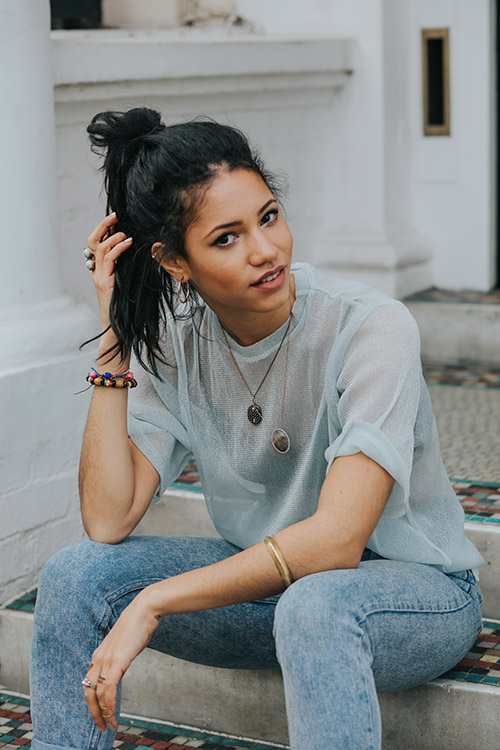 Broadcaster and journalist Geordie-Nigerian Vick Hope currently hosts the Capital FM Breakfast show with Roman Kemp as well as the 4Music Trending Live show Monday to Thursday. Vick also writes, produces, edits and presents all her own news content on ITN as well as making documentaries on issues such as racism in the fashion industry. She speaks six languages, has a degree from Cambridge and on top of it all – she loves hair and make-up. We find out more…
What beauty product do you always repurchase?
Sleek's Contour Palette is brilliant. N
o matter how many different contouring and bronzing/highlighting products I experiment with I always end up going back to it. It's so reasonably priced, yet the pigment of those colours is just as good as any premium brand I've tried. There's a matte bronzer,
pearlescent highlighter and gorgeous golden/bronze coloured blush in the medium palette, which I've found to be the perfect shades for my skin tone to get a healthy glow.
When in front of the camera, what's your favourite way to style your hair
It totally depends on how recently I've washed my hair! If I leave it to dry naturally, my afro is pretty soft for the first few days after washing so I'll keep it curly, wear my afro out, style it into a pseudo-mohawk with Kirby grips or stick it up in a messy ponytail or space buns/bunches. With a little bit more oil build-up (ha, that sounds gross!), it can be blown and straightens out quite smooth and I have a bunch of different clip-in extensions of varying waves and curls which I keep in my bag for shoots so I can just quickly stick them in depending on the vibe of the show and what I'm wearing.


How do you look after your skin day-to-day?
I would LOVE to say by drinking lots of water and getting plenty of sleep ahead of the early starts for radio, but I'm nowhere near as disciplined as I should be! I've recently been introduced to REN Skincare, whose products make my skin feel so clean and fresh, so I've been using their facial exfoliator, face wash and moisturiser daily. Every few weeks, I also like to do a cleansing charcoal mask or moisturising clay mask.
Which celebrity is your beauty inspiration?
Towards the end of last year, Nigerian writer and feminist speaker (and all-round favourite of mine) Chimamanda Ngozi Adichie did an interview about 'moralising make-up' that really stuck with me. I've always been a bit worried about saying I love make-up and beauty for fear of being taken less seriously, and the truth is I do love it, and as Adichie said in her first No.7 campaign: it's totally fine to embrace it as part of our identity if we want to and as long as we're comfortable in our own skin… She said "I think that for a while I just thought that I couldn't possibly wear the lipstick I wanted to wear because I felt that I would be judged. But there is just no point in living life based on what you imagine people expect." For this, she's my beauty inspiration.
What hair products are you loving at the moment?
I've been using Moroccan Oil Shampoo and Conditioner as they're super hydrating, and then a brilliant hair stylist called Michelle Sultan who I've been working with recently recommended KMS Tame Frizz on towel dried hair – and basically
a little top-up spritz whenever I need thereafter, which has been a revelation for keeping my barnet under control.
Describe your fashion style in 3 words?
This isn't so much three words, but three Princes…no joke, I genuinely describe my style as: The Fresh Prince meets Prince George meets just…Prince.
How did a degree in Modern Languages get you on our TV screens?
Sometimes it seems difficult to see how my degree has directly helped my career, but actually I honestly don't think I would be where I am today without it. Studying Modern Languages took me to Argentina for a year, where I secured a journalism internship, and it was through writing for a few papers and magazines in Buenos Aires that I first met the team from MTV out there. That led to my first pilot, and a route into an internship at MTV in London, which was the most incredible training ground for working on both sides of the camera.
More generally, a degree from Cambridge, plenty of by-lines at our student papers, setting up our uni TV channel and plenty of newsroom work experience set me up for the pace, dedication and work ethic necessary
for a media career, especially when linking up with ITN, from where some of my most formative reporting jobs as a broadcast journalist have stemmed. And then purely and simply, when it comes to speaking a bunch of languages, it's been handy for bagging those
TV gigs with lots of travel opportunities, which obviously is sweet!
What future project are you excited about?
Having only just landed the breakfast show on Capital, I'm so looking forward to what's to come. It's such an honour to be able to wake up with your listeners, have breakfast with them and travel with them on their commute. I look back so fondly on those journeys to school with my dad and brothers in the mornings, and the relationship you build with those presenters was very special, so I can't believe I'm in that position now.
Save
Save