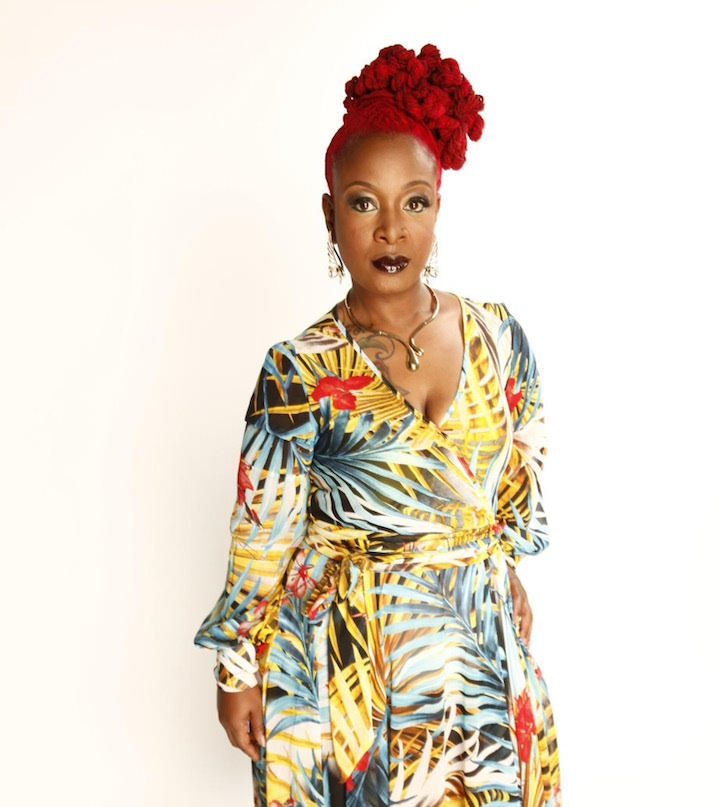 Photo courtesy of Mz Lady Lox
Candace Morrow gets the scoop on loc colours, trends for summer 2017 with loctician extraordinaire Mz Lady Lox
She's called "The Queen of Naturals." With hip-length locs that often twist into three-tier, rotating updos and flower petal-styled afro halos, it's obvious why Mz Lady Lox wears the crown.
A 20-year loctician and educator from The States, Mz Lady Lox's artistic hairdo expressions are what make her unforgettable as a hair model and platform artist for hair care brand Jamaican Mango and Lime's national campaign and at international beauty events.
In between everyday hair clients, shows and travel home and abroad, Mz Lady Lox carved out time to brief Black Beauty & Hair readers about what's hot and not for loc wearers heading into summer 2017 — all while keeping healthy hair in mind:
Candace Morrow (CM): So what dreadlock hairstyles are trending for spring and the summer months ahead?
Mz Lady Lox (MLL): Curls! They're always a popular style for spring and summer. They're easy to do with loc or bantu knots, pipe cleaners or perm rods. Each method gives a different type of curl and can be easily done at home.
CM: Great to know, because I love the simple-to-do look on occasion. Well, you're known for your crimson red locs at hair shows across the United States. What are your hair secrets — and products — to keep such a vibrant colour without putting stress and strain on your locs?
MLL: I use Red Garnet by Via Naturals, which is a semi-permanent hair colour for my signature red. In order to get bright, eye-popping colours, you must have your hair pre-lightened first. I always recommend having a licensed cosmetologist to perform this service. I have the Red Garnet re-applied every six to eight weeks to keep my intense colour, which I also use a moisturizing shampoo and conditioner. I treat my hair with Jamaican Mango and Lime Castor oils for hot oil treatments. I try not to put too much strain on my hair by wearing it free. I don't twist my hair often. I only style it when I have events and take them down every night.
CM: Heard that ladies? Don't try this awesomeness at home. Consult with a professional to achieve such rich colour, and let your tresses relax, too. Along with your red hot hue, what other hair colours are fashionable right now in the beauty world?
MLL: Of course, I'm partial to red. It makes a statement, and regardless of the season, red hair draws attention like fire. Sun colours like golden blondes and rich browns are also in for spring and summer. These colours catch all those sun rays. Colour placement, such as colour blocking and highlights, are also small ways to give hair big impact. Again, visit a licensed cosmetologist for any chemical service.
CM: Now when it comes to loc maintenance (whether coloured locs or not), what hair habits should loc wearers always do and remain mindful of to keep locs healthy and stronger longer?
MLL: First and foremost, love your locs, journey and yourself. The health of your locs starts with your health. Whatever makes you happy, do it — and do it often with no fear. Your mental, physical and emotional health affects your hair. I can tell when my clients are stressing due to stress spots on their scalp. Stress can cause hair loss but the hair can regrow when stress ends. My recommendation: Shampoo your locs every two to four weeks and follow up with a light conditioner. A steam treatment with coconut oil is good for dry and/or coloured hair. Make sure your hair is fully dried. Moisture in locs can cause mildew and will give off a sour smell. An apple cider vinegar soak will get rid of the smell. Lastly, oil your scalp at least three times a week and give them a light spray with oil. It's good for the life of your locs to receive moisture and shine daily.
CM: Check. Check. And triple check. Splendid tips I will personally take heed to as well. As brand ambassador for Jamaican Mango and Lime, what are your top products loc wearers should consider adding to their daily/weekly hair routine?
MLL: Jamaican Mango and Lime Castor oils are my go-to products. I started my locs with Jamaican Mango and Lime products 16 years ago. I continue to use the Tingle shampoo, Protein Conditioner, Creme Wax, Island Oil and Argan Shine.
CM: And after applying these products, how do you like to style your hair?
MLL: I love my updos. I feel regal when my hair is twisted up. During the week, I wear a twisted pompadour or a loose bun to keep my hair out of the way but in an effortless way.
CM: And you definitely know how to vogue them with ease. For those who have yet to experience your salon or live demo talents, what's the next big beauty and hair event we can catch you at after wowing crowds with your triple-stacked, bejeweled hair bun at this year's Bronner Bros.?
MLL: I will be at the Taliah Waajid World Natural Hair Show in Atlanta, Georgia, April 22 and 23.
CM: Yaasssssss! I can't wait. Before we go, is there anything new happening this year? Traveling to London or across the United States for cool beauty collaborations?
MLL: I'm planning a trip to London in September for a hair show. Along with traveling to hair conventions this year, I have a few speaking engagements lined up about my more than 16-year journey from consumer to brand ambassador. With God all things are possible.
CM: Absolutely! You're such a treat to experience on the hair show circuit, and we thank you for your knowledge to maintain healthy, hot dreadlocks.
GET SOCIAL WITH @mzladylox: The Queen of Naturals has a combined social media following of nearly 145,840 fans on Facebook, Twitter and Instagram. Her engaging hair and beauty photography and posts offer dreadlock wearers nonstop online inspiration.
Candace Morrow, a.k.a. Cowgirl Candace
Save
Save
Save
---
✶ You may also like ✶