Shevelle Copeland-Kelly was 28 when she was diagnosed with breast cancer. She has partnered with ghd as part of the Take Control self checking campaign
ghd has partnered with breast cancer charities globally for 15 years and raised over $19 million. To celebrate their 16th year, the brand wanted to raise awareness that breast cancer affects women of all ages, along with the importance of self-checking. 11 incredible women, diagnosed with breast cancer under the age of 35, including Shevelle Copeland-Kelly, shared their inspiring stories. Here, Shevelle tells blackbeautyandhair.com about some of her breast cancer journey.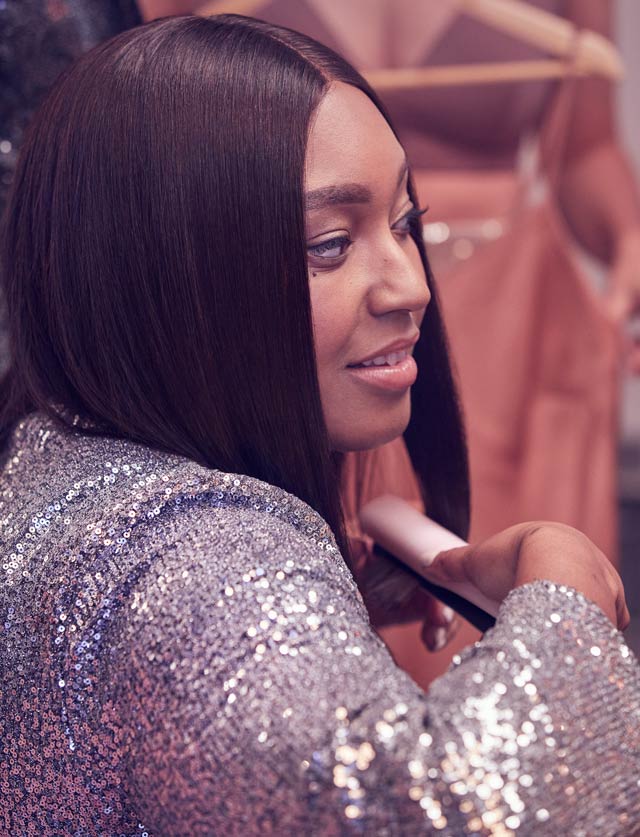 Tell us about the moment you first discovered there was a problem?
I first discovered there was an issue the last weekend in June 2019, just before a girl's trip to Dubai. I was lying on my friend's bed complaining about feeling fatigued and sleepy all the time. I then had my arm in a really awkward position and subconsciously stroked underneath my breast where I found the pea size lump. At that moment I never thought it would be cancer I just assumed it was cyst or something. However, I couldn't let my mind rest and called my GP on the Monday who then told me to come in for examination on Tuesday. I was then referred to the hospital where a biopsy was done and within a week I was told the dreadful news that I had breast cancer.
Did you ever think that breast cancer could affect you? If not, why?
Breast cancer was not something I really thought about. My grandma had passed away 18 months prior of breast cancer but I still didn't believe my situation would be that. I had never met anyone my age with cancer and the media makes you believe you have to be of a certain age to get it. So I just did not think at 28 years old that would be me. I never really paid any attention to cancer because I just thought you either had to be of the older generation or really young.
Follow and tag two friends in the comments @BlackBeautyMag for your chance to win a ghd helios hairdryer! 💕
Have you learned anything surprising about yourself in this process?
I have realised I am braver than I thought. I am much more confident than I believed, I have found a new passion in spreading awareness for such a dangerous disease. I initially wanted to keep this situation to myself as I felt a sense of embarrassment about my situation, but after being involved in a few projects I realised the world needs more people of different ages and ethnicities to spread informative information.
What's the one thing you would say to young women out there who are not currently doing regular self-checks?
Take a moment to feel your body, early detection is the key to survival. Once a month in the shower or whilst watching TV anywhere possible really. Whilst we can't prevent it we can definitely manage it. So if something doesn't feel right go and speak to your GP.
As women, we effortlessly check our hair everyday but not our boobs – it's time to take control now! So, donate some mirror time to your boobs and self-check EVERY. SINGLE. MONTH.
Boob facts
With Covid-19 still causing much uncertainty, and whilst awaiting further guidance from the UK government surrounding large-scale events, Afro Hair & Beauty live not take place on 30/31 May as hoped. Your health and safety is a top priority for us. So, with great sadness, we've had to take the difficult decision to further postpone Afro Hair & Beauty Live We hope to host Afro Hair & Beauty Live at a later date in 2021. Once we have confirmation of this it will announced officialy. Rest assured that your ticket will automatically transfer over to the new dates. Until then, we will be working tirelessly to bring you the biggest, best and most exciting Afro Hair & Beauty Live. Thank you for your continued support, flexibility and understanding.
---
Stay healthy…