Photography by Bobby Quillard
Television viewers will know Toy Connor as little Tyreeka Freemon in HBO's The Corner. Now all grown up, Toy is carving herself a career in music. The urban pop princess-in-waiting, took time out to chat to Black Beauty & Hair
Where are you from originally?
I was born in New York. I Spent my primary years in Trinidad and travelled abroad a lot with my parents, because my father use to fix airplanes. But every summer, my mom would send me to New York to stay with my family, and ultimately I relocated there for my artistry.
Is Toy your real name?
Yes, it really is my name. And my mom said I didn't like it when I was a child. She said when I was 4 years old, I asked her "What kind of name is that going to be when I am a grownup?", and she said, it wasn't until then that she realized she hadn't thought that far ahead, lol.
For people who don't know you, how would you describe your sound?
I would tell them to imagine if Nicki Minaj and Rihanna had a baby. Imagine what that would sound like. I've been told my sound is uniquely dominant for a female. Probably because my voice is raspy and most people are shocked when they hear a low, rough voice from my petite body. But it's my own thing. Can't wait to share it with the Universe.
You started your showbiz career as a child actress in The Corner, how did you get into acting? How did you get into singing?
I got into acting by fluke. Every summer, my mother send me to NYC to stay with my auntie. My aunt happened to be babysitting this kid, who she had to take to an audition. I was just sitting in the lobby with my auntie, and the casting people asked if it was ok for me to audition too. She said yes, and I booked the part! After that, I got the acting bug, and my mother figured out that I should spend more time in New York to help me reach my goals. Pretty crazy, I know.
Regarding music, I was inspired by my parents musically since I was a baby. My father played guitar and my mother sang. Not professionally, but it was something they did every day, it was fun and they encouraged me until I got better and better. I really love them for that.
What's it like having a mentor like Berry Gordy?
He aiiiiiiight. Just kidding. He is amazing and the first genius I think I've ever met. Hmm, never really thought about it, because we met so organically through his son, and he challenged my creative ability to make hot records for his young artists and I rose to the occasion; he is just so interactive and informative and just working with him has been like singer/songwriter boot-camp heaven. He has shared so many jewels, I just feel blessed.
Your last single Be in Love Tonight was featured on hit compilation NOW That's What I Call Music alongside Justin Bieber, Nicki Minaj, Usher and Katy Perry. Did that help introduce you to a wider audience?
Absolutely, one hundred percent! I mean, yah gal got introduced to all of their fans who actually purchased the compilation and are living with my record. That was a huge blessing.
Your new single They Don't Even Know (which comes out in July) features on the EP of the same name, and mixes urban pop with dancehall, did you write all the songs on there?
Yes I did. I also had a co-writer.
There's a lot of Caribbean flavour spicing up the US music scene at the moment – you, Nicki Minaj, Rihanna. Why do you think it's been so popular?
Riddim mon. Everyone loves riddim and though the world still has some issues, the world has become more accepting of mixing and appreciating cultures than it's ever been in my lifetime. I will also say that within that time, artists like Rihanna and Nicki have been instrumental in breaking down the door and paving the way. Even full blooded American music stars are creating music with Caribbean vibes.
We dig your hair, when did you decide to go blonde?
I decided to go blonde five years ago.
Are you a hair chameleon?
Absolutely! I love switching it up, and will definitely hit you guys up with updated looks. It's fun! Plus, you must know that we Caribbeans are very festive and creative with the hair. Google it, and you will probably be cracking up. I like to change the colours. When you lighten your hair, then apply pink, purple, red, blue, it makes the colour really pop!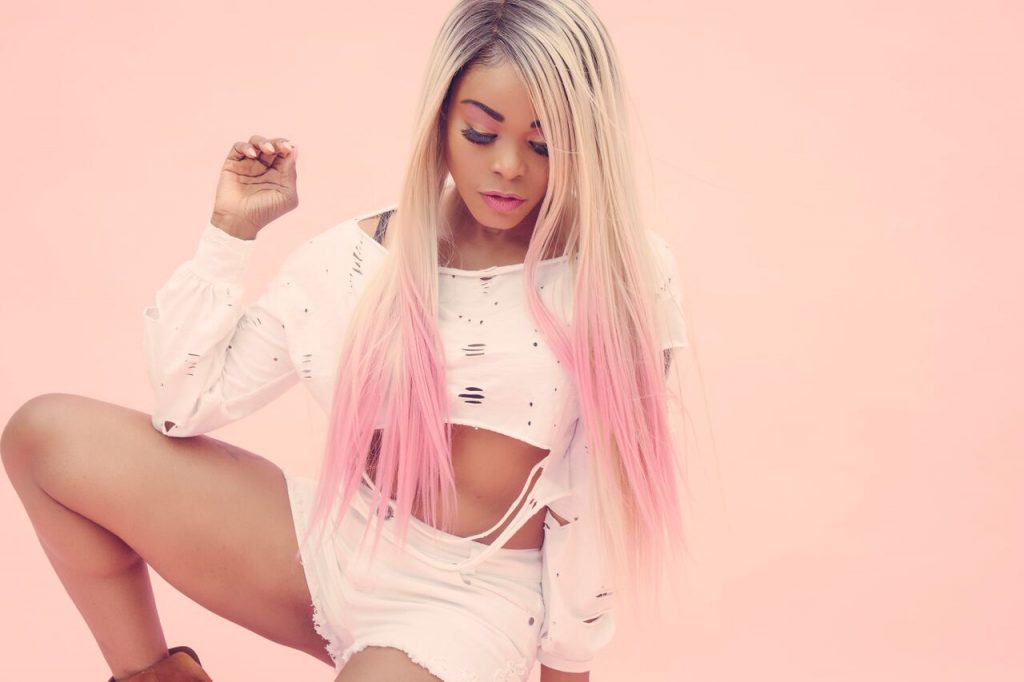 Who does your hair?
Right now I actually do my own colour, weaves, and wigs. I'm sure that will change. I do have a girl Myeisha, who braids me up.
Nigerian-American actress Cynthia Erivo said, "going blonde don't make her less 'woke'", do you agree?
Totally! I am clear I am black with blonde hair. I love being me and I'm comfortable in the skin I'm in. As an artist, you experiment not just with your craft, but with yourself and your image. Thank God, my profession allows me the freedom to wear all colours and textures, and it's accepted. I'm clear on the most of the obvious world issues, and as my platform broadens, I would like to do my part to solve a lot of the issues, affecting us. In fact, I pray to God and already have a pact with him to be responsible, and make a positive difference as my platform widens.
What do think of the natural hair movement?
I love it and actually still have natural healthy hair under my sew-ins. My hair is naturally curly, even though I often bleach the front of my hair to get a better colour blend between it and whatever weave or wig I choose to wear. But I have no straightener in my hair at all.
What are your favourite skincare products?
Neutrogena Face Wash and vitamin E oil at night.
Favourite fragrance?
Miss Dior Blooming Bouquet and Viktor & Rolf Flowerbomb. Sephora is my favourite store, because it has all the trendy cosmetics and fragrances in one spot.
[one_half]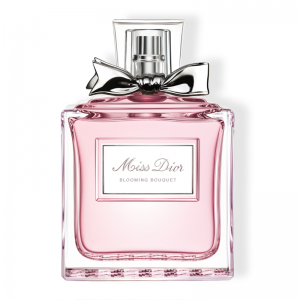 [/one_half][one_half_last]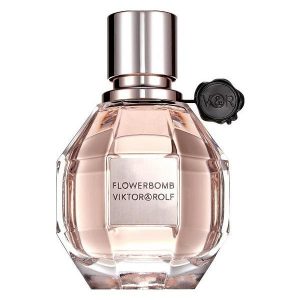 [/one_half_last]
Chain store or designer?
Designer, but I like the underground designers the most. Particularly the ones on consignment at boutiques, where they only make ONE of your size, so I'm less likely to bump into anyone with the same outfit.
Heels or flats?
Hmmm. I'm short, so heels are a must. I've got to admit I keep flats in the car though, lol.
When are you coming to London?
I will soon come. My schedule is being formed, but I assure you, I will keep you all informed.
Where can we find you?
OFFICIAL WEBSITE: www.Toyconnor.com
INSTAGRAM: www.instagram.com/Toyconnor
FACEBOOK: www.Facebook.com/Toyconnor
TWITTER: www.Twitter.com/Toyconnor
SNAPCHAT: @DatRudeGyal
---
For more celebrity stories…