The latest summertime nail trend is neon French tips. Here's how you can do them yourself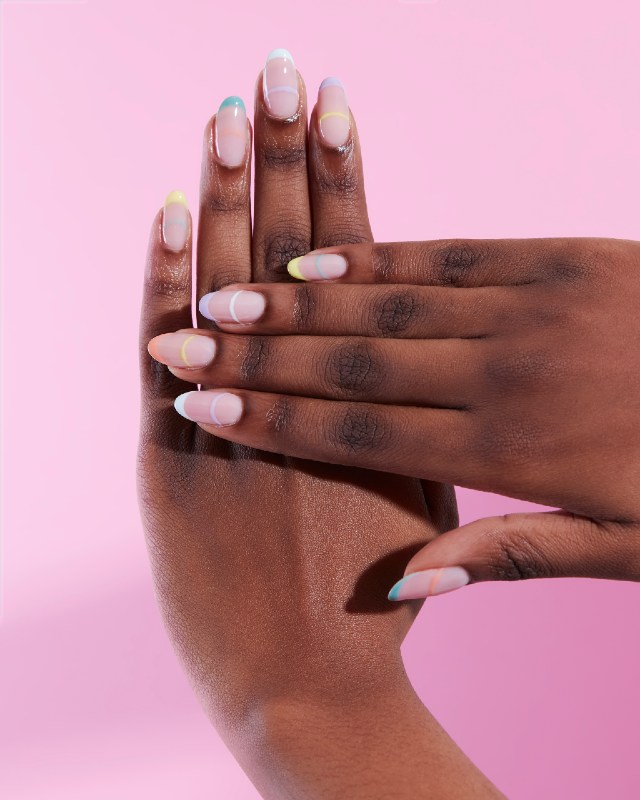 Neon French tips are one of the latest nail trends. Putting a spin on the traditional French tip manicure by adding neon can give you the extra pop of colour you need to stand out for the summer. A-list celebrities have been seen rocking this trend, including Kourtney Kardashian, Kylie Jenner and Gigi Hadid.
If you're wanting to try out this look, RAWR Beauty is a good place to start. The beauty salon chain offers not only nail services, but also hair removal, lashes, massages and hairstyling. You can be sure to get your beauty fix with their locations based in Central London, Leeds, Manchester, Birmingham, Brighton and Nottingham. Go to their website to find the nearest salon.
DIY neon French tips
Nail tech Eve Riza of RAWR Beauty gives a step-by-step tutorial for those who want to try the trend while saving money.
Step one: Start by gently pushing back your cuticles and shaping your natural nail with a file to the desired shape.
Step two: Clean your nails with acetone based remover to rid the bed of any oils or residue.
Step three: Apply your base coat and allow to dry for at least 60 seconds. — (product recommendations, Orly Bonder Base coat £14.99)
Step four: To create the pastel tones, you will need a few different pastel colours. If you don't have these already, you can get creative and mix white polish with a small drop of a bolder colour to lighten it, provide more opacity and give it more of a pastel tone! — (Product recommendation – OPI has a great range of pigmented colours)
Step five: Use a very thin nail brush, dipped in your desired colour. Start to draw a "smile line" on the tip of the nail, following the natural curve of the nail edge. I always turn the hand to see from both sides after I draw the line to check if it's balanced.
Step six: If the line is too thick, or you find it's not curved, you can use a slightly thicker nail brush to wipe the excess away, but you must work very quickly!
Step seven: Allow the smile lines to dry for a few minutes to avoid smudging.
Step eight: Apply a long lasting shiny top coat, don't forget to run the brush around the open edge of the nail to seal your colour — and your nails are done!
More neon nail manicures
Make them last
To make your trendy new manicure last longer:
Always wear gloves while cleaning or handling abrasive substances.
Avoid bathing or washing your hands for a few hours after your manicure. Water can make the nail bed swell which can in turn lift your polish and all your hard work!
Use cuticle oil and hand cream every night to encourage healthy nail growth.
---
More nail stories…