Black Beauty & Hair editor-in-chief Irene Shelley puts swim caps through their paces
What's a girl to do? I want to go swimming and protect my hair at the same time, but none of the regular swimming caps fit me on account of my long locs.
I'd heard of a few companies that produced extra large swim caps to accommodate long hair such as dreadlocks, hair extensions and afro hair styles. Joanne Blake is one such entrepreneur and is the designer and owner of Swimscarf, an innovative swim cap with adjustable ties at the back, making it easier to put on and off, with the added benefit of tightening it further to shop water from entering the hair. Joanne says, 'My aim is to get women, especially black women swimming again and not having to worry about wet hair.'
I decided to put a selection of these caps through their paces, whilst on my holiday in Cape Verde. I kept my hair in an updo throughout the holiday, so the caps would have to deal with high hair as well as volume.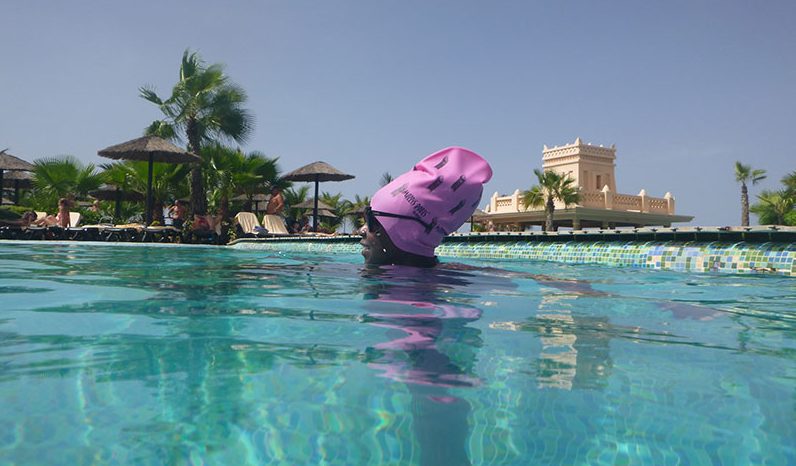 Morris Roots Swim Cap £30
Loctitian Morris Roots has been selling his swim caps for over 10 years. They're extra tall so they can fit very long locs inside. Available in five colours.
The fit: The fit is tight around the periemter, so you have to really adjust by letting out air. Lots of space for hair and plenty for my updo. Not the prettiest logo all over, I'd prefer one discreet logo on the side.
After swimming: Despite the tightness, the perimeter of my hair still got a little damp but the top of my hair remained bone dry.
www.morrisroots.com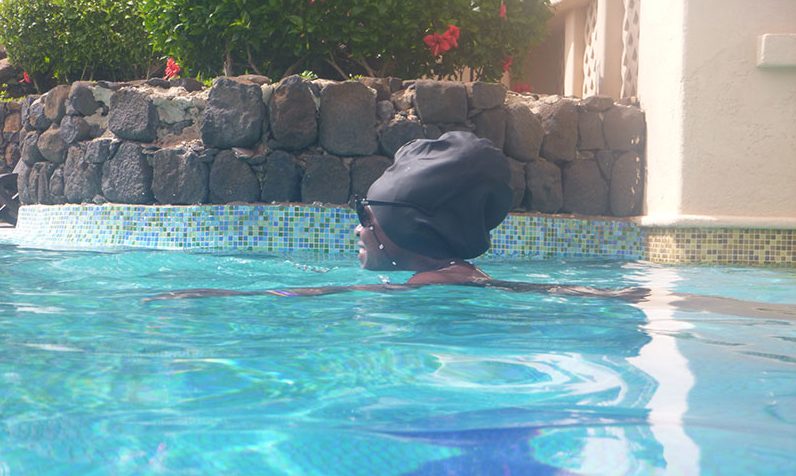 I Can't Be Weave It Extra Large Swim Cap £19.99
Comes in different sizes including Medium for long hair weaves, braids and extensions, there's also a children's size
The fit: The I Can't Be Weave It swim cap has a looser fit around the perimeter than the Morris Roots cap, but it still fits nice and securely. There's not as much space for a ton of hair as its a rounder design. But there's plenty enough space for my updo.
After swimming: Perimeter was damp. But top of the hair is dry.
www.icantbeweaveit.co.uk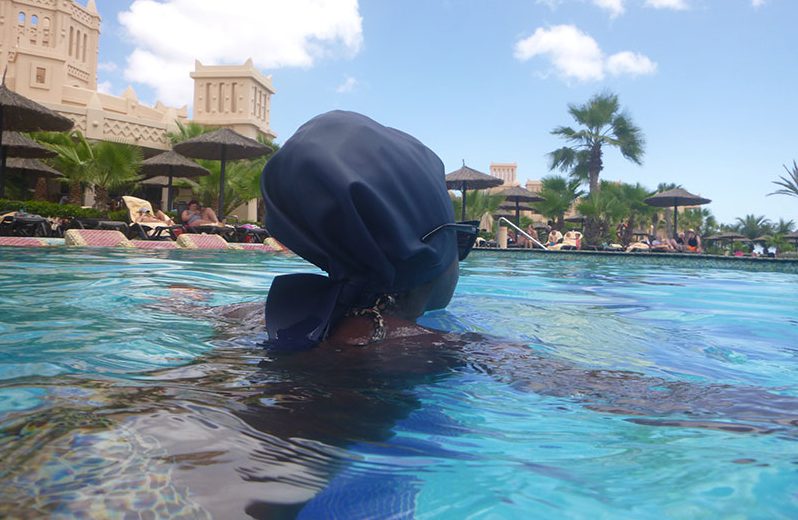 Swimscarf £28
The fit: Great design, it actually ties like a scarf on the back so it's adjustable. When it's not on, it looks big and heavy compared to the other two caps. There's room for my updo but that means it doesn't leave much excess fabric to tie at the back, though I'm able to secure with what there is. It feels nice and tight.
After swimming: Let's in water at the back (I probably needed to adjust it a bit more) but the front and the sides remain surprisingly dry.
www.swimscarf.co.uk
Swimcaps verdict 👍🏾👍🏾👍🏾
Any of these caps will do the job of keeping the majority of your hair dry. A regular swim cap lets in water around the perimeter, and these were no different. The silhouette made by the updo under a large cap meant that I felt (and looked) a bit like Ant Girl. No one really uses a swimming cap on holiday as it's more recreational swimming, so I got the occasional odd look from fellow holidaymakers but I'd definitely take one on holiday again and also use these at my swimming baths.