Usually the two don't go hand in hand but Nana Akua aka LadyXsize, has found a way to stay natural and keep fit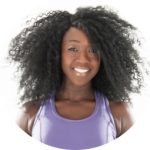 Ladyxsize
As a fitness expert and trainer, my hair goes through a workout, so I am constantly looking for new styles and products to take care of my hair and accommodate my workout lifestyle.
Recently I was offered a chance to participate in Swim London, an initiative to get adults swimming set up by the ASA (Amateur Swimming Association). Swimming has always been one of my biggest fitness bugbears. I used to worry about how to take care of my hair and protect it from the chlorine. This actually prevented me from swimming and that was one of the main reasons why I couldn't and didn't want to swim. However, never one to shy away from a fitness challenge, I consulted Victoria Akwuagwu, owner of Ziuzo Hair and Beauty, an award winning salon in Lewisham. After visiting her salon she gave me a treatment to set my hair up ready for the challenge ahead and gave me some great hair care tips and advice:
1. Invest in a decent swimming cap, one that fits snuggly
2. After your swim, rinse hair thoroughly with lukewarm water
3. To help prevent the hair from becoming dehydrated, use a moisturising conditioner. Leave on for five to 10 minutes before rinsing.
4. Use a leave-in conditioner to detangle and before blow-drying. Alternatively, let the hair air dry before styling and seal with an oil
5. For single plaits, shampoo your hair twice and allow it to dry naturally or blow-dry. Then apply a light oil to your scalp, such as a blend of almond oil, jojoba oil and coconut oil to moisturise. Visit your salon twice a month for a deep cleanse and conditioning treatments
Fitness in general
Whatever the fitness challenge, if you struggle to manage your hair, visit your stylist for tips and advice. I have learnt to always keep my scalp moisturised using light oils to prevent excessive dryness. I use the above advice for my hair not just after a swim but a heavy workout too. With this method I have been able to care for my hair, look natural and appreciate my 'fro. I have even found the most amazing afro hair extensions. HerGivenHair, allows me to add length and body to my afro and I can wear the hair confidently when doing sporting activities. Usually afro hair extensions don't last long, they tend to get knotted but HerGivenHair extensions are very different.
It has been and amazing educational journey and I am still learning. Going natural was the best thing I ever did. Yes, I still wear wigs and it has only been in the past few years that I have dared to brave my afro in public, but I now love this natural feel and it is the inspiration for my LadyXsize fitness brand.
LadyXsize is currently presenting a programme on BBC Local Radio. For more details on her five to 45 minute fitness workouts visit www.ladyxsize.com
SaveSave
SaveSave
SaveSave
SaveSave
SaveSave
SaveSave
SaveSave
---
More health articles…