Images | Shutterstock
A third of Brits are struggling to book hair and beauty appointments in salons, with demand for freelance professionals growing
The majority (51%) would prefer to have some hair and beauty appointments at their home according to a survey by Capital Hair and Beauty
Almost half (46%) would be willing to pay more for at-home treatments by a professional
Four in ten (40%) would pay up to 20% more for an out of hours appointment
Capital Hair and Beauty explain the costs to consider when going freelance

Despite much of the country back up and running to nearly pre-pandemic levels, a third of Brits (33%) are still struggling to book hair and beauty appointments that suit their schedule, with haircuts being the hardest to come by as (15%), according to a new study.
Other in-demand services where appointments are proving hard to come by of late include a hair wash, cut and blow-dry; gents' haircut; highlights; and a full head of colour.
The UK's largest independent supplier to hair and beauty professionals, Capital Hair and Beauty, surveyed 2,000 UK adults to find out just how many are struggling to book in for treatments and services at salons, and whether this indicates an opportunity for more mobile and freelance hair and beauty professionals.
The research revealed that the demand is varied across different cities, with Londoners experiencing the greatest shortfall of appointments, as 43% struggle to book in for their favoured services right now. Four in ten Mancunians (41%) also shared they cannot get an appointment, making it the second hardest place to book in-salon treatments.
| | |
| --- | --- |
| City  | % of people who are struggling to book salon appointments right now |
| London  | 43%  |
| Manchester  | 41%  |
| Norwich  | 34%  |
| Nottingham  | 32%  |
| Cardiff  | 31%  |

Due to the high demand for salon appointments following covid-related closures, many are considering turning to independent, mobile or freelance hairdressers and practitioners to guarantee themselves a slot. In fact, the majority of Brits (51%) said they would prefer to have a hair or beauty treatment in the comfort of their own home, rather than head to a salon.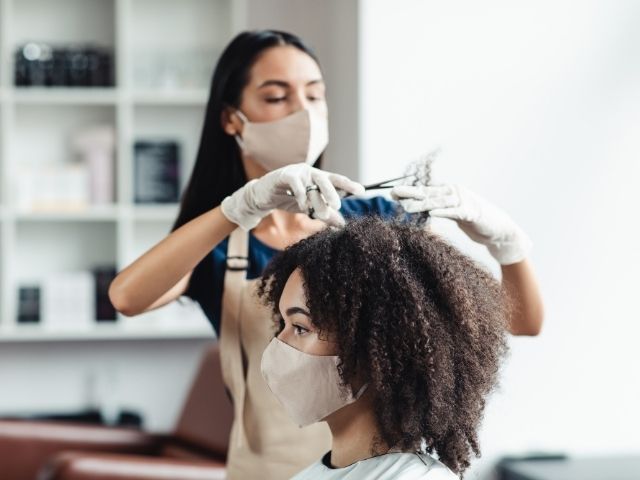 When it comes to the treatments the nation would prefer to have at home, one in three (31%) would rather have a freelancer come to them for a haircut, while one in ten (11%) would like a hair wash, cut and blow dry without having to travel to the salon.
Freelance hairdressers may want to revisit their price list too, as the survey also revealed that people would pay more for at-home and out of hours appointments. Almost half (46%) of UK consumers stated they'd be willing to pay more than usual (salon prices) for an appointment with a freelance or mobile hairdresser or beauty therapist at their home, with more than a third (37%) admitting they would be happy to spend up to 20% more for this luxury.
At home treatments were found to be most popular in Northern Ireland, with 59% of those in Belfast preferring to have some hair and beauty appointments at home. Over half (53%) of those in Manchester would also rather have some home appointments over heading into their usual salon.
| | |
| --- | --- |
| City  | % of people who'd prefer to have home appointments for some treatments  |
| Belfast  | 59%  |
| Manchester  | 53%  |
| Southampton  | 51%  |
| Leeds  | 49%  |
| Birmingham  | 49%  |
Flexibility around working hours is a big advantage for freelance hairdressers and beauticians, especially amongst those that don't mind working later into the evening, as half of those surveyed (50%) also said they'd spend more to get an out of hours appointment.
Forty percent also said they value the flexibility around appointment times so much so that they would pay 20% more for an appointment outside of usual salon hours.
This surge in demand for at-home appointments and out of hours treatment may have some professionals considering whether they should go solo.
With work-life balance becoming more of a focus for UK workers following the uncertainty brought about by the pandemic, the wider benefits of a freelance career path such as flexible working hours the freedom of managing your own schedule, finances, and client base, not to mention the opportunity for complete creative control, can be particularly attractive.
Chloe Pullen, a 25-year-old hairdresser from Whitchurch, Shropshire, has been freelance for two and a half years, and describes it as the best thing she ever did for her hairdressing career.
In fact, she revealed that going freelance has doubled her salary. 
Chloe said: "I would make the same amount in a day freelancing as I would make in a week employed. This is not to say it would happen for everyone. I had very good training which made keeping and growing clients easier for myself.
"Sometimes, you do start off with less money than when you were employed, but it didn't take long until I was making more money in much less time.
"It has meant I can take complete control of my business and working hours. It has had its challenges and can be very scary at the start not knowing your income from month to month.
"I was very worried about business after lockdown, but I have found that if anything people are more appreciative of hairdressers after having to do their own hair and I've not lost any clients at all,"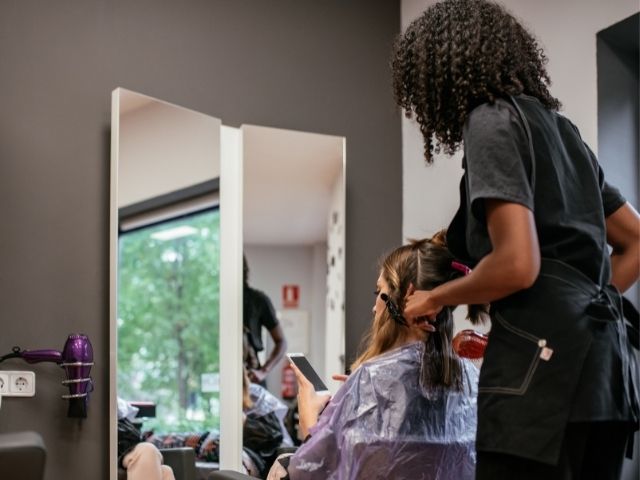 Samantha Shamplina-Burkwood​, Marketing Manager at Capital Hair and Beauty commented on the findings:  "It's great to see this demand in the UK for more mobile, independent and freelance hairdressers across the country. Some will prefer to work in a salon and others will like going to their client's homes for their appointments, and this shows that there are plenty of options out there.
"Freelancing or being a mobile hairdresser can offer people the chance to take charge of their own business and have more flexibility over many aspects of working life such as their hours, creativity, client list and price lists, as well as benefitting consumers.
"When considering making the change and being a freelancer it's important to look at the associated costs you'll face, as you will be setting your own prices to reflect these. Considering things like equipment, products and then business expenses like insurance and travel means that you won't get any surprises if you do decide to make that switch." 
---
The Hair Biz…