Viola Davis talks about Fences and our favourite topic - hair!
In Fences, you're portraying Rose Maxson, who is one of the most memorable female characters written by August Wilson for Broadway. How is it playing this role in a film as opposed to on a stage? When you do any role on stage, of course, you have to look at projecting in a Broadway house that has to be over a thousand seats. So you have to think about that. Other than that—and I realize that I'm almost remiss to say this—there really is no difference. Here's the thing. People have a misunderstanding that when you're acting for film, everything has got to be small. So if it's not small, then it's not honest. You've got to be understated. Understate. Everything is under.
Rose is a very strong woman, what helped you get into character? I wanted Rose to look like life had gotten to her, beating you over the head to make that point. So the grey in her hair, the cracks in her skin, the simplicity of her wardrobe. You probably thought that when she bought those clothes, they were probably crisp, pristine, but now they're more weathered. I wanted to show the sacrifice before she even enters the frame. I thought that was very valuable. So the gray in the wig was very important to me. I did not want her to look like she came out of The Brady Bunch. I know the film is set in the '50s, and in the Caucasian world particularly, '50s women were very put together, they were absolutely an extension of male fantasy. And I think Rose is way past that. She's now farther along in her life. You've got to see that Rose is the woman she says she is by the end: "I gave up little pieces of myself to him."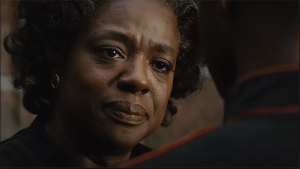 What was it like working with director, Denzel Washington? Back in the day, they told you that in acting, you imitate life. And Denzel is a great observer of life. He's got a true indicator of what's not honest. He knows what to say to unlock what is honest within you. And he's a great lover of simplicity, in the same way Lloyd Richards was and Israel Hicks was, that any great director has to be.
Fences is out now and goes nationwide from 17th February
WIN A pair of tickets to a special screening of Fences
We've teamed up with the makers of Fences to giveaway THREE pairs of tickets to a special screening of the blockbuster film, Fences.
The screening will take place at an exclusive London venue on the 22nd February – so make sure you save the date!
If you're not one of the lucky three, don't worry, you won't leave empty handed. We've got 10 Original Film Soundtracks and film posters up for grabs too!
Please select a valid form.
Save