Why brands need to wake up to the fact that sun care for black skin is a growing market
Republished with permission from BeautyMatter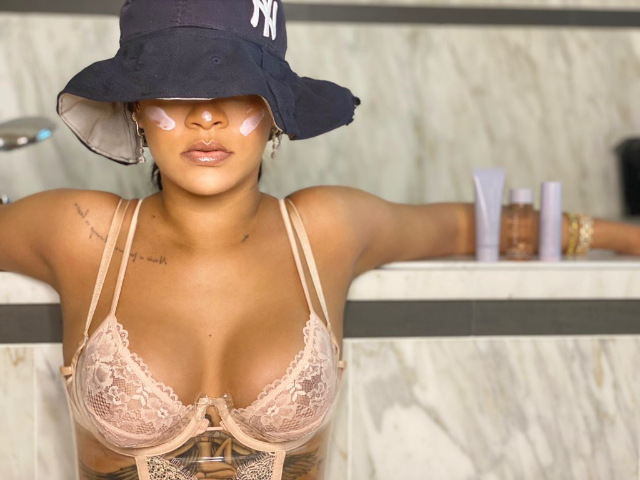 Rihanna, megastar and founder of Fenty Beauty, posted this photo on Instagram last month of herself in only a bucket hat, pink bra, and two swipes of her brand's sunscreen adorning her cheeks. The caption read, "just protecting my melanin while they try to eradicate it." Among the 27,000+ other comments, one commenter insinuated Rhianna didn't need sunscreen because "it's winter now."
The mogul's response? "You gon have wrinkles if you think SPF is seasonal!!" Unfortunately, the commenter isn't alone in believing the misconception that you only have to wear sunscreen when the sun is out. Searches for "best sunscreen for black people," "sunscreen for black skin," and "best sunscreen for dark skin" peaked this summer at roughly ~12K searches, according to Spate.
While many BIPOC might believe they only need sunscreen during the summer months, many BIPOC don't believe they need sunscreen at all. When Shontay Lundy founded Black Girl Sunscreen in 2016 (Lundy secured $1 million in private funding earlier this year) she knew that education would be key to her success. "Changing the mindset of a culture that didn't believe in sunscreen was initially met with skepticism, but we were able to combat this by raising awareness about sun-induced harm such as sunspots, premature aging, wrinkles, hyperpigmentation and cancer. Make no mistake, we are all susceptible to damage caused by the sun!"
Changing the mindset of a culture is only one of the challenges brands must conquer when launching a sunscreen for a BIPOC audience. Katonya Breaux founded her company, UnSun Cosmetics, in 2016 because she wanted to protect her skin and her options were dismal. "There were only three choices available on the market: toxic chemical sunscreen, thick white sunscreen that left a hideous ghostly residue behind, or, a tinted mineral sunscreen that left my skin gray or lavender in color." Breaux knew that if she personally had the need for a viable clean mineral sunscreen, so did others "who look like me," so she launched her brand to solve the problems.
"There are two main reasons why people of color don't wear untinted mineral-based sunscreen: either they don't think they need sun protection, or they know they need sun protection but choose a chemical-based alternative because they assume the zinc oxide or titanium dioxide will leave a white cast or make their skin appear purple," said Kevin Cureton, chief operating officer of Solésence, a developer and manufacturer of mineral-based sun care for prestige brands.
"When we started our company back in 2016, we knew we had to create a completely transparent, non-nano zinc oxide sunscreen that would be embraced by a range of brands because it would work for all skin tones," Cureton explained. "It was tough to get it right. Once we thought we had gotten there, we invited a culturally-diverse group of people to give us feedback on one of our first products, Multi-Cultural Magic. We heard lots of comments that day, but the feedback that stuck with us most was from one tester who said our Multi-Cultural Magic was 'neither multi-cultural nor magical.' Since that day, we have invested lots of time, passion, and energy into making that product perfect." The manufacturer's new formulation has a broad-spectrum SPF of 50 thanks to their proprietary technology—a transparent, non-nano zinc oxide combined with free-radical fighting antioxidants.
Annie Jackson, co-founder and chief operating officer of clean beauty retailer Credo, said that BIPOC customers were not buying mineral sunscreen because of "the weight of the formula and the white cast it leaves behind, particularly on deeper skin tones." Credo partnered with tennis star Venus Williams and The Sunscreen Company to create the EleVen by Venus Williams SPF Collection. "Venus is a huge advocate for healthy outdoor living and sunscreen is absolutely essential. Every person deserves access to a clean sunscreen that is invisible and absorbs quickly, so that the person will actually wear it."
Smart brands will capture the white space that exists in the sun care category by addressing the needs of BIPOC consumers through education, addressing product "pain points" and marketing to support the product in the marketplace. Given this consumer's experience and, frankly, lack of options, historically, they may be largely self-educated about sun care—and that puts the onus of education on brands.
The facts are clear: building products that are inclusive will be table stakes. According to the Pew Research Center, nearly 48% of Gen Z consumers are from communities of color and, according to Kline, by 2050, 50% of the US population will be multicultural. Now is the time for brands to build inclusivity into their product and marketing strategies or risk leaving valuable, multicultural opportunities for their competitors.
Photo: Jessica Felicio via Unsplash
---
More beauty talk…