From time to time Black Beauty & Hair publishes sponsored posts on topics we deem relevant to our readers and which reflect the spirit of our regular coverage.
Nanoil Hair Oil is a multi-tasking hair oil that nourishes, restores shine and strengthens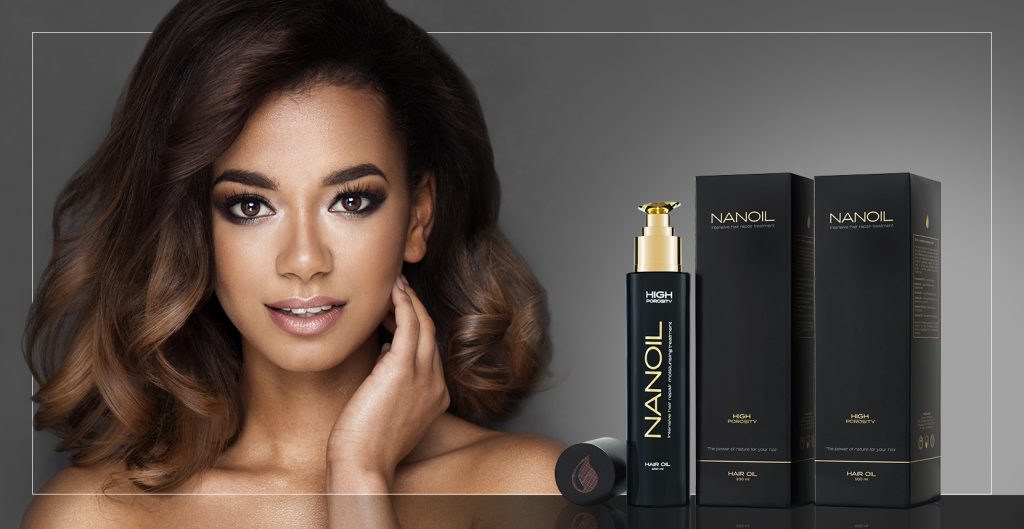 Haircare is an endless sequence of challenges that must be continuously taken up and faced. In order to tame frizzy, falling out or dehydrated hair and to restore the lost vitality, you need good products.
We aren't aware of how many things have a direct and far-reaching impact on the state of our hair. It's not only the multitude of products that we use that destroy our dreams of having beautiful hair, but there are also other factors which we aren't often able to combat or even limit – the sun or urban pollution, for example. There are things under our control that we can do to give hair a fighting chance, such as avoiding stressful situations, getting a good night's sleep and eating healthily – which all positively impact on our strands.
Tailored haircare
First of all, it must be realised that there is no such thing like a universal product. The best hair products are the ones that target particular hair problems; for example, damage, dehydration or shine loss.
Nanoil Hair Oil (£39) comes in three different variations to answer your haircare problems. It doesn't only deliver nourishing and moisturising ingredients in the right proportions, but also protects, regenerates and delays the hair's ageing process. It's also worth noting that most problems have their core in… the hair structure.
Each hair is made of cortex, medulla and cuticle layer, which creates a natural protection. This shield is made of microscopic keratin cuticles that can either overlap each other or are lifted. As a result, cuticles can either allow nourishing substances to get inside the hair or block toxins from penetrating the hair structures. However, if the cuticles are open, hair gets easily damaged, dull, dehydrated and brittle.
The degree at which the cuticles are lifted can be defined by the fact how porous hair is. There are many techniques enabling us to define our hair porosity type – we recommend doing a porosity test. Sometimes answering just a few questions is all you need to identify your hair needs. In short, hair porosity can be low (closed cuticles, troublesome hair styling) or higher (open cuticles, more damaged strands).
Nanoil has three oils for three hair types
– for low porosity hair,
– for medium porosity hair,
– for high porosity hair.
Each hair type has its own, favourite nourishing substances. Also, each hair type requires substances of varying molecular sizes, sometimes bigger, sometimes smaller.
How Nanoil oils work
Just scanning with your eyes the list of ingredients is all it takes to find out what is hidden behind the black glass. It turns out that Nanoil isn't just another hair product stuffed with silicone or preservatives. None of the three oils contains alcohols, synthetic colourants, parabens, etc. They weren't tested on animals either. Instead, all three blends are totally natural formulas which are composed with ingredients that match hair needs: vegetable oils, vitamins, additional substances (such as silk, panthenol, keratin) as well as substances responsible for stimulating accelerated hair growth.
Nanoil for low porosity hair – works on heavy hair that is deprived of volume and is frequently greasy. Thanks to vegetable butters and oils, Nanoil restores hair vitality, lightness and elasticity. It lifts hair at the roots and manages pH level of the scalp. As a result, the tendency to create dandruff and greasy hair is significantly reduced. Finally, this blend provides water loss and sun protection by slowing down photo-ageing.
Nanoil for medium porosity hair – this is the optimal solution for people with normal hair. In simple language, normal hair can be described as usually manageable, yet it's easy for the strands to get frizzy, brittle, fall out or split. This version of Nanoil is able to bring the vitality back to the hair, nourish hair bulbs, reinforce strands, and make them soft and shiny, thanks to the well selected oils. Moreover, it protects hair against further damages and tames it. Last but not least, the oil takes care of the scalp too.
Nanoil for high porosity hair – developed to target extremely fatigued hair, dehydrated, split, thinning, brittle and matte strands. This oil can be applied to coloured or bleached hair. Also, curly hair can be treated with this Nanoil version since such strands' porosity is often high. This blend doesn't only rebuild the inner keratin structures of hair but also affects hair bulbs and scalp positively. Furthermore, it regenerates, restores elasticity, nourishes, maintains hydration and tames hair.
Review
It has a lightweight formula that penetrates hair fast and it doesn't weigh hair down nor leave it greasy. Instead, the oil coats that hair and stops tangling making it easier to run a comb through. It also smells great.
The website suggests applying Nanoil to damp hair, right after washing and wrap the hair in a towel for approximately one hour. The oil then has to be washed out using a mild shampoo. This is ideal for wash day if you are deep conditioning your hair.
After one application, the hair was easier to detangle and manage. And manufacturers state that regular applications of Nanoil, will hair restore lost shine, softness and elasticity as the hair becomes becomes stronger, regenerated and well-nourished. For daily use, use a small amount as part of your moisturising regime.
---
More haircare products…