The cult Heritage Store products that black women often use on their hair is now available in the UK from Cult Beauty. Hurry up and grab yours
By Irene Shelley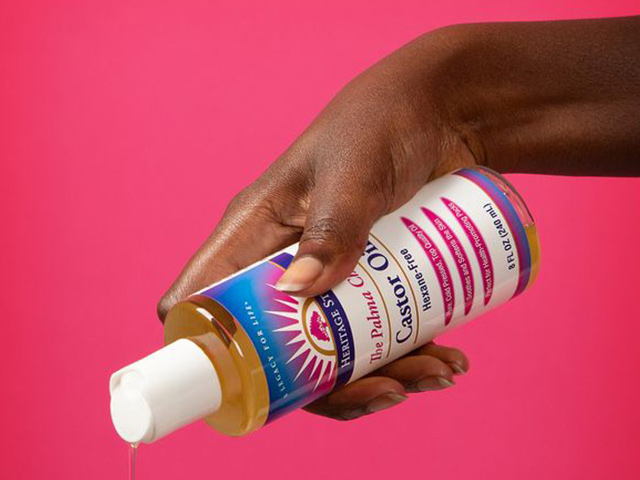 I first came across Heritage Store Rosewater three years ago when Yannie The Locologist divulged on her popular YouTube channel that it was one of the ingredients that made up her vitamin E oil and rose water hair spray to help keep locs soft and moisturised.
As a result, I ordered both ingredients, (the other being Difeel Vitamin E Premium Hair Oil) from Amazon and made up the formula, which not only smells amazing but also does a great job in keeping my locs soft and supple and is something that I still use in my hair regimen. Check out the Amazon reviews and you'll see lots of reviews from loc wearers praising the product for the great benefits it gives their hair.
Now it's so like black women to take something and repurpose it for our own use and that has been something we've been doing for years. And with necessity being the mother of invention, Yannie's hair cocktail combines the magnetised water and softening properties of the Heritage Store Rosewater with the vitamin E oil.
Yannie The Locologist's video on moisturising locs
Therefore, when I heard the news that Cult Beauty was stocking Heritage Store products and that Jennifer Aniston also uses the brand, I was keen to find out more about the rest of the range.
Heritage Store was born in the summer of '69, an era known for peace signs and good vibes. Founder Tom Johnson gave up his corporate life to seek enlightenment and headed to Virginia Beach to open a wellness store, and develop soul-to-skin beauty products that promote the mind- body connection.
The packaging hasn't changed much since the 60's and some Amazon reviewers have complained that it doesn't look good on their vanities alongside their other beauty products. However, don't let the modest looks fool you. Look past the packaging and you're left with good stuff – there are no artificial additives or artificial dyes and not a single harsh preservative, phthalate or sulphate. Just clean, feel-good skin and hair care.
The company has a cult following in the US and it has became many a makeup artists' backstage staple. And now the range of clean, vegan and cruelty-free products is available in the UK.
Heritage Store has joined forces with Cult Beauty to bring six of its very best products to British soil. The range is a fusion of skin care and self-care. Jennifer Aniston is not the only celebrity that uses the Rose Water Facial Mist. Selah Marley and Selena Gomez are both big fans too.
Rosewater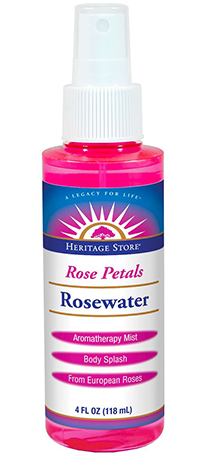 This is the one Jennifer uses. Rosewater (£7.99) was formulated for all skin types. This mist contains only two, yes two, ingredients – hydroessential rose and Vor-Mag water. Rosewater helps to soothe, soften and tone skin balancing complexions, while Vor-Mag water (water which has been magnetised and 'vortexed' to raise the energy to a higher vibration) works in tandem. This versatile aromatherpy mist can be used as perfume, body splash and can also be used in your hair care regime. I sometimes use it on its own to freshen up my locs, or combine it with vitamin E oil to make my moisturising hair spray.
Rosewater & Glycerin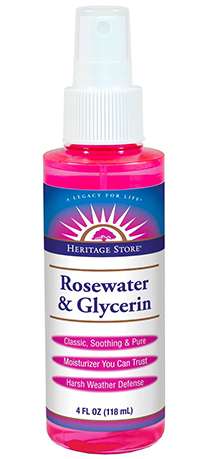 Rosewater & Glycerin (£7.99) will help replenish dry, tight or weather-stressed skin with a medley of three dew-boosting ingredients. Hydro-essential rose, Vor-Mag water and glycerin. The glycerin acts as a humectant – attracting and retaining water, while the Vor-mag water raises the energy to a higher vibration.
Rosewater Facial Toner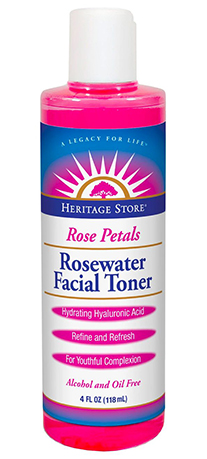 Rosewater Facial Toner (£8.99) contains hydroessential rose in combination with glycerin, aloe and hyaluronic acid to gently tone your skin after cleansing, while replenishing at the same time. The ultra-gentle, alcohol-free formula works to smooth and refine the appearance of pores, helping to provide a more youthful glow.
Rosewater Vinegar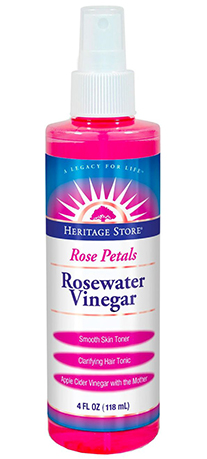 Rosewater Vinegar (£8.99) is formulated with the brightening and skin-refining benefits of vinegar combined with soothing rosewater to help restore balance and diminish dullness. This post-cleansing formula helps to smooth oily, congested complexions, gently dissolving to revitalise skin and purify pores. Apple cider vinegar exfoliates gently (this one is great for the scalp too).
Castor Oil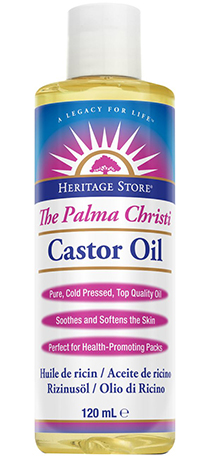 Castor Oil (£6.99). Castor oil is known as a nutrient-rich treatment for stronger, fuller-looking hair. A hair treatment for the scalp and ends, it strengthens, volumises and adds shine. An impressive source of fatty acids, including omega 6 and ricinoleic acid, it aids skin hydration and encourages moisture. Castor oil has also been known to help the growth of sparse lashes and eyebrows. Decant into an empty mascara tube and use at night to aid lash and brow growth. What more can you ask from this tried and tested multi-tasker?
Organic Castor Oil Lavender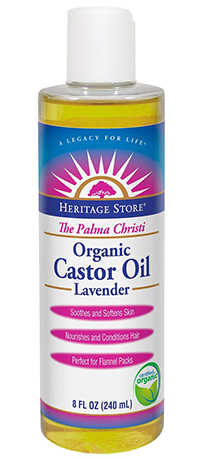 Organic Castor Oil Lavender (£10.99). This soothing, multi-tasking, self-care essential can be used on skin as a massage oil, as a strengthening treatment for the ends of hair or to moisturise dry patches. A treasured ingredient which has been harnessed in traditional beauty rituals across the world, castor oil is revered for its conditioning properties. The infusion of lavender essential oil contributes a calming aroma to the formula.
---
More haircare products…