Good hair growth starts with a healthy scalp. So, consider adding a scalp care product into your haircare regime
Healthy, nourished locks rely on a fresh, cleansed scalp to stay looking soft and shiny. Just as the skin on the face needs a regular cleanse and exfoliation, the scalp mustn't get overlooked – a gentle scalp exfoliation will wash away dirt, pollution and dead skin cells whilst removing any excess product that's built up in the hair. As we age, our hair follicles become weaker and our scalp becomes dehydrated, but a gentle exfoliation will combat this and buff away any dry patches, increase blood flow and help hair growth.
Expert trichologist Anabel Kingsley, from Philip Kingsley, comments on the importance of scalp health on the future of your hair: She states: 'If your scalp is not in good condition the chances of you experiencing problems with hair growth increase significantly. In fact, research has proven that a flaky, itchy scalp can cause and/or worsen hair loss in certain individuals.'
Robin Parker, technical director of Acheson & Acheson, a UK premium skin and haircare manufacturer, make the link between pollution affecting scalp health, 'For some time, it has been shown that a scalp in poor health can influence hair growth and hair quality. The oxidative effects of pollution may [also] have a detrimental result on the scalp, potentially causing damage and slowing the normal processes of healthy cell development. For this reason, it's a good idea to select mild, sulphate-free products that have a good antioxidant effect.'
As you see, experts agree that good hair growth starts with a healthy scalp. So, consider adding a scalp care product into your haircare regime.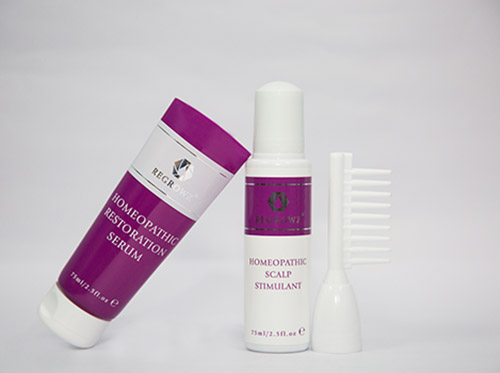 Regrowz for Women (£39.95/1 month supply) is a new hair growth system to thicken and encourage hair regrowth for those with thinning or stunted hair growth. The system includes Homeopathic Restoration Serum and Homeopathic Scalp Stimulant. The clinically proven treatment uses 100 per cent naturally-derived ingredients like coconut oil, lemon and curry leaf. Use for six months for optimum results.
Available from www.regrowz.com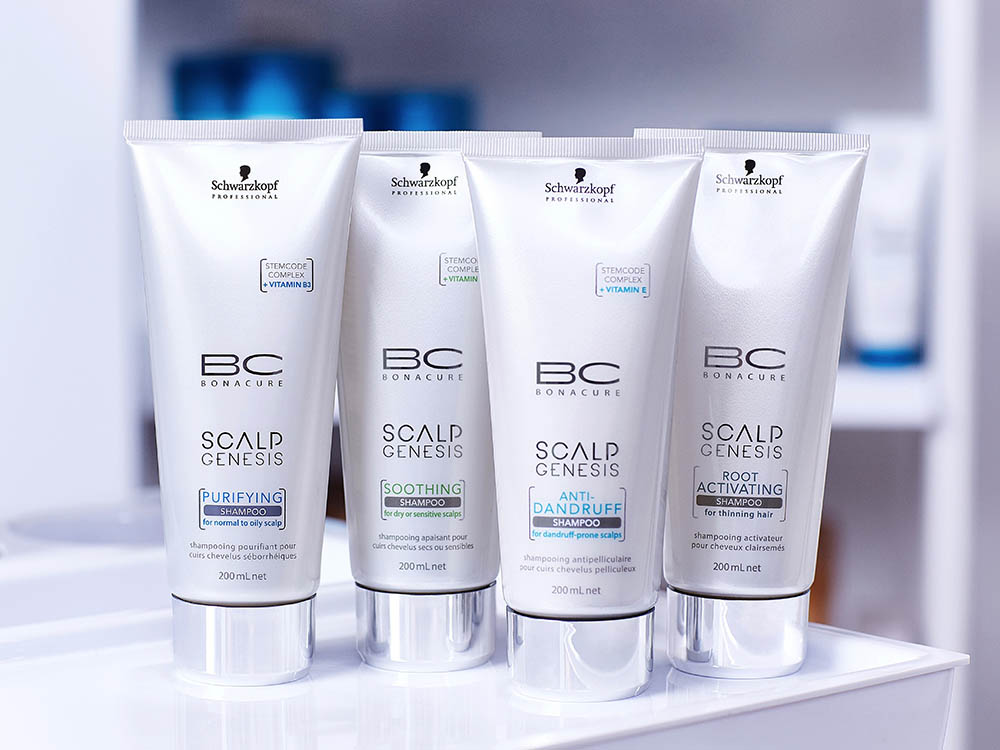 Schwarzkopf Professional's BC Bonacure has come up with a new in-salon treatment called BC Scalp Genesis, that starts with a scalp detox which is then followed by a suitable shampoo and scalp treatment for your hair to nourish and secure the future condition of the hair.
The selection of products offers a holistic, silicone-free range to help target different scalp problems. The different hair imbalances include: dry and sensitive scalp (Soothing Range), oily scalps (Purifying Range), dandruff (Anti-Dandruff Range), and hair loss (Root Activating Range).
Available in all Schwarzkopf Professional Partner salons.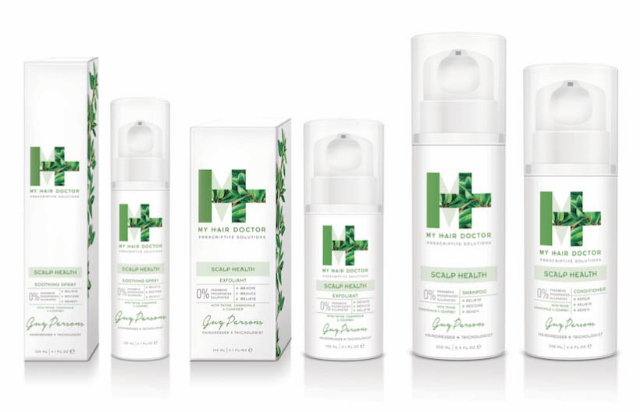 My Hair Doctor Scalp Care Collection contains naturally occurring actives with a blend of botanical ingredients to stimulate and refresh your scalp, resulting in revived, healthy hair. The range, by Channel 4's 10 Years Younger resident hairstylist, Guy Parsons, consists of a Soothing Shampoo, Itchy Scalp Intensive Conditioner, Post-Shampoo Soothing Spray and AHA Scalp Exfoliator. Prices start from £14.
Available from www.myhairdoctor.com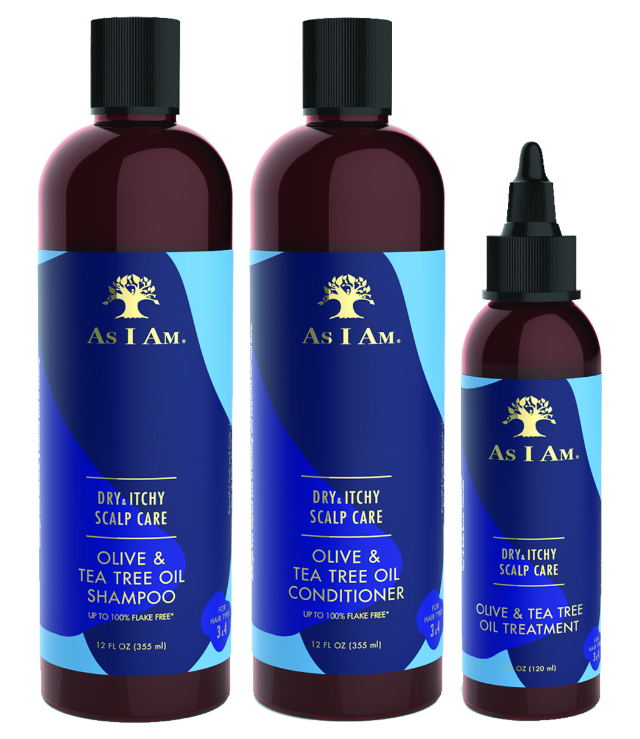 The AS I Am Dry & Itchy Scalp Care range helps to work against scalp issues such as psoriasis, dandruff, dry scalp, dermatitis and flakes, while preventing an itchy scalp. The range includes Olive and Tea Tree Oil Shampoo, Co-Wash, Conditioner, Leave-In Conditioner and a Treatment to help keep you as fresh and ready to take on the day! The versatility of the Olive & Tea Tree Oil Treatment knows no bounds, as it can be used as a hot oil treatment, pre-poo or leave-in.
Available from all good afro retailers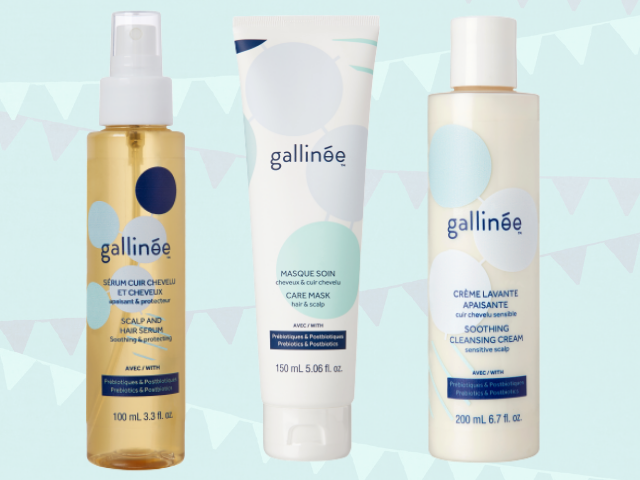 Gallinée have launched the first prebiotic range to gently care for
hair and balance your scalp's microbiome. The scalp's microbiome plays a crucial role in the regulation of sebum, when unbalanced it can lead
to itchiness, dandruff and even hair loss.
The Gallinée Hair and Scalp Care products are enriched with a complex of prebiotic and postbiotic, and includes fermented rice water, made famous by the Yao women of Huangluo who are renowned for their long hair growth. Products include Gallinée Soothing Cleansing Cream, £23/200ml, Gallinée Care Mask, £28/150ml and Gallinée Serum, £24/100ml.
Available from www.gallinee.com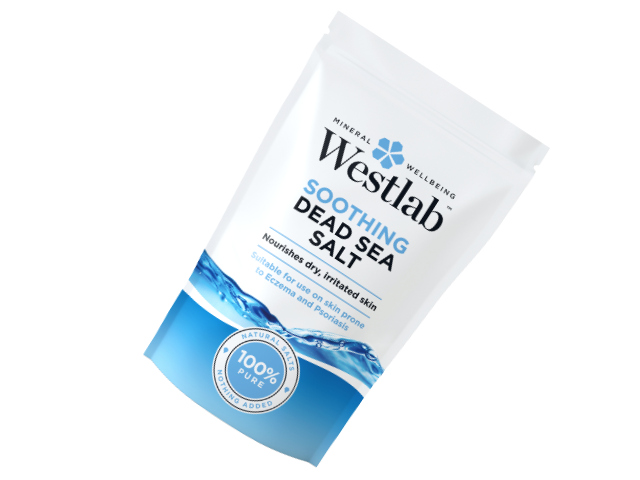 Westlab's Soothing Dead Sea Salt (£5.99/1kg) is the perfect companion to regular shampoo to ensure healthy and flake-free hair. Specifically designed to alleviate the symptoms of a dry scalp, the salts create a gentle abrasive which buffs away dead layers of skin and rebalances the scalp. Th salts are naturally rich in magnesium, calcium and potassium which all helps to keep scalps. Mix a handful of salts with your regular shampoo and simply massage the mixture into your scalp before rinsing thoroughly. Available from www.westlabsalts.co.uk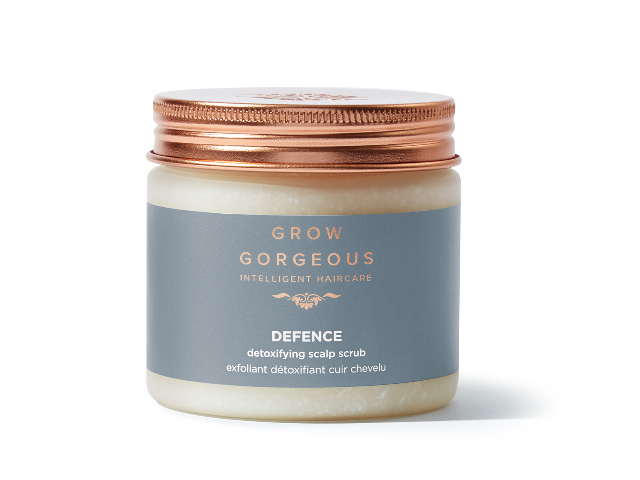 Grow Gorgeous Defence Detoxifying Scalp Scrub £24 is formulated to refresh and exfoliate the scalp from city pollution by removing excess sebum and dirt. The detoxifying primer contains white willow bark extract and bamboo exfoliating particles to gently exfoliate to remove excess sebum, dirt and impurities from the scalp for a soft and healthy looking scalp, whilst pomegranate enzymes gently loosen dead skin cells and amino acids (a vital component of keratin) help to promote healthy looking hair.
Available from www.growgorgeous.com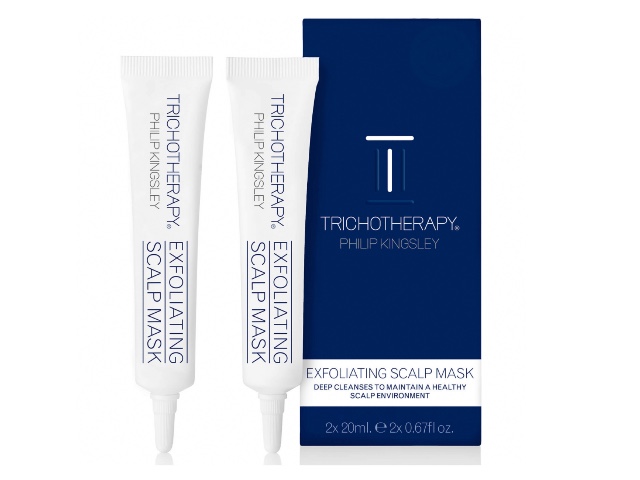 Philip Kingsley Trichotherapy Exfoliating Scalp Mask £19/2 x 20ml refreshes troubled scalps. This potent mask works to treat a variety of scalp concerns such as dandruff, irritation and excess sebum production. The effective formula removes dead skin cells, counteracting the build-up of flakes while moisturising to soothe irritation and hydrate. The treatment can be applied regularly as a preventative measure or used to treat specific concerns.
Available from www.philipkingsley.co.uk
---