Atlanta salon Razor Chic received over 5 million views for her hairloss video. We find out more about the lady with the healing hands

Hi Razor Chic, it's nice to finally meet you. For those who don't know you in the UK, who is Razor Chic?
Jasmine Collins better known as Razor Chic of Atlanta is a business woman, a woman that empowers women to feel secure in rocking their own hair. I'm an inspirational stylist, customising hairstyles that reflect the wearer's personality, helping to build confidence. I am blessed to work in a field that I am have so much passion for.
How long have you been in the hairdressing business?
Well over 20 years
Did you always want to be a hairdresser or a cosmetologist?
No I didn't. [laughing] Hair was a gift God gave me that provided options. I stumbled upon my gift while playing in my aunt's hair. The day my aunt let me wave her hair was the day I fell in love with this industry. I found my passion and purpose and I am thankful for the opportunities provided to me because of my decision to follow my passion
What services do you offer in your salon?
Razor Chic of Atlanta offers all services pertaining to hair but our main focus is on real hair services. We want to show the client how she can have red carpet hair, without the aide of extensions.
What would you say was your specialty?
My specialty or gift is my eye for detail. That encompasses all the foundational methods of creating a hairstyle such as cutting colouring or styling.
Your video on hair loss broke the internet with over 5 million views. Were you surprised by the response?
I was very surprised. I was overwhelmed with the response because I just realised that there are so many women experiencing the same issue with hair loss and unfortunately the age of balding issues is becoming younger. The traction alopecia epidemic has been swept up under extensions and protective styles. People are seeing the risk of binding their hair down for unreasonably long periods of time. As I always say, I am not against hair extensions. I am against the improper use of hair extensions. You cannot use extensions on a consistent basis and clients need to be informed on what their hair will allow them to do. We as stylists, have to take responsibility and listen to the needs of the hair not the desire of the client, especially when it will cause more harm.
What are the main causes of hair loss in African American women?
Traction alopecia is the leading cause of hair loss in the black community. Now the reason behind traction alopecia is the improper use of extensions. That is the length of time extended hair is worn, improper installation methods that consistently pull on the follicle, and of course wearing hair that is too heavy for your hair to handle.
You say that over half your new clients suffer from some sort of hair loss caused by their hairstyling choices. How can you change their mindset?
Education. We need to step back into those building blocks that help to communicate the right choices for healthy hair such as the consultation and the home prescription. These are the key areas that allow us to educate the client on healthy hair choices versus negative hair choices. People appreciate a stylist with integrity and a reverence towards proper hair regimens. Again I say listen to the hair.
Is it your aim to educate women on better styling choices?
Oh, most definitely. I am a true believer in customising a style that fits the lifestyle of the client and provides styling options. We are living in a fast pace world and many women like the convenience of extensions for time's sake and consistent great hair days. However, you can have great hair with proper homecare instructions and a superbly executed custom haircut. Great hair days are not dependent upon extensions or wigs.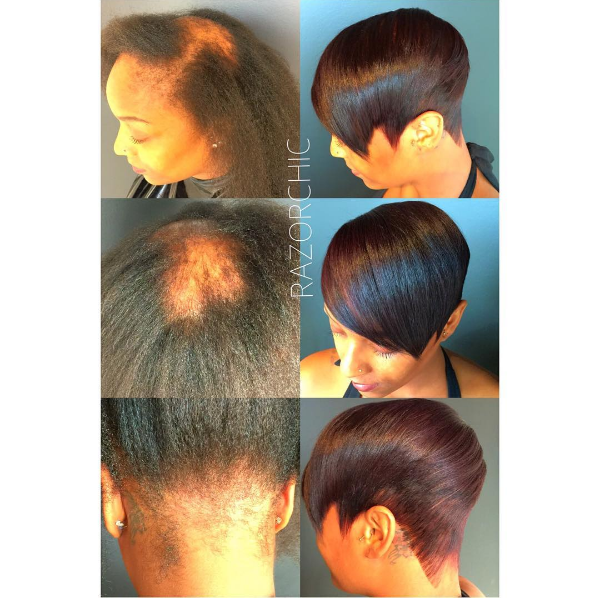 Can supplements make a difference in hair growth?
Yes, vitamins are essential to hair growth. You are what you eat!! Your skin and hair depends heavily on your diet to grow or glisten
From left to right: Hairfinity (24); Protein World Hot Hair (£22) and Philip Kingsley PK4 Hair (£26)

The woman in the hair loss video is only 20-years-old, can her hair grow back?
Although she had extensive damage to her scalp, there are areas of follicle life on her scalp. Nonetheless I will not say that her hair will return to normal fullness but she will see areas comeback if she maintains a healthy hair regimen. However, there are cases where the hair follicle closes and becomes smooth. Once you see smooth or feel the absence of hair pores, hair growth has reach an irreversible condition.
What would you advise that person to do if someone had that type of hair loss?
Stop what you are doing and seek professional help. Discuss your issue with your stylist listen to her advice and do the work to recover from extension abuse.
What do you think about the natural hair movement?
I think it is an empowering movement, however it isn't for everyone.
Can you expand upon that?
Yes, I believe that the desire to wear natural hair depends on your hair destination. If you are looking to wear a short cut that lays in a particular way, you are going to need a straightening system around the sides and back to accomplish the end look. However, if you are looking to swim fully in the curl pattern you own, then natural hair is definitely for you. I believe that true freedom isn't just embracing your curl pattern but also rocking what God gave you.
Has the natural hair movement had an impact on your business?
No, my business has not been affected by the natural hair movement, because my salon is equipped to deal with all types of curl patterns.
Most natural hair bloggers don't seem to trust hairdressers with their hair and lay the blame of their past hair growth failures on the hairdressers' door. How do you respond to this?
Finding a good hairstylist is like finding a good doctor. How do you expect to have good results if you keep going to so many different doctors? I noticed that so many consumers keep chasing styles. They keep going from one stylist to the next. You have to find that one stylist and be under their supervision so they can monitor your hair and reach your hair goals. How are you choosing your stylist and has DIY styling really provided a better road for you? At the end of the day, hair needs to be treated by a stylist with a healthy hair work ethic.
Is there anything the hairstylist can do to regain the public's trust?
The proof is in the pudding. My work has always spoken for me. The detail of my work attracted my clients and my dedication towards healthy hair and great styles have kept people loyal to me for over 15 years.
Do you have celebrity clients?
Everybody that sits in my chair is a celebrity.
Is there anyone who you would like to work with that is a celebrity that you haven't worked with in the past?
Whitney Houston was my idol. She was definitely one celebrity that I would have loved to create iconic looks for. However, now that she is gone, my next top picks would be Oprah and Mary J Blige.
What has been the highlight of your career so far?
I guess I would say the overwhelming responses I get from people when I'm out, at the salon, or in other cities. The emails, DM's, phone calls, I receive from consumers, stylists or celebrities that I consider to be top tier, that know me and my work. It's a humbling experience to know so many people that you looked up to for so long actually know who you are.
Do you practice what you preach with your own hairstyling choices?
Oh, most definitely! I cannot expect my clients to listen if I am not a shining example of what I am telling them. Walk the walk if you are talking the talk.
Where can we find you?
@razorchicofatlanta
www.razorchicofatlanta.com
Save
Save
Save
Save
Save
Save
Save
---
Black hairdressers on our radar…